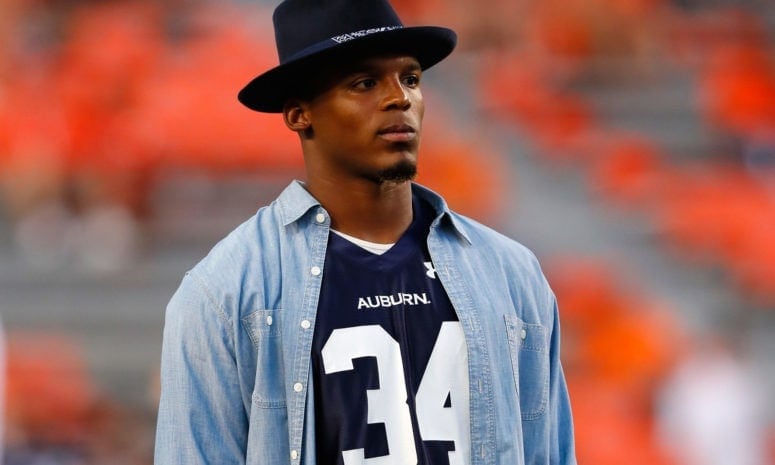 This week Carolina Panthers took some unexpected decisions for Cam Newton. It looks like an organization can wait for Newton to heal up.
Cam Newton was the former MVP (Most Valuable Player) in 2015. Injuries of the last few seasons derailed Cam, and that season ended very severely with a shoulder injury. Thus, he managed to play two games before the team shut him down.
Cam's future with the franchise is in some serious doubts as it is a midseason. But, his contract is still not completed so, he might come to an end his contract.
Recently, NFL insider Ian Rapoport went on Damon Amendolara's show and talked about Cam Newton. According to Rapoport, whatever happened, it was unexpected. He also added that Carolina Panthers would look for Cam Newton when he becomes healthy. Ian also said that Cam had surgery, and they are hoping that Cam will be healthy by March. And he is also expecting that after March they will again start their trade with Cam.
Panthers OC Joe Brady on why he took the job: "I believe in Coach (Matt) Rhule and the NFL is the pinnacle." And on Cam Newton, he's non-committal, just says, "I'm excited to get in touch with Cam."

— Albert Breer (@AlbertBreer) January 17, 2020
From the past few weeks, Carolina's Head coach Matt Rhule and new offensive coordinator Joe Brady has done a lot of interviews. But, they both didn't talk about Newton to come back.
One of the reporters asked Brady whether Newton will return as Panthers in 2020. Then he refused to say yes and said that he would be excited to get in touch with Newton and discuss the future.
Newton has always expressed to stay with Carolina but, it seems like he will make his trade with Chicago Bears.
The former MVP future with the organization is already decided but, he didn't publicly announce it. We are expecting that he will give the news when fully recovers from his injury.
30-year-old Newton had the Lisfranc injury in the end season of 2019. So, he went for surgery in December for the left foot.