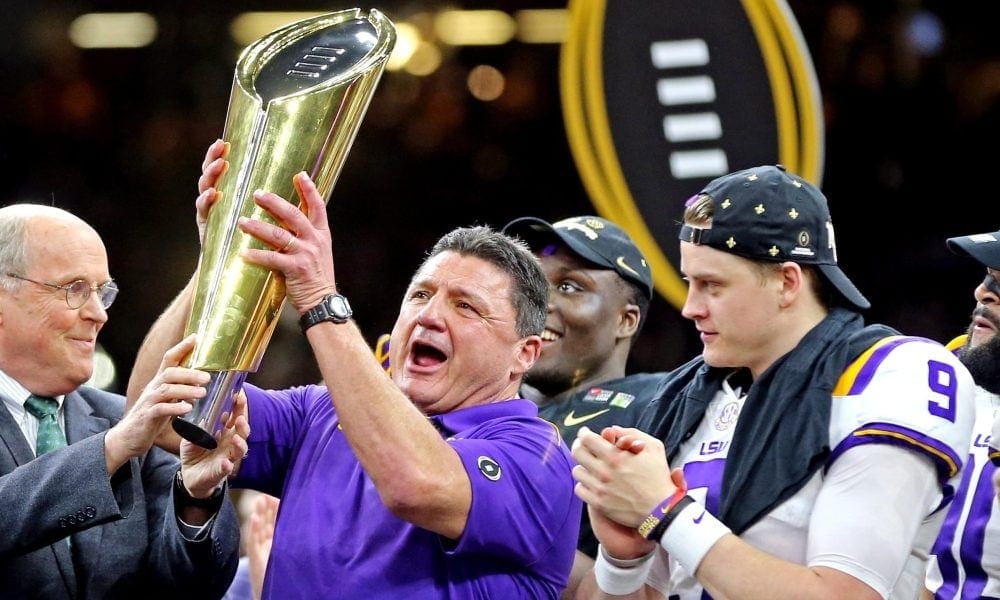 LSU coach has a perfect post-plan for celebrating the win. Ed Orgeron has planned to celebrate this win.
When Tigers beat Clemson, then Orgeron was invited to ESPN's SportsCenter with Scott Van Pelt. Tigers beat Clemson with 42-25 scores on Monday. In an interview, he explained his typical celebration meal. He said he is going to celebrate with his family with a ham sandwich.
Ed Orgeron is also a lover of gumbo and jambalaya. He led LSU to the fourth national championship in history. He is known as a person who celebrates the big victory with an old-school meal. Such as a ham sandwich is his favorite.
The team finished the year with a perfect score of the season, i.e., 15-0.
Coach O tells SVP he's gonna celebrate by getting a ham sandwich with the family pic.twitter.com/wmlmPc7uyM

— CJ Fogler (@cjzero) January 14, 2020
When SVP told Orgeron and his family to celebrate in a flashy way, he added as you can have chicken on a stick. Then the head coach explained that we are just simple people. We love our family and our life. In his time, they don't go out; they sit at home. He also said that we represent the state of Louisiana; that's why we are excited.
Edward James Orgeron Jr. is an American football coach. He is a former player who is now the head coach at Louisiana State University. Orgeron was the head football coach at the University of Mississippi from 2005 to 2007. Meanwhile, he was also the head coach at the University of Southern California in 2013.