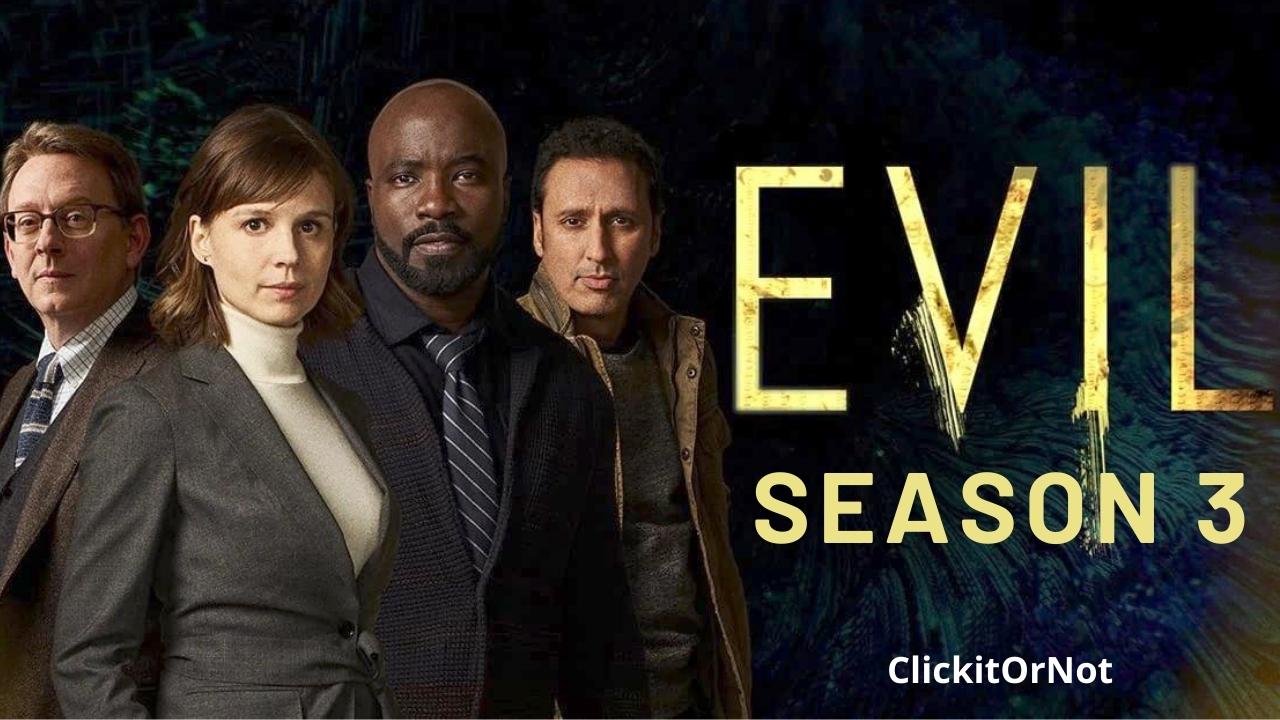 If you are into supernatural and spooky things, you must watch the Evil series if you haven't already done that. 
Evil is currently one of the best spooky series on Paramount+. The second season of the show came out in June 2021. Now it's time for the third season to entertain viewers.
If you want to know more about Evil Season 3, this article is for you. Here you will find all the insights you have been looking for.
Evil Season 3 Release Date
What is Evil Season 3 release date? You will be happy to know that the show is set to return on 12th June 2022. Not just that, but the first full-length trailer is also out, which promises us more of the scary performances.
The show co-creator Robert King previously announced in November 2021 that season 3 filming has begun. Since then it has been half a year. The show is finally returning on 13th June on Paramount+.
Evil Season 3 Cast
Here is the confirmed list of Evil Season 3 cast.
Katja Herbers

as Dr. Kristen Bouchard

Mike Colter

as David Acosta

Brooklyn Shuck

as Lynn Bouchard

Skylar Gray

as Lila Bouchard

Maddy Crocco

as Lexis Bouchard

Dalya Knapp

as Laura Bouchard

Christine Lahti

as Sheryl Luria

Aasif Mandvi

as Ben Shakir

Peter Scolari

as Bishop Thomas Marx

Marti Matulis

as George

Michael Emerson

as Dr. Leland Townsend

Ashley Edner

as Abbey

Kristen Connolly

as Detective Mira Byrd

Clark Johnson

as Father Amara

Kurt Fuller

as Dr. Kurt Boggs

Patrick Brammall

as Andy Bouchard

Boris McGiver

as Monseigneur Matthew Korecki
Evil Season 3 Trailer
The first official Evil season 3 trailer is out. From the look of it, we can tell that season 3 will be more intense than the previous two seasons.
Check out the trailer here: 
Evil Season 3 Teaser
We also have the Evil season 3 teaser available. It's a short clip that revealed the first glimpse of season 3. You can check out the teaser here:
Evil Season 3 Plot & Expected Storyline
With the Evil season 3 release date being out, you must be excited to know about the season 3 storyline. Based on the official trailer, we can tell that Evil Season 3 plot will pick up right after the last season.
The trailer includes several moments and scenes that make the next season more memorable. It seems like the perfect amalgamation of scary performances, disturbing imageries, and more.
Evil Season 2 RECAP: How did the last season end?
How did Evil Season 2 end? Before moving forward, let's do a quick Evil Season 2 recap.
In season 2, we saw Leland Townsend seeking an exorcism because he sold his soul to the devil. The season finale focused mostly on the three main characters – Kristen, Ben, and David. 
You can learn more about the story on the Evil season 3 wiki.
Evil Season 3 Reviews & Ratings
Evil Season 3 review is very crucial for the show to continue in the future. Thankfully, it has been receiving positive feedback since the release of the first season.
Evil Season 3 IMDb rating is 7.7/10 and 93% on Rotten Tomatoes.
Where to watch Evil Season 3?
Evil Season 3 where to watch? For your information, the Evil series is a Paramount+ exclusive series. That means it will arrive on Paramount+ on 13th June 2022.
Evil Season 3 Renewal Status
Evil season 3 renewal status was updated in 2021, after the release of the second season. The next season will soon arrive on June 13 on Paramount+.
Evil Season 3 Countdown
Evil season 3 countdown has already started! We are less than a month away from seeing the third season on our screens.
Evil Season 3 Episode Guide
The first two seasons both had 13 episodes. Therefore it's fair to assume that Evil season 3 episodes count will be the same as the first two seasons.
Evil season 3 episode 1 will arrive on the 13th of June. Paramount+ will release the episodes weekly.
Evil Season 3 Spoilers & Leaks
According to Evil season 3 spoilers, Andrea Martin has been promoted to series regular for her role as Sister Andrea. 
Evil Season 3 News Update
According to Evil season 3 news, the filming started last year. They shot in various locations, including Argyle Rd & Ditmas Ave, Faraway Farm Alpacas, Yonkers City Hall, and New York City.
For more updates, you should follow Evil season 3 Twitter.
Evil Season 3 Poster
Evil season 3 poster is out. You can check it out here: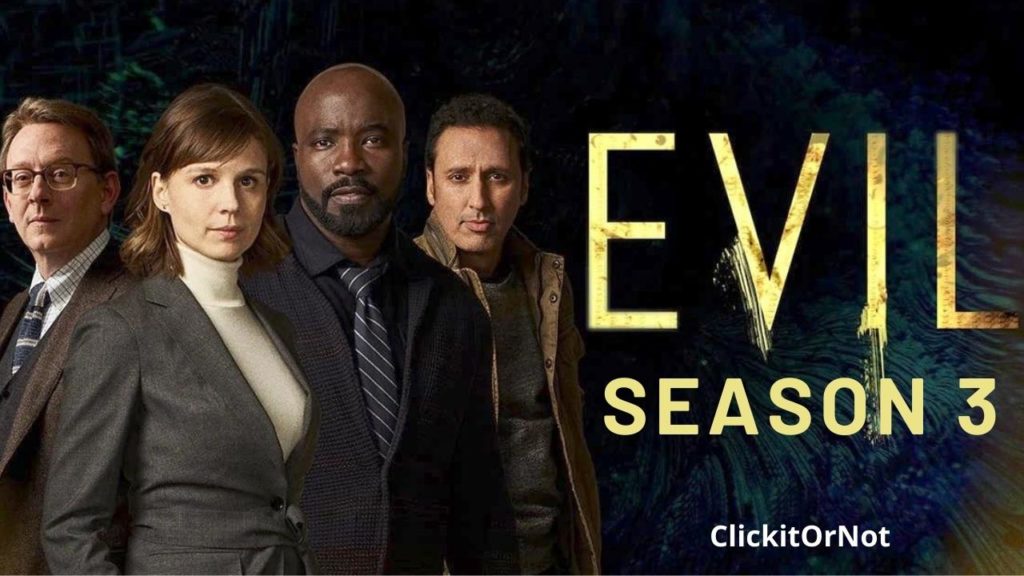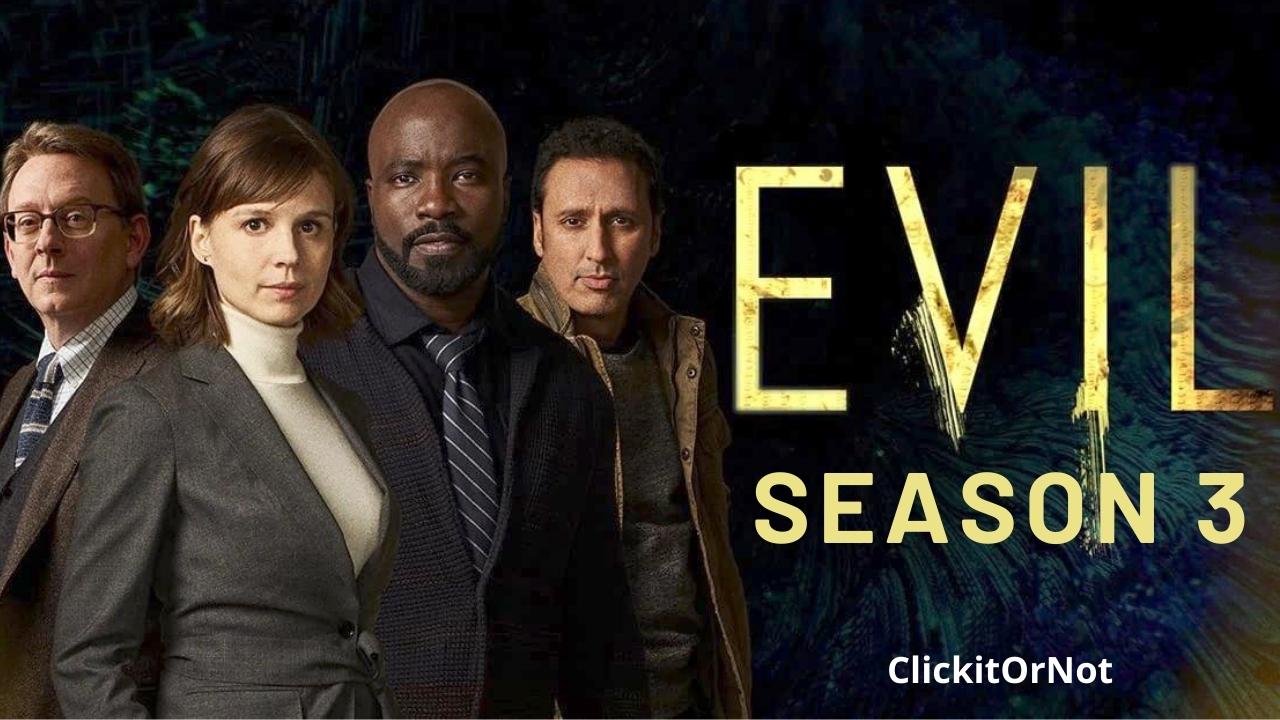 Final Thoughts on Evil Season 3
Finally, our wait is going to be over because Evil season 3 is coming on June 13 only on Paramount+.
Evil Season 3 FAQs
---
Will there be an Evil season 3?
Evil season 3 will release on Paramount+ on 13th June 2022.
---
Do Kristen and David get together?
Kristen and David surely have great chemistry between them and they end up kissing each other at the end of season 2.
---
How many episodes of Evil 2021 are there?
Evil 2021 came with 13 episodes.
---
Has Evil season 3 started filming?
Evil season 3 filming is over. They started filming in 2021.
---
Did Evil get canceled?
The series Evil didn't get canceled. It has its third season coming in June 2022.
---
How many seasons are there of Evil? 
As of now, the show has released only two seasons. But season 3 will soon be released on 13th June 2022.
---
MUST SEE: