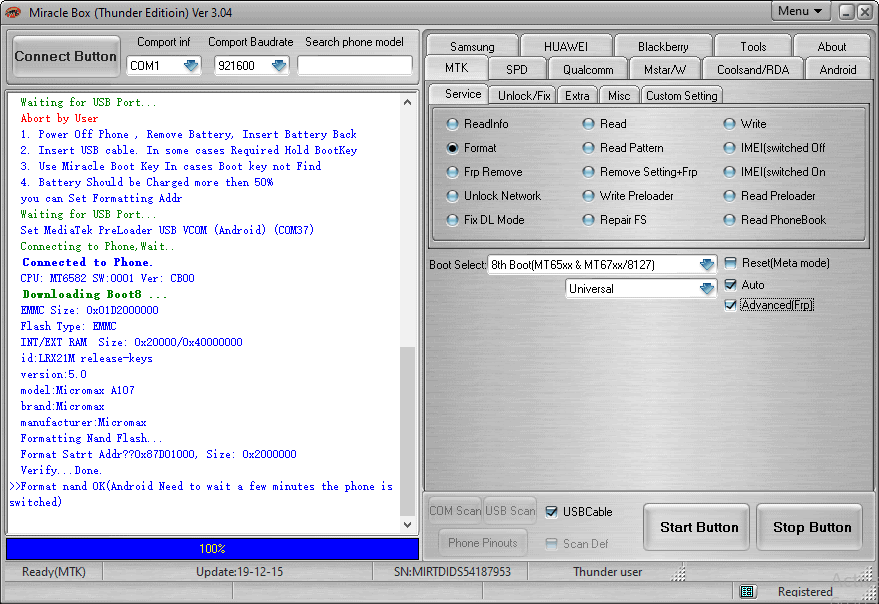 If you are looking for the latest Miracle Box Setup V3.04, then check out this article. Miracle Box v3.04 Thunder Edition released officially on December 10, 2019.
The tool supports most of the smartphones that include Xiaomi, Oppo, Motorola, Vivo, and many more. Besides, the latest update will support more than 370 Android devices. It is an excellent tool for all mobile technicians.
What Is Miracle Box?
Miracle Box is a professional, paid toolbox setup. It is a windows utility that can be used to repair Android smartphones. It is also one of the most user recommended and best tools for phones. It helps users to fix any kind of issue related to the software in MediaTek, Qualcomm, and SPD based devices.
Miracle Box tool provides many features such as Formatting, restoring IMEI, Unlocking, Repairing network and modem, Temporary Root the device, Restoring the Root Access, Direct Clear Password, Remove the root access, ByPass FRP Gmail account, Reset User Lock, Clear Private Code, and many other functions.
Why Miracle Box?
Miracle Box is the best choice because it comes with the best user interface, and any user can easily handle this tool and need not be a pro.
The tool is based on the latest fuzzy logic technology, and this technology makes a better combination of the software and the hardware. Further, it also detects the problems of an electronic device.
Moreover, the tool automatically detects your device. There is no need to specify device specifications manually.
The tool has the biggest collection of Chinese CPU data libraries. Further, it can support over 3 million Chinese devices with the latest update. It is also a multilingual tool.
Miracle Box Features:
Unlock FRP Lock.
Unlock Pattern Lock.
Unlock Boot-loader.
Read and write flash.
Unlock Pin.
Unlock Password.
Unlock FingerPrint.
Read and write NV.
Read & Write partition.
Auto Device detection.
Read info.
Write dump.
Factory Reset.
Remove all security.
Miracle Box 3.04 Changelog:
MTK Add MT6785 Read/Write Support (World's First).
MTK Add MT6785 Format/Factory Reset Support (World's First).
MTK Add Read mobile Info Before Read/Write/Format.
MTK Add Format in Meta Mode.
Android Improve MTK Flasher Tools Add MT6785 Support.
Android Improve MTK Flasher Tools Update Data Base.
MTK Improve UI/IMEI.
MTK Improve Auto Format For EMMC.
SPD Add SC9863A Format/Flash Support. (World's First).
SPD Add SC9863A Read/Factory Reset Support (World's First).
Improved Some Functions for Smooth Work.
Add Search Model Option.
Qualcomm Improve Write Flash.
Oppo/Vivo Meta Mode Factory Reset Support.
MTK/Qualcomm/SPD 370+ Models Added.
Miracle Box v3.04 Setup Details:
Software Full Name: Miracle Box Setup tool v3.04
Setup File Name: Setup_Miracle_Thunder_Edition_3.04.exe
Full Setup Size: 948MB
Setup Type: Offline Installer / Full Standalone Setup
Latest Version Release Added On: January 8, 2020
Compatible Architecture: 64 Bit (x64)/32 Bit (x86)
System Requirements:
Operating System: Windows XP/Vista/7/8/8.1/10
Memory: 512 MB of RAM required.
Hard Disk: 2 GB of free space required.
Processor: Intel Pentium 4 or later
Download Miracle Box:
How To Install Miracle Box Setup:
Download the latest Miracle Box setup to your device.
Then disconnect your internet and turn off anti-virus protection.
Extract Zip file (.RAR) using Winrar.
Now run the .exe file and wait for the setup to load.
Select your C:// Drive as the installation location.
Now you can run the tool.
List of Supported Devices
Ark Elf S8
Asus MAX 1 Pro X00TD
Asus X01BD
Asus X01BDA
Asus Zenfone Max Pro M2 (X01BDA)Archos AC101ENEV2
BQ Aquaris M8
Brondi 620 SZ
Cat S41
Cherry Mobile FLARE S4 MAX
Cherry Mobile FLARE S5 MAX
Condor Griffe T6
Condor Griffe T6
Condor Griffe T7
Condor Allure M1
Condor P8 Pro
Condor Plume L2 Pro
Condor T3 SP-414
Doogee X70
Hurricane Ace 5
Hurricane Archer
Hurricane Cobra
Hurricane Curve
Hurricane Epic
Hurricane Flint
Hurricane Fuse
Hurricane Giga
Hurricane IGNITE
Hurricane IGNITE
Hurricane Link
Hurricane Panther
Hurricane S43
Hurricane Slam
Hurricane Sting
Hurricane Swift
Hurricane Vortex
Hurricane Vulcan 5
DISCOVER P10 PLUS
Ergo F500
Gionee P8
Gtel A7155 X4 Mini
Infinix Hot 6 Pro
Infinix X5515
Insignia NS-P11A8100
Itel A45
KLIPAD V335b
LiteTel LT4501
Meizu 15
Meizu 15 LITE
Masstel Juno Q7
Maximus D7
Maximus P7
MeanIT C1
Mediacom M-SP8MXA
MEDION B5060
MEDION E5005
Meizu 16S
Meizu 16XS
Meizu Note8
Meizu Note9
Meizu X8
Lecom 8585
Lenovo K5 Pro
Lenovo K5 Pro_1
Lenovo S5 Pro
Lenovo S5 Pro_1
Lenovo Z5 Pro
Lenovo Z5 Pro_1
Lenovo Z5s
Lenovo Z5s_1
Navon Suprem Fine
Nokia 2.1
Qmobile Infinity
Qmobile Infinity
Qmobile Infinity E
QMobile J7 PRO
Qmobile Noir J5
Qmobile X36
Redmi 6
Redmi 6A
Impression ImSmart C571
Impression ImSmart C572
Infinix 5511B
INFINIX-X609
INOI 2
INOI 2 Lite
IRIS VOX POP PRO
Itel IT1355M
SYMPHONY i75
SYMPHONY V134
SYMPHONY V135
SYMPHONY V92
SYMPHONY V96
BLAUPUNKT SL 02
Cagabi One
Fly FS518
Gmango s8
Hello Premium8
Hiking A18
Lions 6
MI Redi go(Dual Lte)
Mint Orion
Mobistar CQ
NAVITEL T500 3G
Nokia 5.1 Plus
Nokia 6.1 Plus
Nomi C070012 Corsa 3
Nomi Corsa Pro C070020
OALE APEX 1
Oale APEX 3
OALE X2
OALE X4
OUKITEL MIX 2
Panasonic P110
PREMIO 186HS1050531
Qubo Hermes
REDMI NOTE 6 PRO
S-Color Mate 9 Plus
S-COLOR T20
S-COLOR T30
Senseit E510
Smart S-29
STYLO VS571
SYMPHONY G100
SYMPHONY P8 Pro
Symphony SYMTAB60
Tambo TA-2 3G
TURBO-X A2
VKWorld F2
VODAFONE VF-696
Walton RX6
We L7
XGODY X24 EU
ZTE BLADE A530
ZTE BLADE L0510
Tecno F2 LTE
VGOTEL Venture v11
VGOTEL Venture V8
VIVO Nex
VIVO Nex A
VIVO V11i
Vsun Mars Note
Vsun Mars Touch
Vsun Mercury Tough
WALTON Primo GH7
Walton Primo NX4 Mini
WALTON Primo RM3
WALTON Primo S5
Wiko U Feel Lite
Winmax Tiger X3
Winmax Tiger X4
Acer B1-870 Iconia 8
ACER B3-A40
Advan E1C Active
ALIGATOR S5065
ALIGATOR S6000 Duo
Amgoo AM509
Anica K TOUCH I9
Oppo Realme 3i Till (RMX1827EX_11_A13)
Oppo A5s
ACER A3-A40
Acer B1-790
ADVAN 5502
ADVAN 5504
ADVAN G1
ADVAN I4U
ADVAN I55D
ADVAN I5C Duo
ADVAN I5E
ADVAN I5G
ADVAN I7U
ADVAN X7 Pro
ALLVIEW A10 Lite
ALLVIEW A10 Plus
ALLVIEW P10 Style
ALLVIEW P4 Pro
ALLVIEW P41 eMagic
ALLVIEW P6 Energy Lite
ALLVIEW P8 Life
ARCHOS 101 Access
ARCHOS 101 Helium
ARCHOS 101 Xenon
ARCHOS 101 Xenon Lite
ARCHOS 101C Platinum
ARCHOS 70 Copper
ARCHOS 70 Oxygen
ARCHOS 70 Xenon
ARCHOS 70B Xenon
ARCHOS 70C Xenon
ARCHOS 80C Xenon
ARCHOS Access 101 3G
ARCHOS Access 45 4G
ARCHOS Access 57 4G
ARCHOS Core 50 4G
ARCHOS Core 55 4G
Blackview A60
Blackview A60 Pro
Blackview BV5500
Blackview BV5500 Pro
Blackview BV6100
Blackview BV9600
Blackview BV9600 Pro
Blackview BV9700 Pro
Blackview Max 1
BLU Advance A5 (A0010WW)
BLU Advance A5 Plus (A0031WW)
BLU Advance A6(A190P)
BLU Advance L4 (A350A)
BLU C4 (C050)
BLU C4 (C070)
BLU C5 (C0000UU)
BLU C6 (C031P)
BLU C6L (C0030)
BLU G5 (G0090)
BLU G5 Plus (G0190)
BLU G6 (G0210)
BLU G8 (G0170)
BLU G9 (G0130WW)
BLU Grand 5.5 (G210Q)
BLU Grand M2 (G0050)
BLU Grand M3 (G0070WW)
BLU P0050WW (Pure View)
BLU S0470WW (Studio Mega LTE)
BLU S0480LL (S5)
BLU S532 (Studio X8 HD)
BQ-5700L
BQ-6015L
BRAVIS A506
Bravis A551 Atlas
Bravis A553 Discovery
Bravis A554 Grand
Bravis X500 Trace Pro
CASPER VIA A2
CHUWI Hi9
CHUWI Hi9 Air
CHUWI Hi9 Plus
CHUWI Hi9 Pro
CONDOR SP623 (Plume L2)
CONDOR SP624
CONDOR SP638 (Plume L3 Smart)
CONQUEST S10
CONQUEST S11
CONQUEST S6
CONQUEST S8
CONQUEST S8 TDC1801
CONQUEST S9
CUBOT S550 Pro
Cutepad M7078
DA_PL_CRYPTO20.bin
DEXP A150
DEXP AL140
DEXP B355
DEXP BL150
DEXP BS155
DEXP G253
DEXP G255
DEXP G355
DEXP GL355
DEXP L170
DEXP L180
DEXP M110
DEXP S110
DEXP S290
DEXP Y5
DEXP Z355
DEXP Z455
DIGICEL DL501
Doogee N10
Doogee S70 Lite
Doogee Y7
Doogee Y7 Plus
Doogee Y8
Doogee Y8 Plus
Doogee Y8C
ENERGIZER E500
ENERGIZER E500S
ENERGIZER E520
ENERGIZER H240S
ENERGIZER H500S
ENERGIZER H550S
ENERGIZER P490
ENERGIZER P490S
ENERGIZER P550S
ENERGIZER P600S
ENERGIZER S500
ENERGIZER S500E
E-TACHI A5SLIM
FLY FS526
FLY Life Ace
FLY Life Play
FLY Life Sky
FLY Slimline
FLY View Max
GINZZU RS71D
Gionee F205
GIONEE S9L
GIONEE SW17W08
HISENSE E6
HISENSE T965
HOMTOM C2
HOMTOM Zoji Z11
HOMTOM Zoji Z33
Hurricane Ace 5
Hurricane Blast
Hurricane Epic
Hurricane Flint
Hurricane Fuse
Hurricane Giga
Hurricane Panther
Hurricane S43
Hurricane Vortex
iLA D1
iLA S1
iLA Silk
iLA X
Infinix x5514D
Infinix x5515
infinix x5516b
Infinix x625B
Infinix x625C
Infinix x625D
Infinix x626
Infinix x626B
Infinix x627
Infinix x627V
Infinix x627W
Infinix x650B
Infinix x650C
Infinix x650D
Infinix x653C
Invens V3
IRBIS SP402
Irbis SP493
Iris Tab 7060
ITEL A43
Itel A44 POWER
Itel A466
ITEL A52B
Itel P 33 PLUS
ITEL P13
Itel P33
ITEL S11XB
Itel S15 PR0
ITEL W5003
Itel W5005
Itel W5005P
KRIP K6
Kruger & Matz MOVE_8
Lenovo A5
LENOVO S1LA40
LITETEL LT4501
LITETEL LT4501
Maximus D7
MEIZU M1E
MEIZU M3S
MEIZU M6T
MEIZU Pro7 Plus
Mione E88/U2
MOBIISTAR C1 Shine
MOBIISTAR Prime X Plus
Myphone My32
MYPHONE MyX2
MYPHONE R51
MYPHONE R52
MYPHONE R7
NEFFOS C5
NEFFOS C5 Max
NEFFOS C5 Plus
NEFFOS C5A
NEFFOS C5L
NEFFOS C5S
NEFFOS C7
NEFFOS C7A
NEFFOS C9
NEFFOS C9A
NEFFOS N1
NEFFOS P1
NEFFOS X1
NEFFOS X1 Lite
NEFFOS X1 Max
NEFFOS X9
NEFFOS Y5
NEFFOS Y50
NEFFOS Y5L
NEFFOS Y5S
NOKIA 5.1 (TA-1075)
NOMU M6S
NOMU S10
NOMU S10 Pro
NOMU S20
NOMU S30
NOMU S30 Mini
NOMU T18
NUU M3
OALE P2
OUKITEL C12 Pro
OUKITEL K7 Power
OUKITEL WP2
Panasonic P91
Polaroid PSPTD21NA
POPTEL P10
POPTEL P60
POPTEL P8
POPTEL P9000 Max
PRESTIGIO PSP5513
PRESTIGIO PSP5518
SMARTEC SMARTAB S4
Stark Impress Noda
Starlight Madrid
STARMOBILE Knight Luxe
STARMOBILE Knight Vision
STARMOBILE Knight X
STARMOBILE Play Lite
STARMOBILE Sky
STARMOBILE Turbo
STARMOBILE UP Groove
STARMOBILE UP HD
STARMOBILE UP Max
STARMOBILE UP Mini
STARMOBILE UP Neo
STARMOBILE UP Prime
STARMOBILE UP Selfie
STARMOBILE UP Sense
STARMOBILE UP Ultra
STARMOBILE UP Vision
S-TELL M457
S-TELL M477
S-TELL M510
S-TELL M511
S-TELL M555
S-TELL M556
S-TELL M557
S-TELL M572
S-TELL M573
S-TELL M575
S-TELL M578
S-TELL M579
S-TELL M615
S-TELL M620
S-TELL M630
S-TELL M650
S-TELL M707
S-TELL M920
S-TELL P450
S-TELL P750
S-TELL P770
S-TELL P771
S-TELL P780
S-TELL P790
S-TELL P850
STREAM HT16
Stylo S49 Cobalt
STYLO S571
SUGAR SUGAR C11
SUGAR SUGAR C11s
SYMPHONY Helio S5
SYMPHONY V48
Tecno A52 LITE
Tecno AB7 Phantom 9
TECNO B2(Pop 2 Pro)
Tecno CB7 CAMON i4
Tecno CC6
Tecno CC9
TECNO KB2(Camon iAce 2)
TECNO KB2J(Camon iAce 2X)
Tecno KB7
Tecno KB7J
Tecno KB8
Tecno KC1
Tecno KC1J
Tecno KC3
Tecno kc8
Tecno LC6 Pouvoir 3 AIR
Tecno RA8
TECNO S1S Pro
TITANIC T-2
ULEFONE Armor 3
ULEFONE Armor 3T
UMIDIGI A3 Pro
UMIDIGI One Max
UMIDIGI One Pro
UMIDIGI ONE PRO
VERNEE M7
VERNEE M8 Pro
Vernee Pro V2
VERTEX Aero
VERTEX Baccara
VERTEX Bear
VERTEX Blade
VERTEX Click
VERTEX Eclipse
VERTEX Energy
VERTEX Flash
VERTEX Frost
VERTEX Funk
VERTEX Game
VERTEX Mars
VERTEX Phonic
VERTEX Reef
VERTEX Spring
VERTEX Tiger
VERTEX Wolf
VERTEX Zeon 3G
VERYKOOL SL5008
ViTu V6
ViTu V7
VODAFONE VFD510
VODAFONE VFD511
VODAFONE VFD512
VODAFONE VFD513
WALTON D9
WALTON EF8
WALTON EM2
WALTON F8s
WALTON G8
WALTON GF7
WALTON GH7i
WALTON H7s
WALTON H8
WALTON Primo R5
Walton Primo RX6
WE E2
WE F1
WE F10
WE F20
WE R2
WE S1
WE V3
WE V4
WIKO SUNNY3 (W_K120)
WIKO VIEW 2 GO
Wiko Wim
Xcell-Zoom
ZTE NUBIA 11