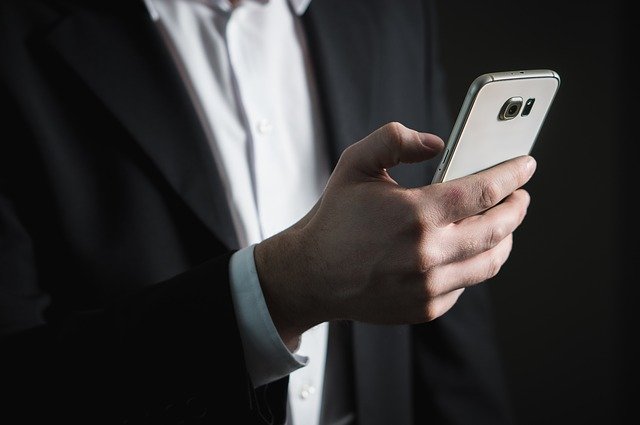 A Personal Loan is an unsecured loan that helps the individuals to meet their present financial needs. To satisfy the financial requirements, we have to go to some bank or some money lenders near us. If you choose a bank as your loan lender, then there are some formalities to complete. Of all these, submitting securities is the major problem almost every person faces. If you go for a money lender, then you get a loan instantly but at a higher rate of interest. Keeping all these obstacles in mind, some people came up with the idea of Instant Personal Loan Apps in this digital era.
Well, you can get these apps directly from the PlayStore. But, which one is good for you and which personal loan lending app suits you best is the major problem. We researched for some time now and have come up with some of the best Instant Personal Loan Apps that would suit you better than others. Here we have listed down the Top-10 Instant Personal Loan Apps, making it easy for you. You may go through the article and decide which one is better for you and which one is not.
Eligibility of the Applicant to Get an Instant Personal Loan
The applicant should be a resident of India.
The applicant should be in the age group of 21 to 65 years.
The minimum monthly income should be at least Rs. 15000/-. It may be higher in metro cities.
The self-employed applicant must have work experience of a minimum of 3 years, and it is one year for the salaried applicants.
750+ Credit Score is preferable.
It is better if the applicant does not have any other loans. Even if he/she has other loans, you should be able to prove that you can bear the burden.
Documents Required
The complete loan application.
A minimum of 2 passport size photographs.
Any identity proof viz – PAN Card/Voter ID/Passport, etc.
Address Proof.
At least three months of Bank Statement.
Income proof- Last two years' balance sheet/profit and loss statement approved by any CA/IT Returns statement
10 Best Instant Personal Loan Apps
#1 Moneyview: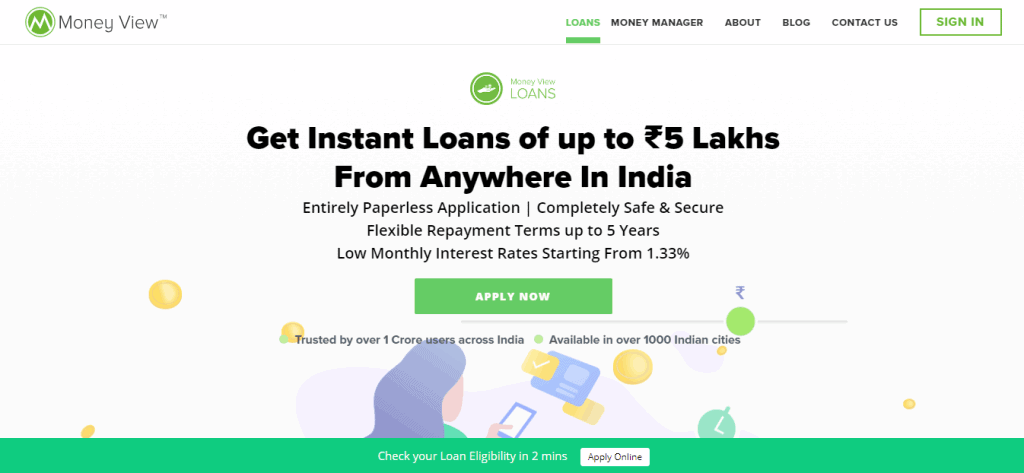 MoneyView founded in 2014 by Mr. Sanjay Agarwal. Even though it has been only five years, it is the market leader in terms of personal loans. MoneyView provides security free loans, and it takes only two hours for the process to complete. This app approves personal loans in two hours, and it is entirely paperless.
Key Features of MoneyView
The loan amount ranges from Rs. 10,000/- and Rs. 5 Lac.
The minimum loan period is three months, and the maximum period is 36 months.
The rate of interest varies between 16% pa to 24% pa based on the applicant's spending pattern.
The minimum monthly income for this is less than average and is kept at Rs. 13,500/- for salaried employees, and it is Rs. 25,000/- for business people.
One specific feature of MoneyView is that it uses its own credit model.
#2 Credy Technologies: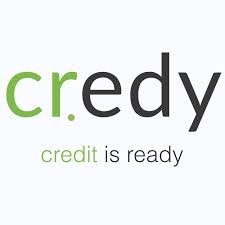 Credy Technologies boasts of giving away instant personal loans in just minutes. The loan gets approved in 5 minutes. It uses biometric verification to disburse the loan.
Key Features of Credy Technologies
The loan amount ranges in Rs. 10,000/- and Rs. 1 Lac.
The repayment period is three months to 12 months.
The processing fee is 3% and is calculated on the total loan amount.
If you want to close the loan early, then you have to pay preclosure charges of 2% on the outstanding amount.
The rate of interest is 12% pa(at 1-1.5% per month).
This app provides loans for individuals who reside in Mumbai, Pune, Chennai, and Bangalore. In cities other than those mentioned above, this app facility is not available until now.
#3 PaySense: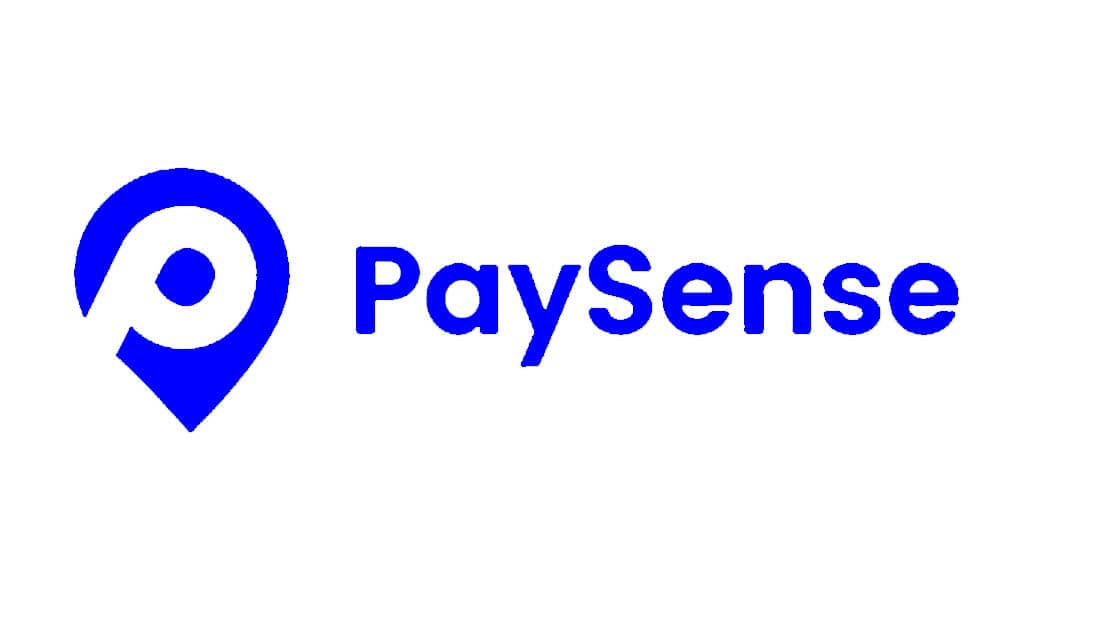 PaySense is a fintech startup founded by Prashanth Ranganathan and Sayli Karanjkar in 2015. It is headquartered in Mumbai. PaySense has partnered with IIFL and Fullerton for disbursing personal loans. It also offers a completely paperless process for personal loans.
Key Features of PaySense
The maximum loan amount is Rs. 2 Lac, but the approval is made based on the risk profile of the applicant.
The rate of interest starts at 16.8% pa.
All the KYC documents should be submitted online.
It may take 2-3 days to get the loan amount to your accounts.
#4 Indiabulls Dhani: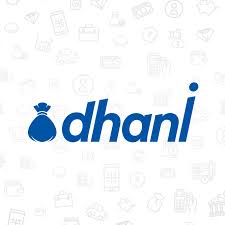 Indiabulls Dhani is one of the best instant personal loan apps available in India now. "Dhani" has the support of Indiabulls Ventures. You need to produce Address proof and your PAN card to get instant loan approval.
Key Features of Indiabulls Dhani
The loan amount ranges from Rs. 1000/- and Rs. 15 Lac.
It is one of the lowest interest charging app. The rate of interest is only 11.99%.
A processing fee is charged as 1.5% to 6%, but it is generally capped at 5% on an average.
You will get the approved loan amount in 1 day into your bank accounts.
One more added benefit is that there are no preclosure charges for the loan amounts under Rs. 20,000/-.
#5 MoneyTap: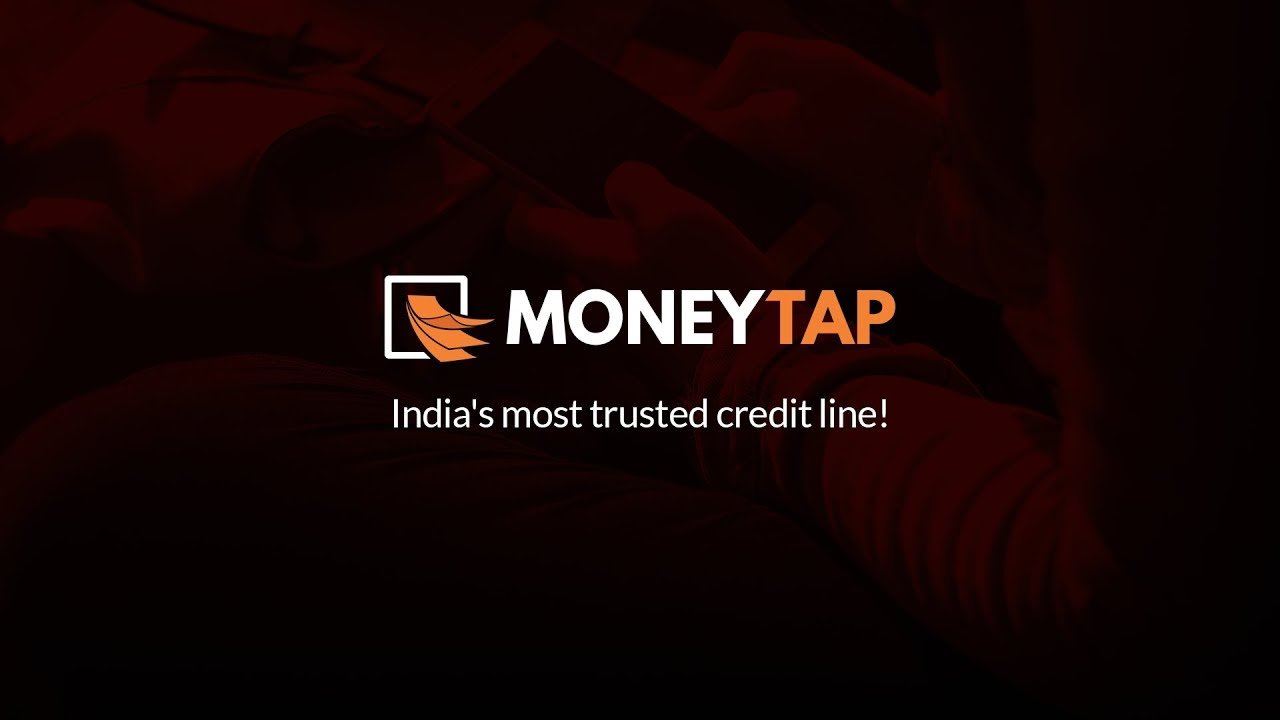 MoneyTap is an app-based personal loan company, founded by Kunal Varma, Bala Parthasarathy, and Anuj Kacker in 2015. Headquartered in Bengaluru, MoneyTap partnered with leading NBFCs in India.
Key Features of MoneyTap
The maximum loan amount to disburse is Rs. 5 Lac.
The repayment period is two months to 36 months using this app.
The interest rates are in the range of 13% to 24.3% pa.
The loan amount is disbursed almost instantly into your accounts.
With MoneyTap, you only pay interest to the amount you withdraw and not for the total amount approved. This feature is one of the best among all the instant loan apps.
#6 CASHe: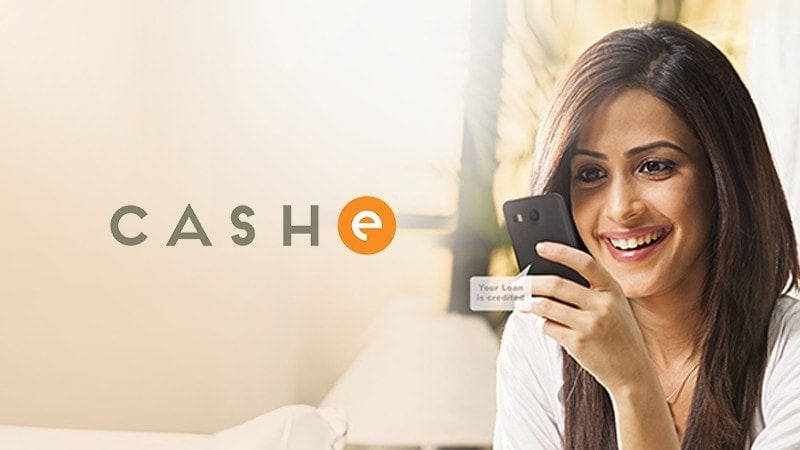 V. Raman Kumar founded Mumbai based fintech startup CASHe in 2016. The app uses a proprietary algorithm named "Loan Quotient" to create a credit profile for young salaried employees based on their social profile, merit, and earning potential.
Key Features of CASHe
You can get a loan ranging from Rs. 5000/- to Rs. 2 Lac.
The interest rate is around 18% pa(1.5% per month).
The repayment period is 15 days to 180 days(6 months).
CASHe is best suitable for those young professionals who have just begun their careers and require finance for their needs, such as a two-wheeler, housing infra, etc.
#7 KreditBee: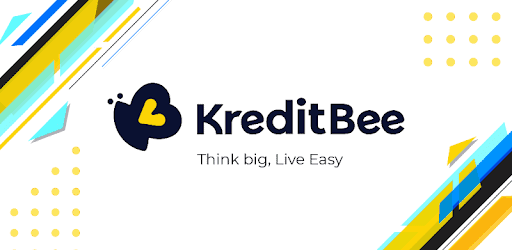 KreditBee gives personal loans to an individual of the age above 21 years. The approved amount is transferred directly to your bank account.
Key Features of KrediBee
The loan amount is between Rs. 1000/- to Rs. 2 Lac.
It is one of the fastest loan disbursement apps. The disbursement takes time anywhere between 5 minutes and 24 hours.
The rate of interest is 1.02% per month.
The loan eligibility can be increased for the salaried individuals by providing Salary Slips.
#8 PaymeIndia: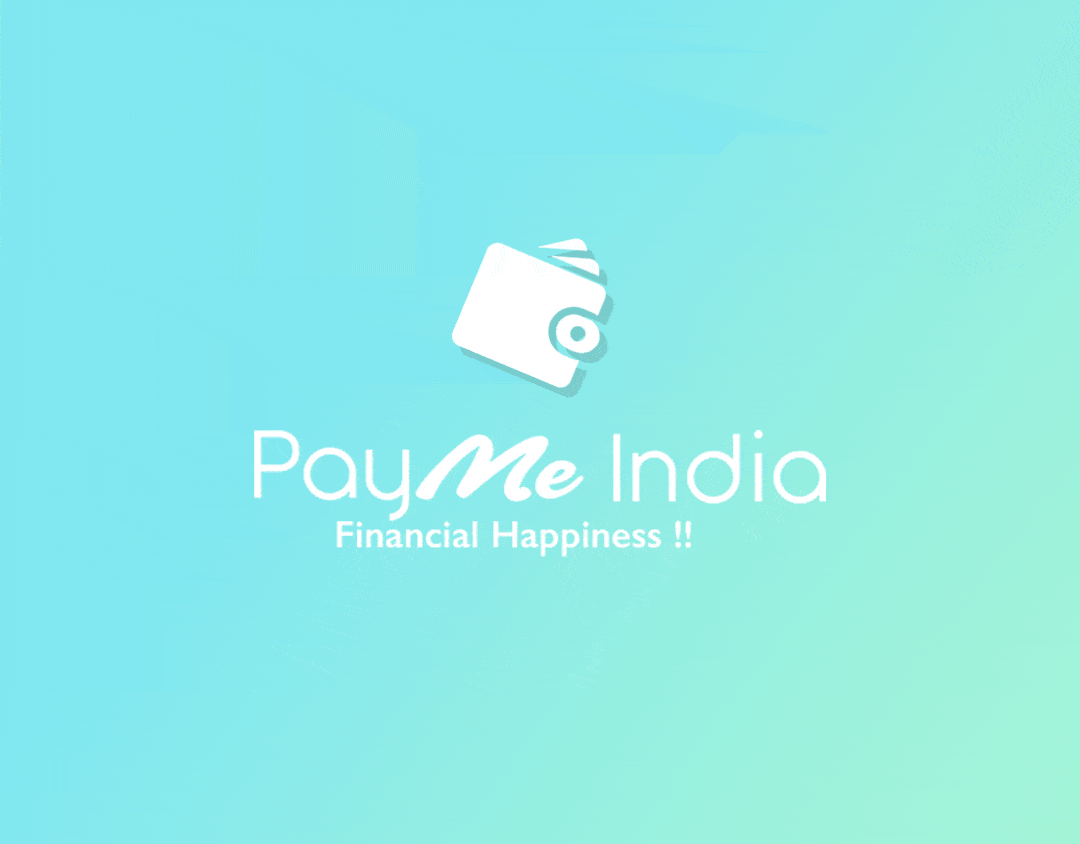 PaymeIndia is a unique fintech startup that started to satisfy the quick cash needs of Corporate employees. It is a short-term loan app.
Key Features of PaymeIndia
The minimum loan amount is Rs. 500/- and the maximum loan amount Rs. 1 Lac.
The loan tenure is from 10 days to 24 months.
The rate of interest is 2-6% per month.
The funds are credited instantly to your bank accounts.
PaymeIndia best suits for Corporate employees who need quick cash and repay within a month or two.
#9 AnyTime Loan: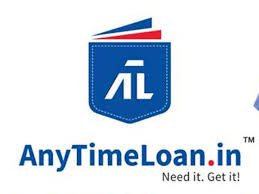 AnyTime Loan offers loans to both Self-employed and Salaried individuals. The app gives loans on-demand, instant, 24×7 to the applicants. This instant loan app offers different unsecured personal loans such as Business and Educational loans paperless, contactless, and also swiftly.
Key Features of AnyTime Loan
NO hidden charges and NO prepayment charges.
The minimum loan amount is Rs. 1000/- and the maximum is Rs. 10 Lac.
Annual interest rate varies between and 18% and 54%.
AnyTime Loan also provides loans for MSME loans and K12 educational loans. This online loan lending app aims to provide loans or mortgages to unbanked individuals.
 #10 EarlySalary: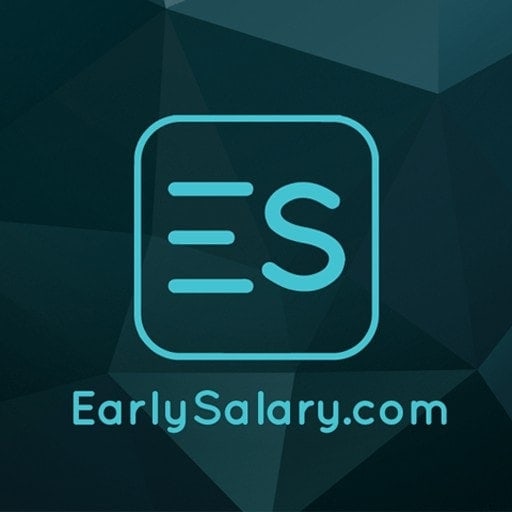 EarlySalary is Pune based startup founded in 2015. No credit history is required to get the loan approved. It is a very short period loan app.
Key Features of EarlySalary
The loan amount ranges from Rs. 1000 to Rs. 2 Lac.
The loan tenure is seven days to 50 days.
NO prepayment charges.
The interest rate is 2-2.5 % per month.
You can use the EarlySalary app to pay for your purchases at Amazon, Big-Bazaar, and Flipkart.
All the Instant Personal Loan Apps listed above are available for download in the Google Play Store. Some of them are under development for iStore. So wait until they are available else choose the one that suits you next best to get your loan.
If the salary is not sufficient or you need more money in advance, download these apps from the Google Play Store, and crave your financial needs. But remember to select the Instant Personal Loan App that suits you best and get your loan approved in minutes. Repay within time to be eligible for extra credit amount than previous loan approvals.