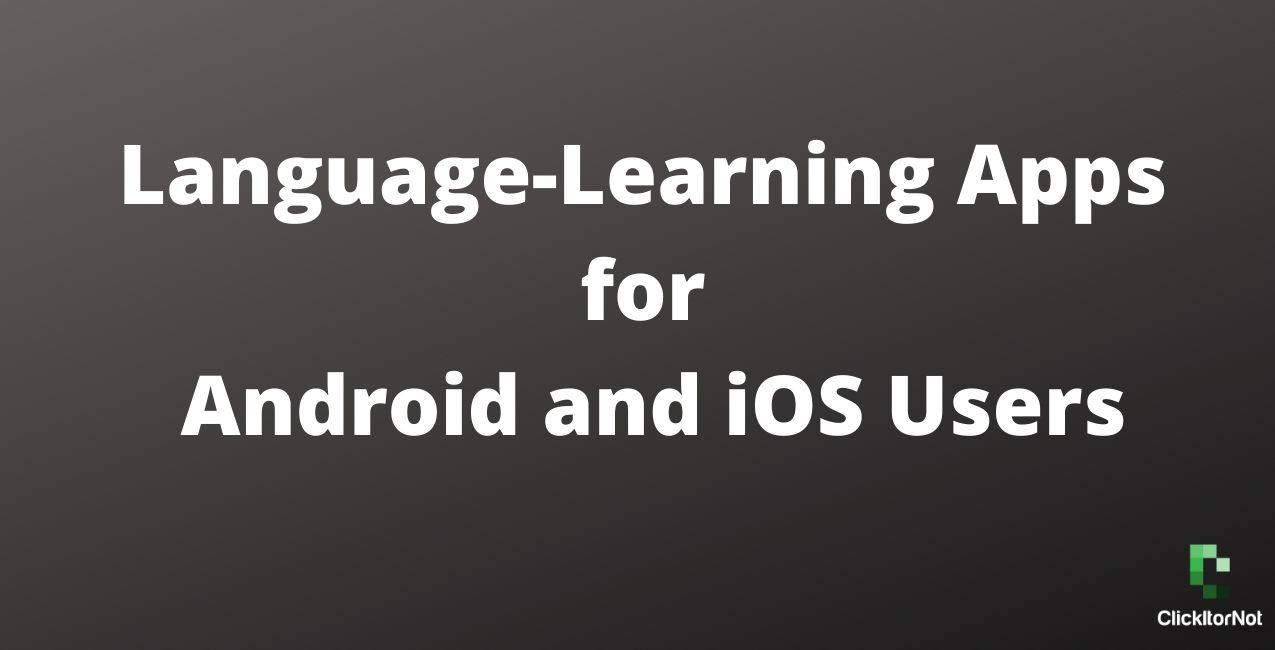 Learning a new language is difficult as it is different such as new vocabulary, grammar, and practices to learn. Right now, there are a lot of tools that can help to learn the new language. Users can't learn a whole new language from the apps, but they can get some tools that make this process easy. Below is the list of best language-learning apps for Android and iOS users.
Duolingo
The main aim of this app is that language-learning should be free. All the languages supported by this app is available for free from start to end. This app uses a gaming concept from which the user learn new languages by playing small games that show new vocabulary and grammar. The developers said that 34 hours of playing means that a semester in college. Beginners can start from this budget-friendly app.
Download Duolingo for Android and iOS Users
FluentU
This app uses real-world videos, such as inspirational talks, movie trailers, and music videos, in a new meaning. Every video has captions, and the captions are explained, it gives easy access to any word's definition, an associate image, and example sentences. The user can also click on any word to see how that word is used in other videos. It also has learn mode, which includes video clips, pictures, and example sentences in engaging exercises and flashcards. The app is fully personalized. The user can select his pace and what videos he wants to watch. FluentU has many languages, such as Chinese (Mandarin), English, French, German, Italian, Japanese, Korean, Russian, and Spanish.
Download FluentU for Android and iOS Users
Memrise
It is one of the best language-learning apps that the user can install on Android or iOS devices. The USP of the app is it uses real, local speakers to teach the language. They make local video clips that the user can watch on the app and learn. It is useful as the context of the words, and the pronunciation is clear. The app teaches the new language by showing the fun video clips and playing fun quiz-type games. This app supports languages such as French, Spanish, German, Japanese, Korean, Italian, Chinese, Portuguese, Russian, Arabic, Dutch, Swedish, Norwegian, Polish, Turkish, Danish, Icelandic, Mongolian, or Slovenian.
Download Memrise for Android and iOS Users
Mondly
This app supports almost three dozen languages. It focuses on a lot of conversational learning, not on repetitive vocabulary. Firstly, the user will learn how to talk to people, and then the user will learn how actually to talk in the language. It also comes with decent speech recognition for vocal practice, a phrasebook, and Google ARCore support.
Download Mondly for Android and iOS Users
Google Translate
Google Translate is a translator application from which the user can translate any language. The user has to type the sentence or word in his language and select the target language. This app supports all the languages, and if the user downloads the language pack, then it works in offline mode. The user can learn words or sentences in the target language. It translates texts, voice, or handwriting, and the user can save translations for quick access. From the Augmented Reality feature, the user can translate words from any picture through his smartphone camera.
Download Google Translate for Android and iOS Users
Beelinguapp
This app contains audiobooks of stories, and the user can read by himself or listen to it anywhere, anytime. It is useful to improve pronunciation. The app has a karaoke feature from which the user can read with the audio in the background. It supports 13 languages for reading text side by side. The app also has a highlighted sentence feature that helps the user to read the same sentence in both languages.
Download Beelinguapp for Android and iOS Users
Language Drops
Language Drops is a developer on Google Play with a lot of language learning apps. Every language has its app, and the developer supports a lot of languages. It focuses mainly on vocabulary with almost no focus on grammar. The user can learn conversational language and vocabulary with grammar, just like filling it in as you go.
Download Language Drops for Android and iOS Users
TripLingo
It is specially designed by keeping travelers in mind, but it doesn't mean that it isn't a good language-learning app for the learners. The app mainly focuses on useful phrases. It has a lot of phrases (including slang), a translator, audio lessons, flashcards, etc. TripLingo allows 13 languages.
Download TripLingo for Android and iOS Users
MosaLingua Crea apps
This language-learning app uses a flashcard system. The cost of the premium version of the apps are $4.99, and it will come with more than 3,000 flashcards. It is an excellent study aid. It is among the most comprehensive flashcard apps for languages.
Download MosaLingua Crea apps for Android and iOS Users
Lingvist
Lingvist is a free language-learning app with busy learners in mind, whether they are beginner, intermediate, or advanced. It focuses on the most common vocabulary and aims to provide the user with highly usable language skills. The app can be adjusted according to the user's need to increase user learning skills. It teaches more than 5,000 words in every language, can be grouped by themes such as hobbies, family, medical vocab, and more. The app provides English, French, German, Russian, and Spanish languages.