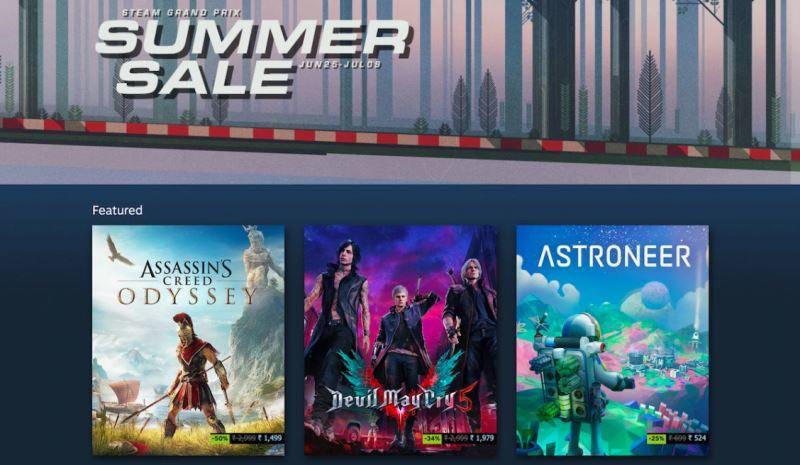 These days, there are plenty of ways to score video games for cheap. Seems like there's a new sale every week or two, not to mention the various subscription services and Epic's penchant for giving away freebies. But the Steam Summer Sale is an institution, damn it, and I still get a bit excited when it rolls around again.
Steam Summer Sale 2019 kicked off on June 25 and will continue till July 9. Like the previous year, Steam has introduced a mini-game at "Steam Grand Prix Summer Sale" where users will win a title from their wishlist. Users will have to pick a team out of five and compete at the "Grand Prix Quests".
Steam Summer Sale 2019: Best deals
Assassin's Creed Odyssey (50 percent off) Rs 1499
Civilization VI (75 percent off) Rs 624
Devil May Cry 5 (34 percent off) Rs 1979
DiRT Rally 2.0 (50 percent off) Rs 649
Far Cry: New Dawn (50 percent off) Rs 1124
Firewatch (75 percent off) Rs 141
Grim Fandango Remastered (85 percent off) Rs 71
Hollow Knight (40 percent off) Rs 287
Into the Breach (50 percent off) Rs 229
Jurassic World Evolution (70 percent off) Rs 856
Left 4 Dead (90 percent off) Rs 24
Life is Strange 2 (50 percent off) Rs 230
Monster Hunter World 1499 (50 percent off) Rs
PlayerUnknown's Battlegrounds (50 percent off) Rs 499
The sale runs from now through July 9, and since Valve still hasn't brought back Flash Sales or Daily Deals you're safe to buy everything today or wait until the last minute. The discounts on all the games remain the same throughout the period of the sale. This means users can shortlist the games they want and buy them before the sale ends in July.