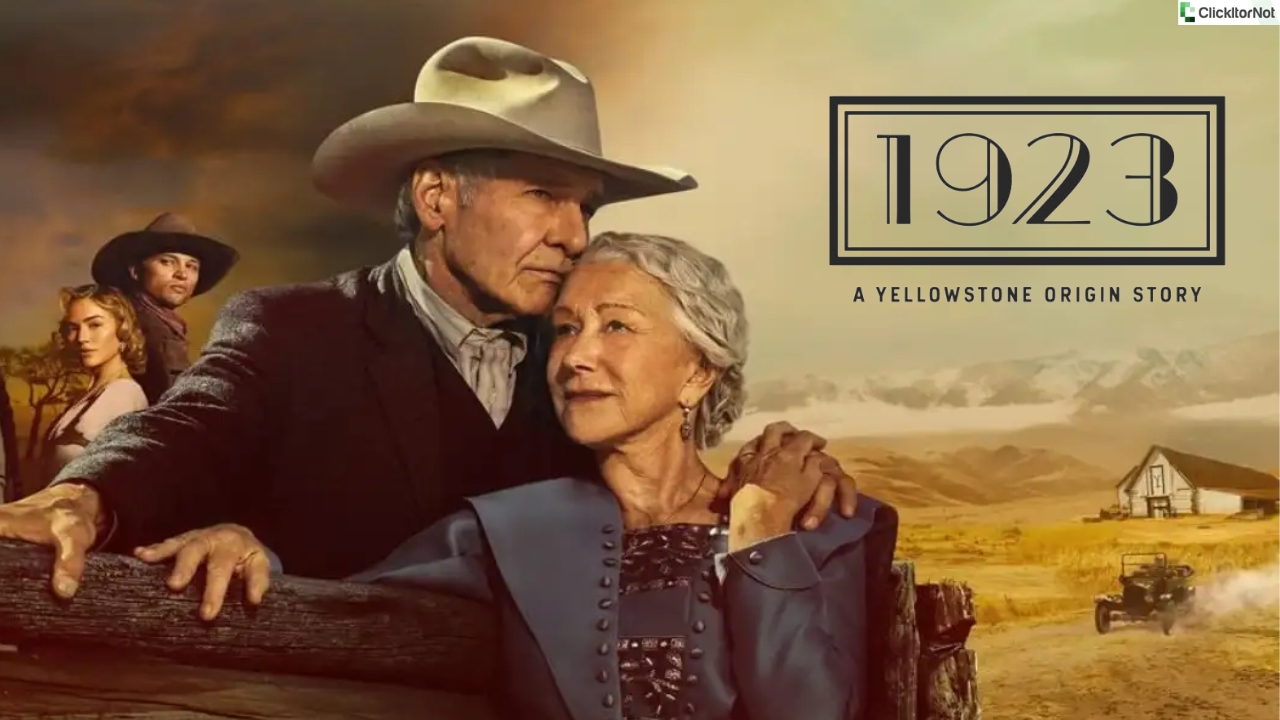 1923
Paramount+ is keeping you hooked to Yellowstone, with spin-offs popping up all over the place. We have another prequel in the works titled 1923. At this moment, we don't have much information about the series, except some details about the cast members and plotline.
Talking about the series, the story is set during the Prohibition era on the heels of World War I. Montana experiences an economic collapse ahead of the Great Depression.
The Yellowstone prequel series is expected to hit the screens this year. This news came after Paramount+ changed the title from 1932 to 1923.
If you are a fan of Yellowstone, you would want to know more about the upcoming prequel. In this post, we have included everything we know about the show.
1923 Movie Release Date
The show is currently being filmed in Montana. It will focus on the next two generations of the Dutton's family as they struggle to survive the Prohibition, drought, lawlessness, and epidemic of cattle theft. The nation was affected by the Great Depression.
As far as the 1923 Movie release date is concerned, it is expected to release at the end of this year. It is most likely to arrive in December. However, we don't have an exact release date yet.
The prequel will be released after the launch of Yellowstone season 5, which is scheduled to release on 5th November 2022.
1923 Movie Cast
Fans were shocked to know that the prequel will star Helen Mirren and Harrison Ford in the lead roles. Based on the announcement made by Paramount+, they will play brother and sister-in-law to Tim McGraw's James Dutton.
As per reports, Sebastian Roche is a new addition to the cast. But details about his role have not been disclosed yet. Paramount+ has already revealed the 1923 Movie cast list.
Harrison Ford as Jacob Dutton
Helen Mirren as Cara Dutton
Darren Mann as Jack Dutton
Michelle Randolph as Elizabeth Strafford
Marley Shelton as Emma Button
James Badge Dale as John Dutton
Aminah Nieves as Teonna Rainwater
Brian Geraghty as Zane
Julia Schlaepfer as Alexandra
1923 Movie Trailer
We don't have the 1923 movie trailer. If the show is coming out in December this year, we can expect the trailer to release in the coming few months.
1923 Movie Teaser
As of now, no footage from the series has been revealed. Teasers are usually launched a month before the release date. This means the 1923 Movie teaser will be out at some point in November. This is just a wild guess, so you shouldn't take it seriously.
We will update the teaser link as soon as it is launched.
1923 Movie Plot & Expected Storyline
As far as, we know 1923 movie plot will focus on the next two generations of the Dutton's Family as they struggle through a period of chaos.
You will find more details in 1923 movie wiki guide.
Where to watch the 1923 Movie?
Since this is a new show, viewers are curious to know about the 1923 Movie where to watch. Like Yellowstone, 1923 will be aired on Paramount Network and streamed on Peacock.
To stream the prequel on Peacock, you will have to subscribe to the platform. This will allow you to watch the show in HD format.
1923 Movie Countdown
The show is scheduled to release in December. But since the exact release date is not announced, we are unable to start 1923 Movie countdown. No worries, we will notify you as soon as the premiere date is declared.
1923 Movie Episode Guide
As of now, Paramount+ has not confirmed the number of 1923 movie episodes. Both Yellowstone and 1883 have average of 10 episodes, so we are assuming that the upcoming prequel will also have the same episode count.
We will get to know more about the episodes as we get closer to 1923 movie episode 1 release date.
1923 Movie Spoilers & Leaks
You will have to wait a little longer for 1923 movie spoilers to be leaked.
1923 Movie News Update
According to 1923 movie news, the series is currently under production, with the team filming in Monaco.
If you want to stay updated on the show, you should follow 1923 movie Twitter page.
1923 Movie Poster
1923 movie poster is not available yet.
Final Thoughts on 1923 Movie
1923 movie release date is not announced yet. But there is high chance that it will premiere in December. Whenever the official release date is announced, we will be the first ones to let you know.
1923 Movie FAQs
Is 1923 a series?
1923 is a prequel series to Yellowstone.
When will 1923 be release?
1923 is expected to arrive in December, but the official release date is not announced.
Where can we watch 1923?
1923 will be aired on Paramount Network. It will also be available for streaming on Peacock.
Who are in the lead roles in 1923?
Helen Mirren and Harrison Ford are playing lead roles in 1923.
MUST SEE: