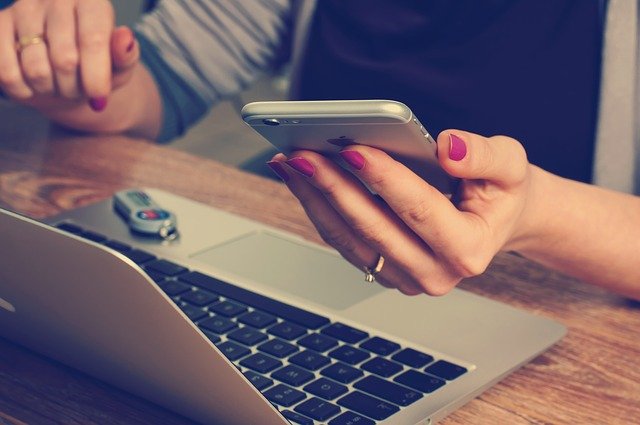 Technology has got advanced and modern like never before. The young generation keeps in search to find out ways to hack things. We all know that Hacking stuff is not walking in the park, it takes lots of skills, technical knowledge, and precision. If you are a person with no professional hacking skills then it's impossible for you to track someone's phone or text messages. What if you get that power of phone tracking without acquiring any hacking or technical skills? Well, you can actually track every phone device even if you don't have any hacking or technical skills.
Not sure if you are familiar with phone spying apps or not. These are the apps that give you control to monitor any phone device including text messages and other data. Lots of companies are offering cellphone spying services to let you hack any phone device according to your preferences. Choosing a right and safe phone tracking app matters most because the safety of your data is more important than anything. Let's find out which spy apps are the best for us to track someone's text messages without getting detected.
Top 5 Apps to Monitor Someone's Text Messages Without Them Knowing
If you will search phone spying apps on the internet then you will get dozens of results. The main security concern here is that how do you know that the spy app you are using is totally safe and uncatchable? That's why after conducting lots of research we have found the best 5 spy apps you can use for performing any phone monitoring task. 
1- Spyic- Leading Spy App
First thing first, the Spyic app is the trust of millions when it comes to phone spying. This app is equipped with all the latest and required spy options that you could expect from any high-quality phone tracking app. Having such an elegant and simple user interface, this app is very easy and understandable for everyone to use without having any technical skills. You can monitor phone calls, messages, etc using the best text spy app. No one would have imagined that you can actually track someone's text messages by targeting their phone device.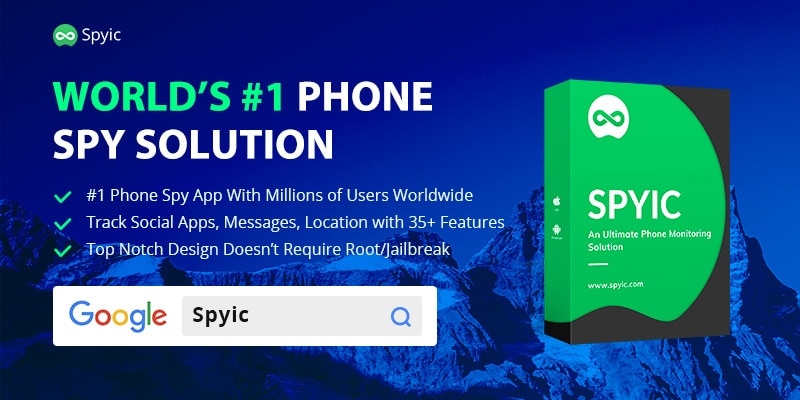 It is required to JailBreak your iPhone or Root your Android device to perform phone spying using some apps but that's not that case with Spyic. Spyic spy app is aiming to provide a safe and quality phone monitoring solution without putting the user's device on risk. The person whose device you want to spy on will not be able to know that you are monitoring their smartphone device. There are many powerful features of Spyic you need to explore to find out what you can do with this spy app.
Spy Text Messages using Spyic
Spyic has made spying on text messages easy and simple like never before. This is the app that you can use to monitor the messages of any phone device without getting detected. SMS Spy on SMS is a powerful feature of this app that allows you to view all sent, received, and even deleted messages of any target devices you want to monitor. You can also view the attached timestamps across each text message either sent or received.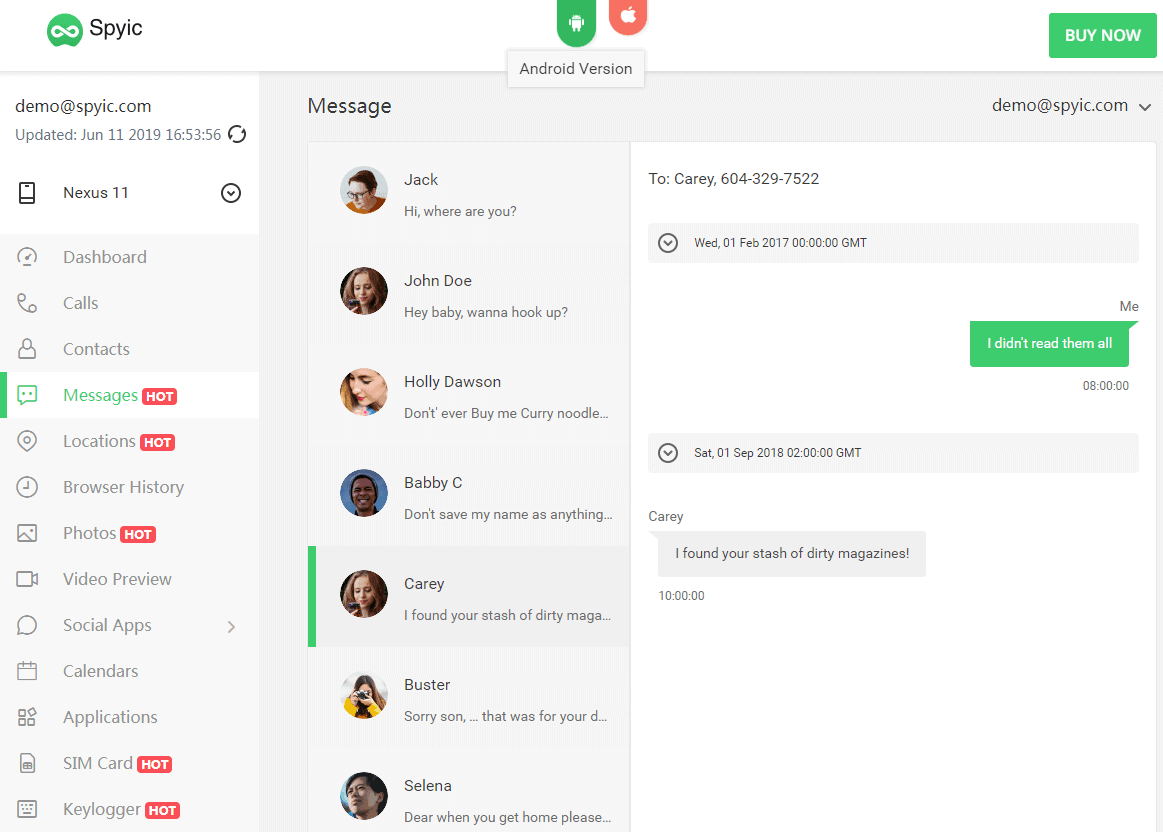 With this amazing SMS spy feature, you can find out the phone numbers of all senders and receivers along with their pictures and names in that cell phone device. If MMS is activated on the device you are monitoring then you can also view all MMS files sent or received by that device. So, that's how this amazing spy app facilitates users in order to track on text messages of any particular device.
Besides SMS Spy, there are other features like Call tracking, Location Tracking, TrackFB Messages, Instagram Spy, Snapchat Spy, WhatsApp spy, and others. All such features will let you track any third-party app of that target phone device without getting caught. You can visit Spyic official website to get to know how to register an account and use this app for tracking iPhone and Android devices.
2- Minspy
If you want modern spy features with quality and safety, Minspy is the right choice. Minspy is getting used worldwide on a daily basis. People are using Minspy for keeping a check and balance on business operations. All business calls and messages can be tracked using this intelligent smartphone spy app. There is no risk of losing data or getting caught because the Minspy phone monitoring solution guarantees safety.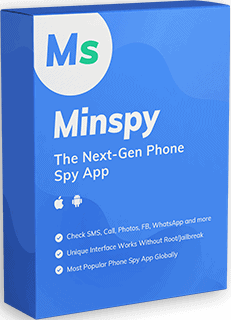 Like many other spy apps, you would have to access the Android device physically for a one-time installation and then you are ready to track that device remotely. In the case of the iPhone, you would have to enter the iCloud credentials of a target smartphone in order to get the tracking control of that iPhone device. Spying features for both iPhone and Android devices are the same. You can also try out the Demo version of Minspy by clicking on the 'Demo' tab on the Minspy site.
3- Spyier
Spyier also stands among some top spying apps in the market right now. Some brilliant and eye-catching spy features added for giving a variety of monitoring controls to the user. Both iPhone and Android devices can be tracked using this app. No need to 'Root' your Android device in order to perform the phone monitoring.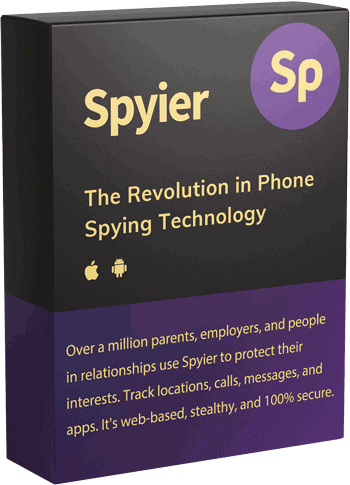 The same case is with an iPhone that you don't have to 'JailBreak' your device for spying. You can also grab the record of the web browser of any device including history, web bookmarks, and the list of most visited websites. The Stealth mode of this app makes it 100% undetectable from the device's owner to avoid any risk or problems.
4- Cocospy
Cocospy is one of the smart and standard spy applications that people are using on daily use. There are dozens of phone spying features giving you control to monitor the whole target device. This app allows you to access all call logs, text messages, and locations of the target phone device.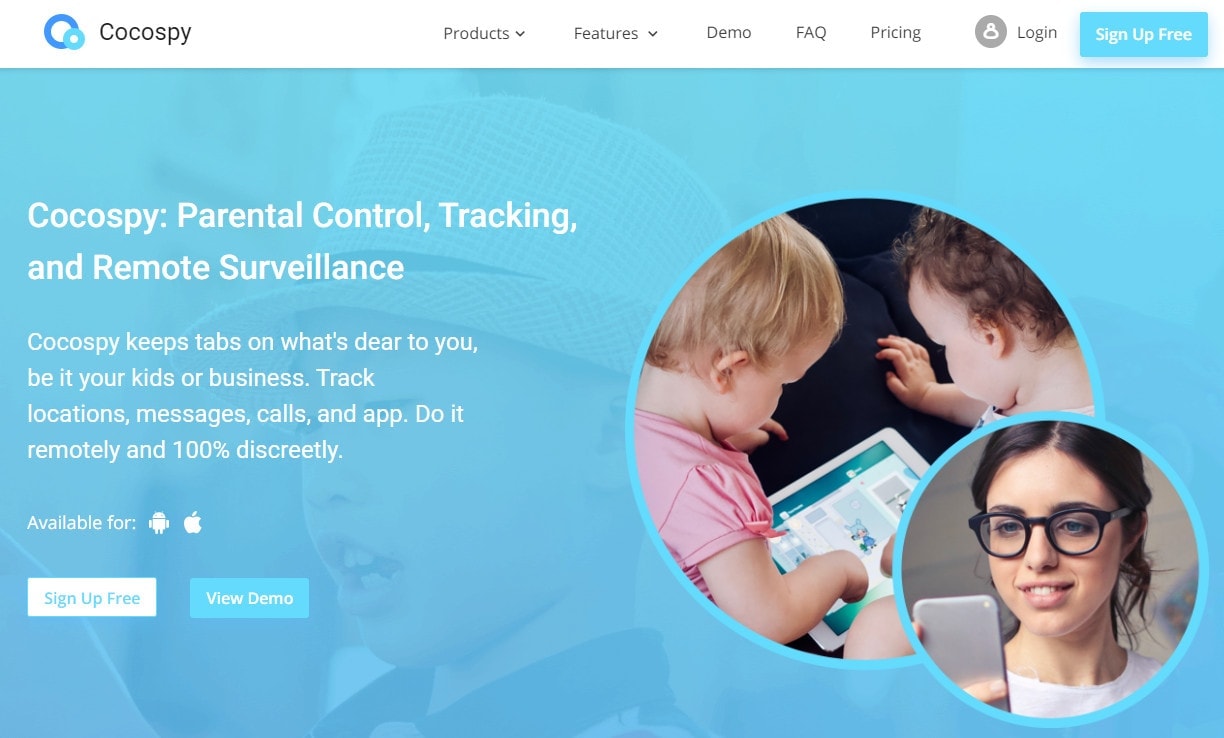 No Root or Jailbreak is required. There are no restrictions regarding phone OS because Cocospy can be used for targeting both iPhone and Android devices. You can use this spy app to monitor your lover's, friend's or anyone's smartphone device without them knowing.
5- Spyine
Last but not least, Spyine is probably the advanced spy apps among all top 5 apps. This app is featuring all basic and latest spying features. Using this app, you can get access to the emails of that target phone device you want to monitor. WiFi Logger feature also included in this app to let you grab all password keys that have been entered in that device.
All social media apps, documents, videos, photos, and almost everything can be tracked using this powerful phone monitoring solution. All iPhone and Android devices can be monitored irrespective of phone models. So, what are you waiting for? Go visit the official website of Spyine and start spying text messages of anyone without getting detected.
Conclusion
As an overall summary, we can summarize that all spy apps we have discussed so far are the ones you must consider. Every app is designed according to modern requirements and rules of safety. Each of these apps can be used for monitoring both iPhone and Android phone devices. All these 5 apps run on stealth mode so you don't have to worry about getting caught because no one will be able to detect you spying on their cell phone. In the end, choose any of these apps which suit you according to your budget and need.