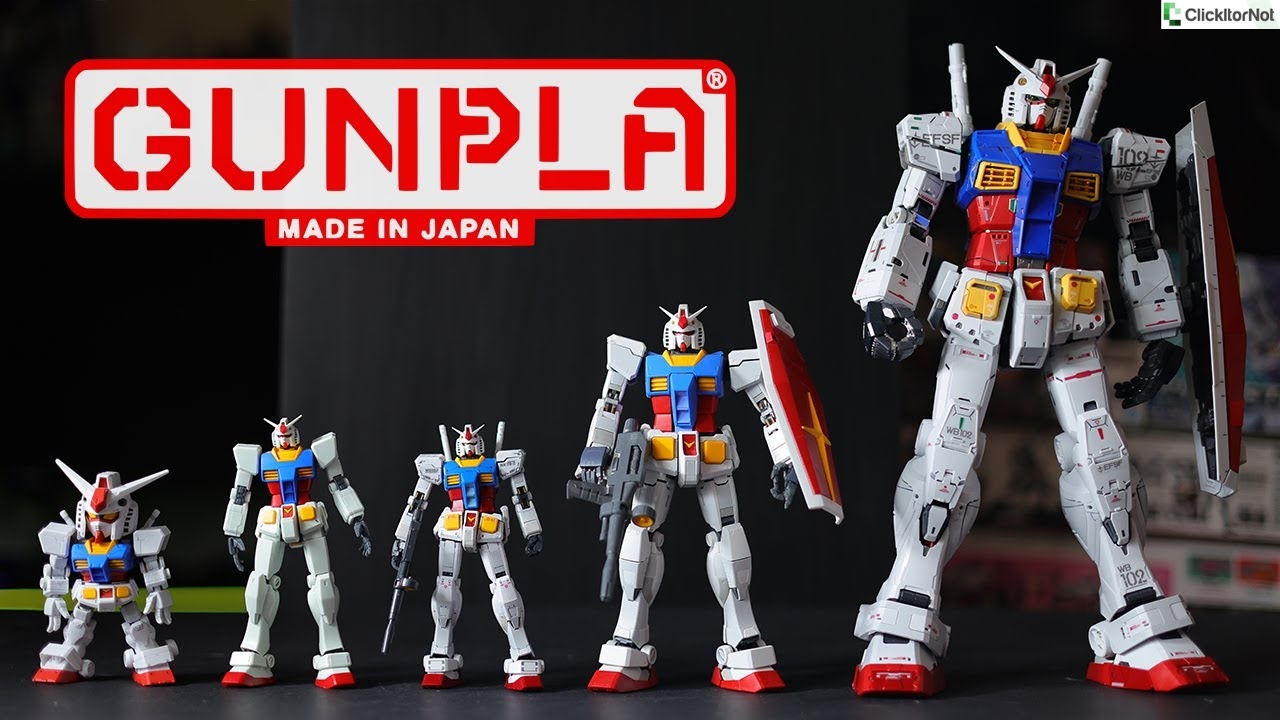 Hobby and toy stores have been stocking up plenty of Gunpla kits; however, these kits don't sell easily. The main reason is that people aren't too aware of Gunpla, nor do they know about it. Probably, it's because the kits themselves use packaging that's almost or entirely written in Japanese. In this article, we'll learn what Gunpla is and why you should start making Gunpla models.
What is Gunpla?
To start things off, Gunpla is a shortening of this phrase: "Gundam plastic model." In short, Gunpla kits are moveable plastic models that you can assemble. Gunpla kits are inspired by the Gundam animated series, which first aired or debuted in Japan in 1979. Many Gundam animated series have been released over time, making it quite complex to understand fully.
Because of the popularity of the animated series, many Gunpla models were released by Bandai. All of them have a variety of sizes and features. Even though this hobby is popular in Japan, it is yet to attain mainstream status overseas. However, if this interests you, you can look for Gunpla in stores or online shops; for example, you can buy gunpla at Gundam Express.
Reasons to start building Gunpla Models
Hobbies that involve working with the construction of models deserve to be recognized! Gunpla models may require you to practice over time before tackling the more complicated models. Other than that, let's head on over to learn the reasons to start building Gunpla Models:
1. All Skill Levels are Welcome to Try Gunpla
There's no need to have some engineering or architectural degree to build Gundams. All you need is to have the capability to understand and interpret diagrams. Fortunately, unlike other types of models that require building up, Gunpla happens to be the easier "to-build" model.
That said, it's advised that you try out and master the simpler kits to grasp the basics of building up a Gunpla model. Once you're comfortable building simpler kits, tackle the more challenging ones. Build that skill until you can work with the more difficult Gunpla kits.
A handy tip is that each Gunpla model has a grading system to determine how difficult it is to build. Here are the grades that you need to check on the labeling:
MG / PG 
These are the master or perfect-grade Gunpla kits. These are the trickiest models to master. However, they tend to have the best plastic quality.
HG 
High-grade Gunpla models are one of the two entry-level kits you can try if you're new to the hobby.
SD 
Super-deformed model leans towards a more chibi-like style of appearance. It is the other entry-level kit you can try if you're just starting.
RG
If MG/PG are the hard modes and HG & SD are the easy modes, RG or Real grade Gunpla kits are the normal mode of the group. It's not as difficult to build as the higher-end kits, but it's a step up to the entry-level kits. You will likely spend much time honing your skills with RG Gunpla kits.
2. No Glue is Needed!
Models that require glue to be assembled are a messy ordeal. The good news is that Gunpla doesn't require glue to be assembled. Many Gunpla pieces sport tiny pieces that snap together, putting them in place. You'll know when the pieces come together perfectly as they snap together without glue or adhesive.
3. So Many Options to Choose From
Watching the animated Gundam series can be too much due to the numerous spinoffs and main series. However, this makes Gunpla fun to work with; many series and spinoffs mean many models to build. You'd be overwhelmed at first when you step into a hobby store and see so many models to choose from.
Gunpla kits sport a variety of sizes, colors, and even accessories. Some may have wings, a shield, or even weapons. It's up to you which one you'll take home to build up. Again, as mentioned in the skill level section, choose the one you think you can handle at your current skill level.
4. Gunpla Makes for an Excellent Home Decor
Gunpla makes for a two-in-one benefit. Not only assembling the models themselves is fun but on top of that – you get to have a fun addition to your home decorations. Set up a small stand or an empty shelf to show off your assembled Gunpla models.
What's awesome about Gunpla is how you'll eventually get hooked once you grasp it. You could assemble one today, but soon you'll have ten or twenty models built up! Don't hesitate to add more to your collection; if you want it, get it.
Soon this collection of completed models will grow, and you'll have an entire army of plastic robots on display on the coffee table, your desk, the shelves, and the stands. Your visitors will soon appreciate the huge collection you have.
5. Reduces stress and promotes relaxation.
Did you have a tough day at work? If so, you can assemble Gunpla models to release some stress. Because assembling Gunpla models takes a lot of concentration and focus, those nagging thoughts will soon melt away. And why? Because nothing else beats the satisfying feeling of finishing a Gunpla model and adding it to your collection.
Try building a Gunpla model today!
There you have it! These are the reasons for you to build Gunpla models. To sum it all up – Gunpla models welcome people of all skill levels, doesn't matter if you're new or an expert. There are a lot of model kits to choose from; you can go for simple and easy or tackle the complex ones. Building these models isn't too messy since they don't require glue to stick together.
Aside from those, completed Gunpla models make good home decorations. There's nothing bad about showing off your collection to your visitors. Lastly, assembling these models makes a good outlet for stress. These five reasons should be enough to convince you to try out building a Gunpla model. It's fun and satisfying, but there's no stopping once you are hooked on this hobby.
References:
https://whatnerd.com/what-is-gunpla/
https://blog.fromjapan.co.jp/en/how-to/why-is-gunpla-so-addictive.html
https://www.animenewsnetwork.com/feature/2015-09-16/so-you-want-to-build-a-gundam-model/.93011
https://manpigscollection.blogspot.com/p/what-is-gunpla.html