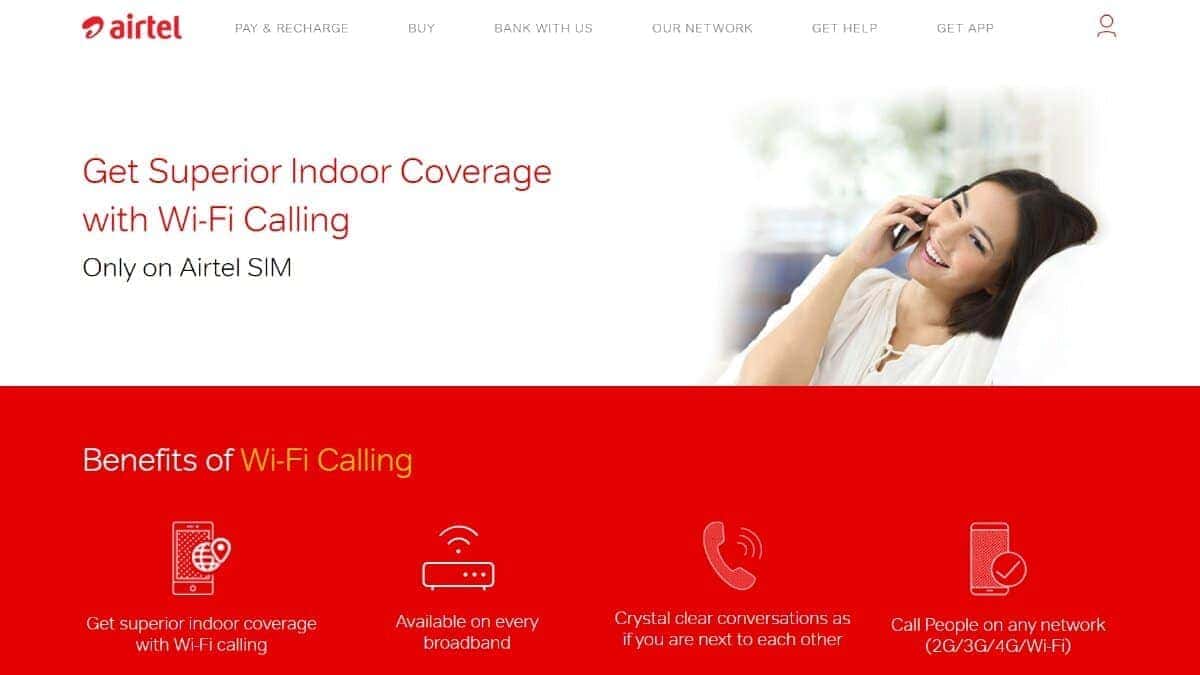 Airtel Wi-Fi calling service, launched last month, let users switch to attend voice calls over Wi-Fi. It has expanded to a list of new cities and devices. So far, the service that was limited to Airtel Xstream Fiber home broadband. Now, it is also accessible through any Wi-Fi network.
The rival of Airtel and one of the leading telecom operators in India, Reliance Jio, also launched its Wi-Fi calling service. On Wednesday, the company announced the new service to help its subscribers connect to Wi-Fi. Now, users can make voice and video calls as well.
According to the changes reflected on the Airtel website, the Wi-Fi calling service expanded to new cities. The service is now available in Haryana, Gujarat, Kerala, Maharashtra, Madhya Pradesh, Punjab, UP (West), and UP (East). In addition to the earlier available cities such as Mumbai, Karnataka, Andhra Pradesh, Kolkata, and Tamil Nadu. Besides, the service was firstly launched in Delhi NCR.
As per the report of FoneArena, the other significant change seen with respect to the Airtel Wi-Fi calling service is its availability for all Wi-Fi networks. Airtel confirmed on its website that the service no longer limits to its local broadband service.
Airtel mentioned on its website earlier that it is working with other companies too to add support for the Wi-Fi calling. This is not notably the case with the Jio Wi-Fi calling service. It debuted earlier this week with support for all the broadband services.
However, Airtel has also expanded the list of compatible smartphones to extend the reach of its offering.
The updated list of  compatible phones include
Apple: iPhone XR, iPhone 6s, iPhone 6s Plus, iPhone 7, iPhone 7 Plus, iPhone SE, iPhone X, iPhone 8, iPhone 8 Plus,  iPhone Xs, iPhone Xs Max, iPhone 11, iPhone 11 Pro
OnePlus: OnePlus 6, OnePlus 7, OnePlus 6T, OnePlus 7T, OnePlus 7 Pro, OnePlus 7T Pro
Samsung: Samsung Galaxy S10, Galaxy S10+, Galaxy S10e, Galaxy M20, Samsung Galaxy J6, Samsung Galaxy On 6, Samsung Galaxy M30s, Samsung Galaxy A10s, Samsung Galaxy A50s, Samsung Galaxy Note 9
Xiaomi: Poco F1, Redmi K20, Redmi K20 Pro, Redmi 7A, Redmi Note 7 Pro, Redmi Y3, Redmi 7
Jio counters Airtel by proclaiming that it supports over 150 handsets for the Wi-Fi calling service.