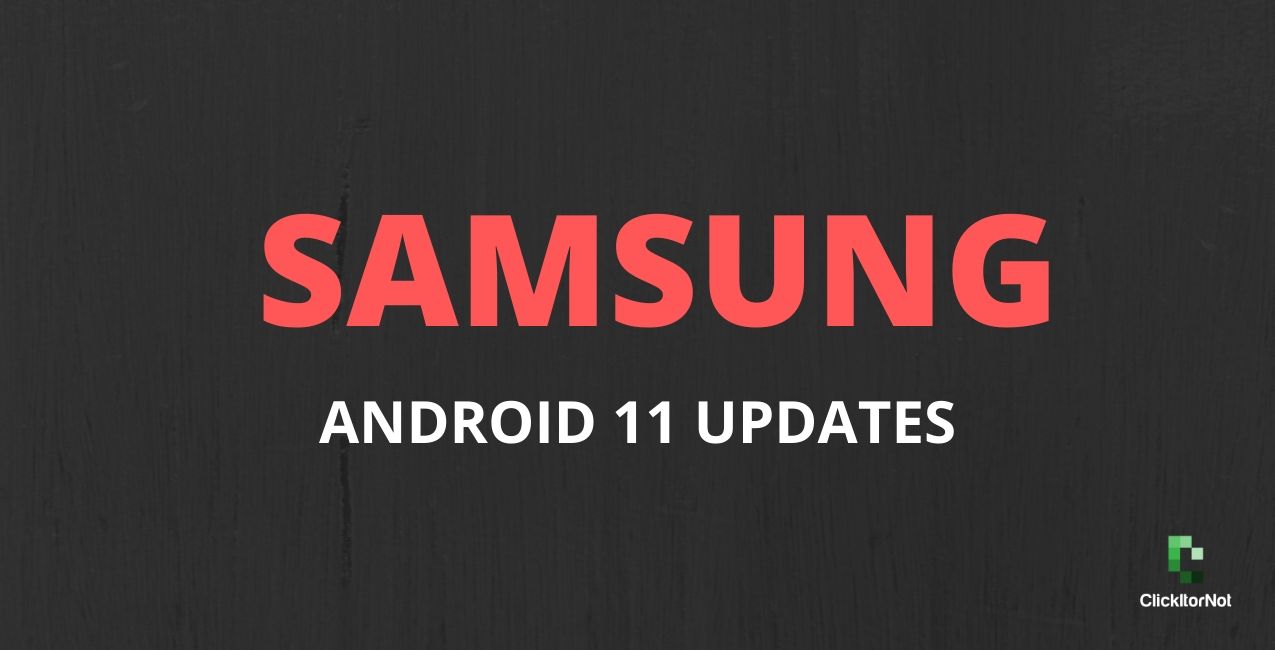 Samsung, the South Korean brand, is mostly known for its best Android smartphones and tablets. But it also has a lot of electronics items and services. Samsung gives good hardware (especially display), better cameras, new developments in mobile technology, and more. Google also develops Android OS a little heavy every year with a lot of changes and improvements.
In September 2019, Google launched a stable Android 10 (Q) version. Now, after a few months, only Google has released an Android 11 (R) Developer Preview 1 update for interested beta testers. In this, we talked about the Samsung Android 11: Expected Devices List, Features, and Release Date.
Currently, the Android 11 R Developer Preview 1 is in an early beta stage and has a lot of bugs or stability issues. So, users have to wait for the official stable Android R release for a better experience. The Samsung devices which may get the Android 11 update are below.
Samsung Android 11: Expected Devices List
Right now, all the device list and timeline are expecting to get the update. Still, there are not 100% surety that these devices in the list will get the update or not.
Samsung Galaxy S20, S20 Plus, S20 Ultra
Galaxy S20 5G
Galaxy S10, S10e, S10+
Galaxy S10 5G
Galaxy S10 Lite
Galaxy S9 and S9+ (Expected but not sure)
Galaxy Note 10, Note 10+
Galaxy Note 10 5G
Galaxy Note10 Lite
Galaxy Note 9 (Not sure)
Galaxy Fold
Galaxy Fold 5G
Galaxy Z Flip
Galaxy W20 5G
Galaxy A90 5G
Galaxy A70s
Galaxy A71
Galaxy A80
Galaxy A8s
Galaxy M30s
Galaxy M31
Galaxy M40
Galaxy Tab A 8.0 with S Pen (2019)
Galaxy Tab Active Pro (2019)
Galaxy Tab S4 10.5
Galaxy Tab S5e
Galaxy Tab S6
Samsung Android 11: Features (One UI 3.0)
There is no official report or any leak which talks about the specific improvements or changes of One UI 3.0 skin. However, users are expecting to get an improved user interface with some twists, lock screen improvements, dark mode improvements, faster app opening, and response time. It will also have improved app permission, optimized chat bubbles feature, conversation tab in the notifications, etc.
The latest Android 11 first beta update will come with a lot of features and improvements, which points out all the key features of the stable release. It gives a scheduled dark theme, chats bubbles, conversation in notifications, screen recording toggle in quick shortcut, improved DND mode UI, enhanced app permissions, gesture settings in the Accessibility. It will also have a dynamic system updates installer in Developer Options; it will show refresh rate settings in Developer Options, it will connect Bluetooth in Airplane mode. It will also have a new screenshot preview with scrolling screenshot, new magnify settings, pin an app in sharing menu, and many more.
Samsung Android 11: Release Date
Similarly, as the beta developments of One UI 2.0 based on Android 10 users are expecting that Samsung will also start its One UI 3.0 (Android 11) beta developments and beta testing program for them. Moreover, China and South Korea will be the first places where a beta testing program will start officially for some of the flagship Samsung devices like the Galaxy S20 series or the Galaxy Z Flip model.
After the launch of the Android 11 stable update, users can expect that Samsung will start releasing One UI 3.0 beta updates to their eligible devices. And the stable update will start rolling out by the end of December 2020 or Q1 2021.
But, there is no confirmation yet. Users have to wait for leaks and reports.