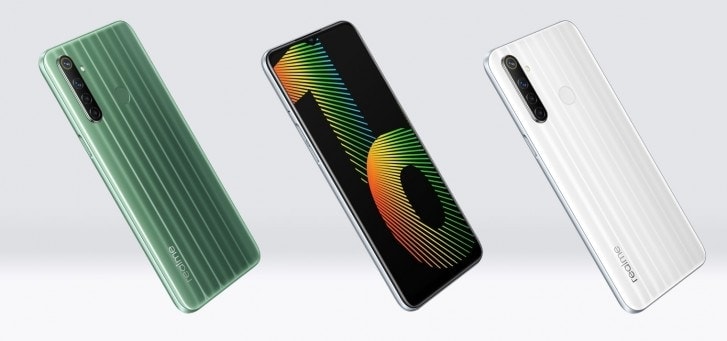 Three years ago, Realme was an unknown phone brand in India, but now it is among the top 5 sellers in the Indian market for Quarter 1 of 2020. That is the leap the OPPO subsidiary has gained in these 3 years. Now a new device Realme Narzo 10 is set to receive the latest Android updates Android 11 and Android 12 in the future.
Counterpoint released the smartphone market sales sheet for Quarter 1 of 2020 and of the top 5, Realme bagged position 4, leaving the top spot to Xiaomi. Realme's parent company OPPO is also behind Realme at position 5, according to the report released by Counterpoint.
Android 11 and Android 12 OS Upgrades to Realme Devices
Realme X2 and Realme X2 Pro will now receive the Android 11 update as soon as it goes live, Realme confirmed. These two devices are among the selected devices that will receive two OS updates, while others will get a single OS update. Apart from Realme X2 Pro, Realme Narzo 10 is one more device that receives two OS updates.
Realme Narzo 10 is released just a few days back and comes with Stock Android 10. Many of the potential buyers asked the company until when the device will be supported. Realme India CMO, Francis Wang, in response to all these buyers, confirmed that Realme Narzo would receive an Android 11 update with Realme UI 2.0. Wang further stated that as Android 11 is the first update to Realme Narzo, the device will also get Android 12 updates with Realme UI 3.0.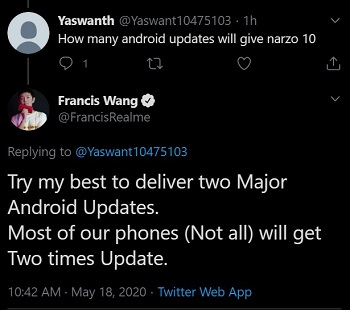 Although Realme Narzo 10 is set to receive double OS updates, its pair Realme Narzo 10A which is the entry-level device receiving the update, is not known. As already announced, Realme is working on Android 11 with Realme UI 2.0, whose development was started in March this year. And, Realme X2 Pro users got the chance to try the new OS just a week before the official availability.