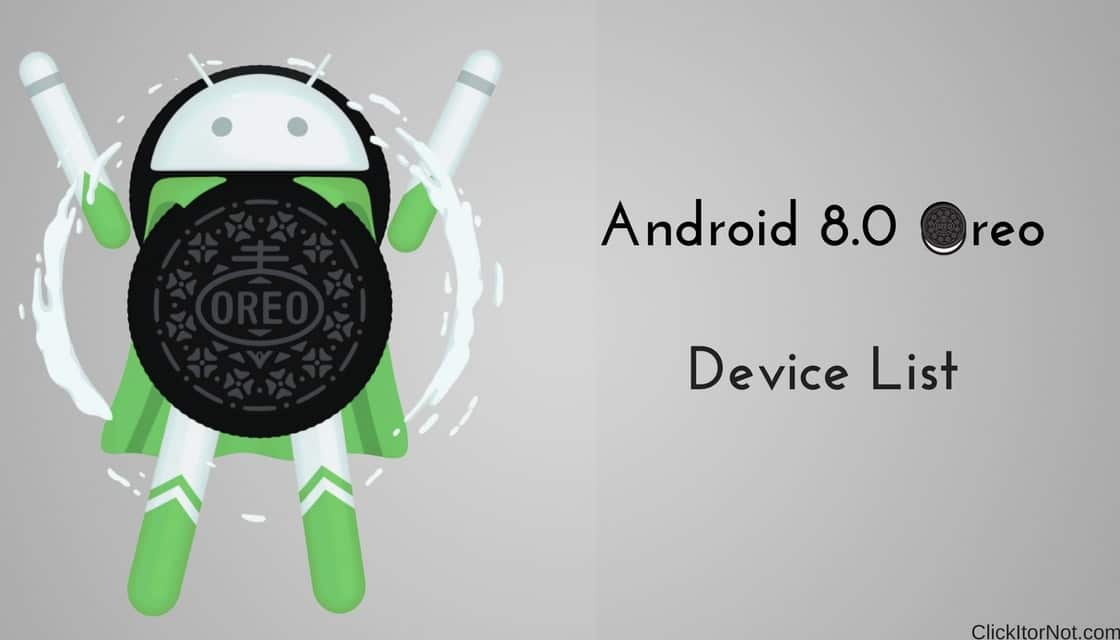 22nd August 2017 saw Google launch the latest version of its Flagship Mobile OS – The Android 8.0 Oreo. As is the practice, the OS will be released and be available only on a few select devices at the start. These devices include the Nexus 5X, Nexus 6P, Google Pixel, Pixel XL, and Pixel C. Non-Google; Android smartphones will also receive this update soon.
Just like most new OS, the Android Oreo will be made available through Over-the-Air updates. Even though Google has a detailed plan and schedule for the release of the OS through the OTA update, users intending to upgrade to Android 8.0 Oreo right away can benefit from the information given below.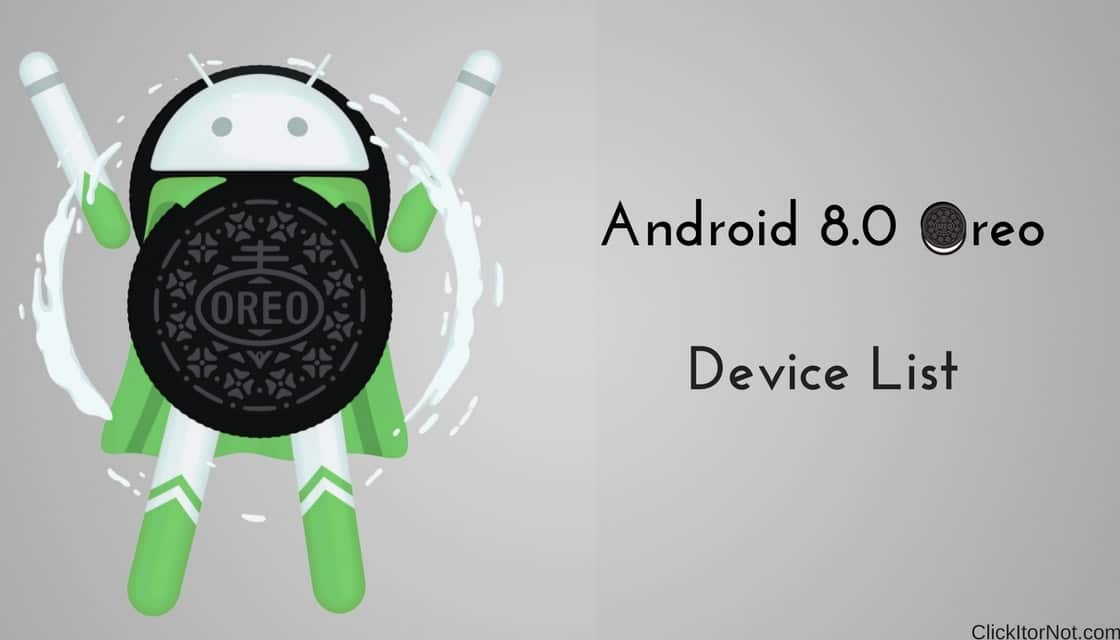 Google
Pixel
Pixel XL
Nexus 5X
Nexus 6P
Nexus Player
Samsung
Galaxy S8
Galaxy S8+
Galaxy S7
Galaxy S7 Edge
Galaxy Note 7 Fan Edition
Galaxy A7 2017
Galaxy A5 2017
Galaxy A3 2017
Galaxy J7 2017
Galaxy J7 Prime
Galaxy J5 2017
Galaxy Tab S3
Galaxy C9 Pro
HTC
HTC U11
HTC U Ultra
HTC U Play
HTC 10
HTC 10 Evo
OnePlus
OnePlus 5
OnePlus 3T
OnePlus 3
Motorola
Moto Z2 (2017)
Moto Z2 Play
Moto Z Play
Moto Z Force
Moto Z
Moto G5 Plus
Moto G5
Nokia
Nokia 8
Nokia 6
Nokia 5
Nokia 3
Xiaomi
Mi Mix
Redmi 4
Redmi 4X
Redmi 4A
Redmi 3S
Redmi Note 3
Redmi Note 4
Redmi 4X
Redmi 3S Prime
Mi Max 2
Mi Max
Mi 5X
Mi 6
Mi 5
Mi 5S
Mi 5S
Mi 5S Plus
Mi 5C
LG
Asus
ZenFone 4 (ZE554KL)
ZenFone 4 Max (ZC520KL)
ZenFone 4 Max Pro (ZC554KL)
ZenFone 4 Selfie (ZD553KL)
ZenFone 4 Selfie Pro (ZD552KL)
ZenFone Pro (ZS551KL)
Zenfone Go (ZB552KL)
Zenfone Live (ZB501KL)
Zenfone 3s Max
Zenfone AR
Zenfone 3 Zoom
Zenfone 3 Max
Zenfone 3 Deluxe 5.5
Zenfone 3
Zenfone 3 Ultra
Sony
Xperia XZ Premium
Xperia XZ
Xperia XA
Xperia XA Ultra
Xperia XZS
Xperia X Performance
Xperia L1
Yu
Yunique 2
Yureka Black
Yureka S
Yureka Note
Yunicorn
Vivo
Oppo
Huawei
Honor 8 Pro
P10 Plus
P10
P10 Lite
Mate 9
P8 Lite
New features of Android 8.0 Oreo
The new Android O mobile operating system comes with a host of new features and enhanced functionalities which are designed to delight the average Android user:
One of the most interesting and useful features which have conventionally only been found on flat screen TVs is the Picture-in-Picture feature which lets users execute two tasks at the same time. This is possible on screens of any size and it is also interesting to note that apps such as YouTube and Google Duo already support this functionality. One can WhatsApp and Watch a YouTube video at the same time. When it comes to notifications, the new notification dots will enable users to tap these and check out what is new in the app.

When it comes to notifications, the new notification dots will enable users to tap these and check out what is new in the app.
The Autofill framework is similar to the feature on the Google Chrome browser wherein information for log-in for apps will be automatically filled in where users have given prior permission.Developers who take on password manager apps will now be able to use the new APIs to make available the
Developers who take on password manager apps will now be able to use the new APIs to make available the above-mentioned auto fill option available to users in other different apps as well. To summarize a certain blog post, Autofill is bound to be rolled out comprehensively, over the coming weeks as a part of an update to Google Play Services.
The new and improved Android 8.0 Oreo also guarantees highly enhanced performance and battery life, with the Android system reducing background app activity to the minimum. Background activity due to various unimportant apps is the number 1 cause of steady battery drain over time in Android phones.

Google has also made an impressive claim of boot speeds being twice as fast which is a result of the new OS
Android 8.0 Oreo has adopted smarter ways to enhance and extend battery life. Some of these methods include new restrictions on background location and also Wi-Fi scans which drain battery consistently. Android Oreo aims to please its users with more visual communication features such as brand new fonts and a diverse collection of creative emoji. Developers also have the option of downloading these for several of their apps.
Developers have also been provided with Adaptive icons where the OS animates the interactions with icons and makes use of them in the settings, shortcuts, launcher and a whole lot more.

There is also help for imaging of apps in terms of what is called as wide-gamut color support for the very same apps. This is especially applicable for devices which possess a brand new wide-gamut color capable display.
The Android 8.0 Oreo operating system is said to be one of the best OS there is in the market, and definitely, the widest reaching mobile software across the globe. If you are planning to buy an Android mobile phone, make sure that it has an Android 8.0 Oreo operating system. This will ensure that you, as a user will be experiencing the cutting edge of mobile software making your life a whole lot easier and more productive.