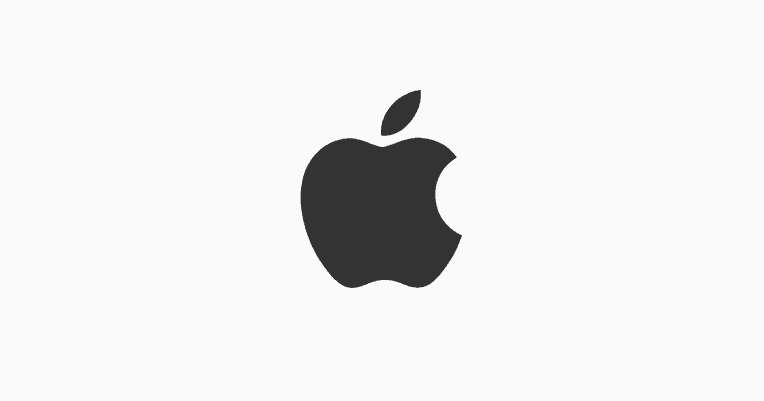 Apple started to roll-out the Gold Master Edition for iOS 13.5 and iPadOS 13.5, which means that the final roll out of these versions are not too long. The GM edition is the replica of the stable update.
The iOS 13.5 GM and iPadOS 13.5 GM is for the developers who have enrolled themselves for the beta testing program as well as the public beta users. The update will be via OTA or can even be installed from the Apple Developer Center.
What's New On iOS 13.5?
It is now easy to unlock your phone while wearing a facemask. A passcode will be displayed automatically when you swipe to unlock the screen while wearing a mask.
iOS 13.5 also introduced Exposure Notification API to support COVID-19 contact tracing apps from public health authorities. The update It helps users to track if they have been in contact with any Covid-19 patient. It came up with an option to control automatic prominence on Group FaceTime calls. So, the video tiles do not change size when a participant speaks.
Furthermore, when you place an emergency call, you have an option to automatically share your health and other required information from your Medical ID with the emergency services. Also, there are a few improvements and bug fixes as well.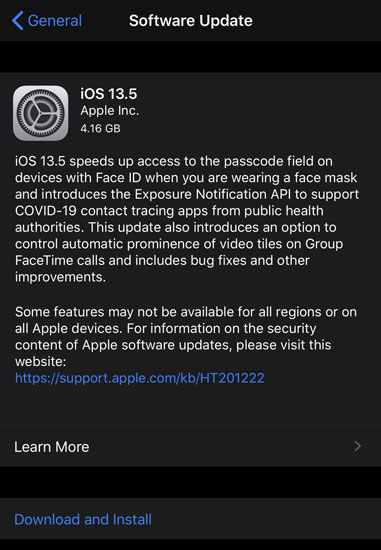 The iOS 13.5 Golden Master edition update size is about 4GB since it contains all the data, including the earlier Beta updates. 17F75 is the Software Version for the iOS 13.5 GM builds. 
Download iOS 13.5 and iPadOS 13.5 GM OTA
If you are on the beta update of iOS 13.5 or iPADOS 13.5, you will get the update via OTA. If you didn't get the update, we have provided download links below.
If you are not using a beta version and want to test this update, you can first apply for the beta update from the Apple beta official website and then try this update from settings. You can also sideload the OTA directly using the links provided below.
iPhone iOS 13.5
iPad iPadOS 13.5
| | | |
| --- | --- | --- |
| Sr. No | Device | Download Link |
| 1 | iPad Pro 12.9-inch WiFi (4th generation) | Download |
| 2 | iPad Pro 12.9-inch Cellular (4th generation) | Download |
| 3 | iPad Pro 11-inch WiFi (4th generation)  | Download |
| 4 | iPad Pro 12.9-inch WiFi (3rd generation) | Download |
| 5 | iPad Pro 12.9-inch Cellular (3rd generation) | Download |
| 6 | iPad Pro 11-inch WiFi (3rd generation) | Download |
| 7 | iPad Pro 11-inch Cellular (3rd generation) | Download |
| 8 | iPad Pro 12.9-inch WiFi (2nd generation) | Download |
| 9 | iPad Pro 12.9-inch Cellular (2nd generation) | Download |
| 10 | iPad Pro 12.9-inch WiFi (1st generation) | Download |
| 11 | iPad Pro 12.9-inch Cellular 1st generation) | Download |
| 12 | iPad Pro 10.5-inch (WiFi) | Download |
| 13 | iPad Pro 10.5-inch (Cellular) | Download |
| 14 | iPad Pro 9.7-inch (WiFi) | Download |
| 15 | iPad Pro 9.7-inch (Cellular) | Download |
| 16 | iPad WiFi (7th generation) | Download |
| 17 | iPad Cellular (7th generation) | Download |
| 18 | iPad WiFi (6th generation) | Download |
| 19 | iPad Cellular (6th generation) | Download |
| 20 | iPad WiFi (5th generation) | Download |
| 21 | iPad Cellular (5th generation) | Download |
| 22 | iPad mini WiFi (5th generation) | Download |
| 23 | iPad mini Cellular (5th generation) | Download |
| 24 | iPad mini 4 (WiFi) | Download |
| 25 | iPad mini 4 (Cellular) | Download |
| 26 | iPad Air WiFi (3rd generation) | Download |
| 27 | iPad Air Cellular (3rd generation) | Download |
| 28 | iPad Air 2 (WiFi) | Download |
| 29 | iPad Air 2 (Cellular) | Download |
| 30 | iPad Pro 11-inch Cellular (4th generation) | Download |