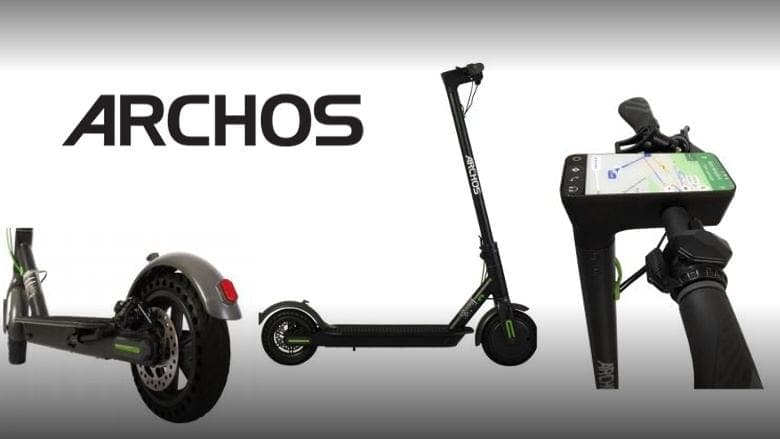 Archos, a France based electronics company has announced the launch of world's first Android-powered electric scooter. It is a scooter with connectivity features including Wi-Fi, GPS and 3G will be available starting summer 2018 for EUR 499.99. Archos states that Citee connect has a range of distance more than 25 km and it has a top speed up to 25 kmph. Archos has already announced the Citee and Citee power scooters in its line up. All the three variants will be examined at Mobile World Congress 2k18. The main feature of Citee Connect is its Android functionality.
Electric scooter powered by Android
The Citee Connect offers a multi-media dashboard for the driver and sports a 5 – inch touch panel. This IPS display is backed by a quad-core SoC and has RAM of 1 GB and 8 GB internal storage. The display is protected with Gorilla glass which offers resistance against bad weather. Drivers can access services like speed tracking, distance traveled, and battery level on the go, with the help of Wi-Fi, GPS and 3G connectivity.
The scooter weighs 13 kg and 8.5-inch wheels with puncture proof and rubberized handles for smooth handling. It has a 6000mAh (36 V) and 250W motor. Through breaking, mechanism battery life can be increased up to 15 percent. Drivers will have control access to the scooter with a dedicated app on their smartphones which is possible through reel lock linked to the onboard application.
Archos demands that they developed this scooter after analyzing the present traffic regulations in Europe. The other two new non-Android electric scooters are also going to disclosed by the company. The Archos Citee will be launched with the features of 25 mph speed, the weight of 11.5 kg and it is made up of aluminum. It has 250 W motor and 5000mAh battery.
Archos Citee power is a 13 kg scooter with 6000mAh battery. Both of these scooters will be available at a starting price of EUR 399.99 from April 2k18 onwards.