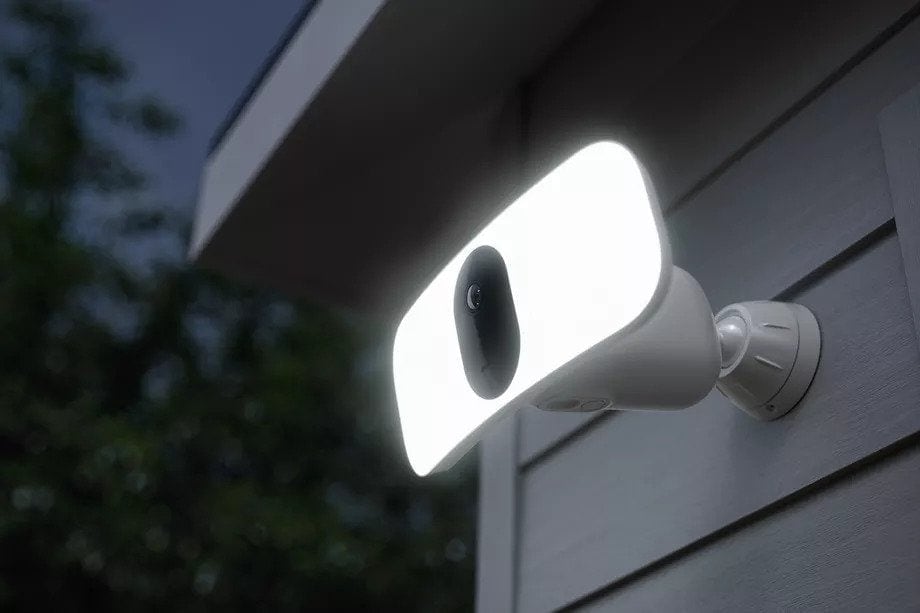 Recently Arlo announced Arlo Pro 3 Floodlight Camera, which it is going to launch this spring. The latest security cameras from the company come with a plate of powerful LEDs to make the area in the field of view of the camera better.
Floodlight cameras of Arlo, unlike other cameras, do not require any wiring. The security cameras can run by rechargeable batteries.
The Arlo Pro 3 Floodlight Camera carry many of the features, which are similar to the Arlo Pro 3. The features include 2K video with HDR, color night vision, a built-in siren, two-way audio, and a 160-degree field of view. But a new addition is a giant LED array to illuminate the field-of-view of the camera.
Arlo, in an interview with The Verge, told that the Floodlight Camera have weather resistance. The Pro 3 has its spotlight above the camera, but the Floodlight Camera seems that it can cast a lot more light with its bright and glowing faceplate.
Arlo also told the Verge that the faceplate of the floodlight camera delivers a brightness of 2,000 lumens when it runs on battery power. It is less bright than the Amazon's Ring Flood Camera, which is 3,000 lumens. But the Ring camera should be connected to the electrical system in the house. If you want, you can also wire Arlo Pro 3 Floodlight Camera to the electrical system. On connecting to the electrical system, it can give 3,000 lumens of brightness.
The company says that its Floodlight Camera has an ambient light sensor. It automatically turns on when its dark outside and the users can specify how dark or bright they want it to be before the light turns on. The floodlight can be arranged to cast three different light patterns that are flashing, constant, and pulsating. These light patterns, controlled manually or set to happen when particular automation triggers. Arlo also told that on a full charge, the Floodlight Camera might get up to six months of battery life.
The Arlo Floodlight Pro 3 will be launched this spring for around $249.99. It includes 30 days of storage, three months of Arlo Smart along with a 2K cloud video.