Today, the ARM has officially introduced its two new Mail-G52 and Mali-G31 GPU, respectively targeting improvement in performance and a reduction in power consumption to the flagship and low-end to mid-range devices. The new Mali G52 comes with machine learning/AI learning technology which means it will make its way into more demanding use cases like TVs and high-end phones. It offers (3.6x) better performance compare to its predecessor. While the G31 GPU comes with ARM's Bifrost architecture, the latest version of Vulkan API to entry-level devices.
It will take at least one or two years to see either of these reference GPU designs in devices. Which means its impossible to say which one will do better in the market.
The bigger Mali-G52 is a successor of the G52 which was launched in 2016. This time company used 8 pipelines wider execution engines which offer improvement in performance against the G51's 4 pipelines execution engines. While claiming a modest efficiency improvement which allows users more play time even for power-consuming AR games. The company also claims that machine learning workloads have improved by 3.6 times. The Mali G52  is targeted higher power circumstances like TVs, high-end phones, and tablets.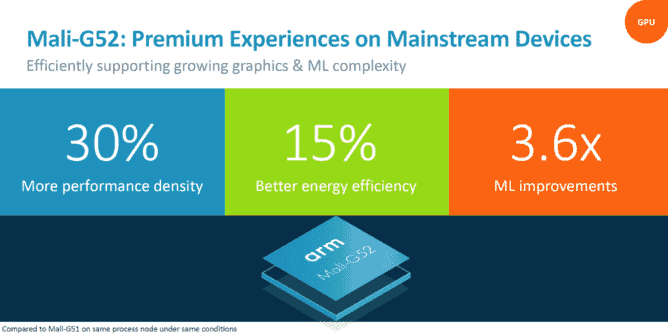 The Mali G31 is the first ultra-efficient GPU and destined for lower-end applications like mainstream and entry to mid-range devices. It built on the ARM's Bifrost architecture, even more, lower price devices will support OpenGL ES 3.2 and the latest version of Vulkan API. The 28nm HPM Mali-G31 clocks at 650 MHz, it is  better in performance and 20% smaller than the ARM's Mali G51.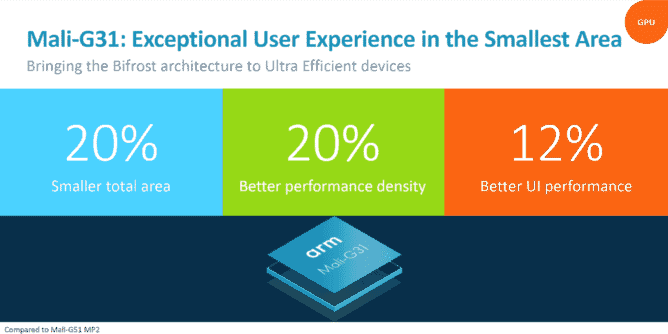 The ARM also introduced the new display processor and video processor along with GPU's, Mali-D51 display processor and Mali-V52 video processor. The new Mali-D51 display processor offers more 50% increase in memory latency and more power savings. The Mali V52 video processor doubles decode performance decode 4K at 60FPS on the fly. It offers more upload quality resulting in clearer 4K videos at 60FPS and 1/3 less die space compared to the Mali-V61.
These designs are not the final design of chips, and these are just for reference. Now it will depend on the company how they want to implement these design.