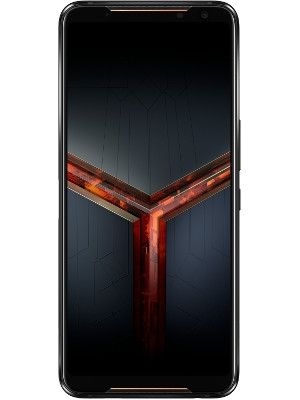 Asus, a Taiwanese manufacturer, faced a lot of problems with the Android 10 update for its second-generation ROG phone, Asus ROG Phone 2. The users of this device have to participate in a whopping 9 betas before the first stable version arrives.
There were many betas, and the users expected that the stable version might have less or no issues. But, the stable Android 10 update, which rolls out for the Asus ROG Phone 2, came with a lot of issues.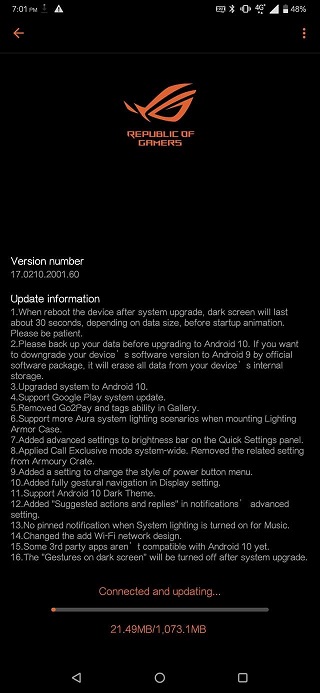 On the forums, users were reporting issues like aura lighting with audio wizard not working, tablet mode missing in TwinView Dock, Google Pixel, and AOSP code issue reported to Google, overheating, and Adobe Lightroom app is crashing.
Some complaints were like the fingerprint scanner on the lock screen is not working, gesture navigation with 3rd party launchers not working and battery issues, etc.
Recently a report on Reddit confirms that Asus releases a new update, which is for some of the issues. This update will not work for all the issues which were reported by the users, but there might be more follow-up updates for the remaining issues.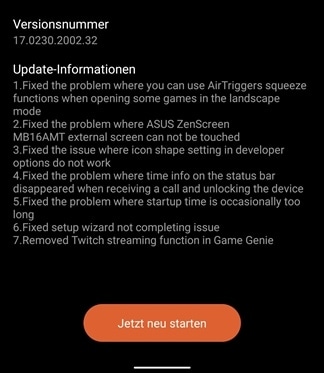 The changelog is below:
–Fixed the problem where you can use AirTriggers squeeze functions when opening some games in the landscape mode

-Fixed the problem where ASUS ZenScreen MB16AMT external screen can not be touched

-Fixed the issue where icon shape setting in developer options do not work

-Fixed the problem where time info on the status bar disappeared when receiving a call and unlocking the device

-Fixed the problem where startup time is occasionally too long

-Fixed setup wizard not completing issue

-Removed Twitch streaming function in Game Genie
Asus might focus on those issues that affected more people. Although, if the user is on Android 10, then they might want to download this new update. This update (version: 17.0230.2002.32) is available for the Asus ROG Phone II (ZS660KL).
It might take some days to reach everyone's device and pop-up a notification. To check that the new firmware is available, go to System updates in Settings > System. The user can upgrade manually.