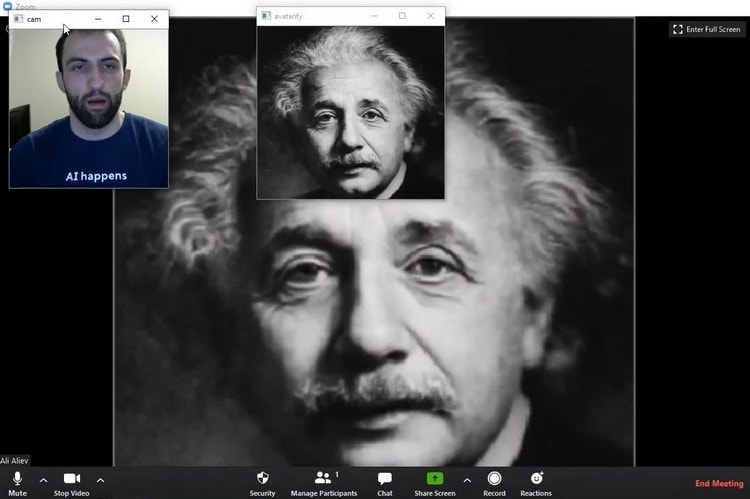 Because of coronavirus, many people are staying home and are trying to connect with their friends and colleagues using video chatting tools like Zoom, Skype, etc. Also, many tools are being developed to keep us safe, secure, etc. But have you ever thought of showing yourself as someone else to either make fun or to be disguised with your friends, family? Then Avatarify is such a tool that lets you look like Einstein, Ali Aliev, Mona Lisa, and other images into living avatars.
Avatarify on Zoom, Skype, and Teams
First spotted making rounds on Twitter, Avatarify is one such AI tool that allows a user's face to superimpose onto a picture creating a movable avatar of that person. This movable avatar can then be used in some of the famous video meeting/conferencing apps like Teams, Zoom, and Skype.
Though the tool was released on 12th April this year, it didn't gain a lot of popularity. But, this tool is gaining popularity after Ali Aliev, one of the tool's developers, posted a video on the installation process of the program on a PC.
In the 13-minute how-to-install video, developer Aliev explained each step of the installation process. Want to cut it directly to check the tool's working, seek to 9:45 mark of the video.
According to the Aliev, it is suggested to have the mentioned specifications on your PC, i.e., a GPU, for running the program smoothly. As the developer explained, the tool can run at 33FPS with an NVIDIA GTX 1080Ti and at 15FPS with an NVIDIA GTX 1070. The program will run at 1FPS with a MacBook Pro without a GPU. That is why the program needs a CUDA-enabled (NVIDIA) video card, without which, the tool uses the PC's processing power and gives unsatisfactory results.
From the video, we can see that Aliev installed the tool on a Windows PC that is using the sources from its Github page and cmd(command prompt). Then he installed the OBS (Open Broadcaster Software) and used its camera to create his avatar. Also, Aliev gave some useful tips(at the end of the video) to make the video calls more interesting.
As said before, you can turn like anyone you want to in your next video call with Avatarify. Why don't you try the tool on your device or PC and surprise your friends, family, colleagues, etc.?