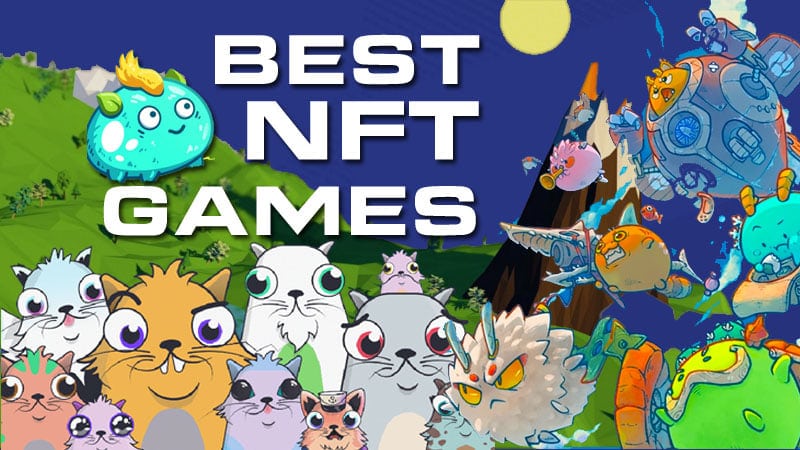 When Vincent Gallarte, a Manila IT analyst was laid off in July, he discovered an unusual way of earning money online. He found online games that reward players in cryptocurrency. In his first two weeks, Gallarte managed to earn more than $732, which is three times more than what he would make in his real job.
Like a lot of newcomers, Gallarte was also new to cryptocurrency. He was one of those people who never had any interest in Ether, Bitcoin, and other cryptocurrencies. But after discovering this unusual financial lifeline, he imagines these play-to-earn games as a lucrative side-hustle.
Axie Infinity is one of the biggest and most polarising of these games. Since the time NFTs (non-fungible tokens) have been introduced, it is drastically changing the gaming world. The emergence of NFTs promises a new era where players take up critical roles in the gaming economy while receiving befitting rewards in the process.
‍Today, game developers are actively adopting blockchain technology to add an even more immersive experience to their games. If you are intrigued to know more about NFT games, then you should give this article a read. We have tried to cover everything important related to the topic. Along with that, we will also discuss the upcoming NFT games. 
What is NFT?
The concept of NFT is still a new one for many of you. So before moving on to any further details, we need to first understand what NFT is.
NFT full form is non-fungible tokens. It is an implementation of blockchain technology. 
Non-fungible items are not interchangeable. It can be defined as when an object cannot be swapped for another item because it is one of a kind. For example, a piece of art has unique properties, and therefore, it cannot be equal to another piece of art.
On the other hand, fungible items are interchangeable and can be divided into smaller units to form the same value. For example, a 100£ note can be divided into four 20£ notes or two 50£ notes. 
NFT helps you turn your digital assets into one kind. This is done by creating a unique digital signature that indicates the ownership of a person's assets that can be traded for real money. It is either done in cryptocurrency or another non-fungible investment.
Each NFTs contain important information like the name of the owner of the digital asset. This makes it easier to distinguish between the different NFTs.
How NFT works? 
Now that you know what NFT meaning, let's discuss the way it works or what problem it solves.
NFT crypto coins or tokens reside on a blockchain that represents ownership of unique items. But trying to track the ownership of a digital file is not easy. This is because it can be copied and distributed easily. So, how can you identify the real owner? This is where NFT comes into the picture.
Let's say, you have made a digital painting on your computer. You can create an NFT out of this. The NFT assigned to your artwork contains some information such as a token name, the fingerprint of a file, a symbol. This token is then kept on a blockchain, and the original owner you.
You can now sell the token on the blockchain platform. The blockchain ensures that the information will stay safe as it cannot tamper. This makes it easier to track the current owner of a token. Not just that, but you will also get to know the amount for which it has been sold in the past.
It should be noted that your artwork itself isn't stored in the blockchain.
Most Popular NFT games
You will find a wide range of NFT games available on BSC and Ethereum. Here is the list of top NFT games that you need to know about.
Axie Infinity has a model similar to Pokemon with battles and collectible creatures. This game is based on the Ethereum blockchain and provides a good income based on trading Small Love Potions, Axies, and Axie Infinity Shards.
Gods Unchained is a popular tradable NFT card game based on the Ethereum blockchain. If you have played Hearthstone or Magic the Gathering, then you will find it similar to these games. Players build decks using different powers and strengths to combat other players. If you win, you get in-game items to use or sell. If you win Ranked games, you can earn Flux using which you can craft powerful NFT cards.
Sorare happens to be a fantasy football game with tradeable, collectible soccer players from real life. In this game, you are required to create a team consisting of five players using free cards for beginners or purchasing tokenized cards. You can level up using points that you earn in the game. 
Binance NFT Collections provides you a brilliant NFT gaming experience with Collection partnerships and NFT Mystery Boxes. These partnerships range from NFT games to digital artists. Every Mystery Box contains a random NFT of a different rarity from the Collection. You can either sell the box without opening it or reveal the NFT. 
Splinterlands is a tradable NFT card game that is similar to God's Unchained. It allows you to earn rewards for winning card matchups. To get started with Splinterlands, you need to first buy a starter pack of cards, register a Steam account and show the purchased cards on Splinterlands. ‍Once you know all the cards, you can start a battle with other players or simply take part in different quests. The outcome of these activities will determine whether you will earn more cards or not.
The Sandbox is a voxel-based gaming metaverse where players can build and trade virtual assets. In this game, players can manipulate and monetize voxel assets. The platforms provide you with tools to create objects and sell them on marketplaces. Besides, those players can also create and play custom games on the platform.
Alien Worlds is an NFT Defi metaverse that simulates collaboration and economic competition between players in a bid to explore other planets. This is achieved by offering Trillium to players. Trillium is required to control competing decentralised autonomous organisations and to gain access to additional gameplay. In the game, players can acquire NFTs to engage in battles, mine TLM, and complete in-game quests. 
Upcoming NFT Games in 2021
Since the concept of NFT video games is slowly catching up, we have more new games being added to the list. Here is the list of upcoming NFT games that you should know about:
Binamon is one of the NFT games 2021 play-to-earn that is expected to launch this August. It is designed to compete with the highly popular NFT game, Axie Infinity. In this game, players can trade or stake their very own Binamon and earn $BMON.
Guild of Guardians is a mobile fantasy RPG-style NFT game that is expected to release in the first half of 2022. However, the alpha and beta versions of the game are expected to arrive by this year. This is going to be one of the best NFT games 2021 as there are already 120,000 pre-registration made. This multiplayer dungeon RPG is built on the Ethereum blockchain.
The alpha version of The Sanbox is set to release in 2021. It will allow players to build on Land which is the game's original digital plot. Players can sell and earn $SAND from their creations.
Doctor Who: Worlds Apart is yet another highly anticipated NFT game that is expected to arrive in the fourth quarter of 2021. This is one of the NFT card games where the games use USD as the marketplace cryptocurrency.
The full version of Illuvium game is set to arrive in the fourth quarter of 2021. The game offers PvP Arena battles and PvE missions. This game is based on the Ethereum blockchain, where players can earn the $ILV token. The mobile version is expected to arrive in 2022 ahead of its full sequel in 2023.
Conclusion
NFT games are slowly taking over the gaming world and that too for all the right reasons. It allows you to generate an income out of playing games online. In the beginning, it may seem to be a tricky process. But once you get the hang of things, you are good to go.
FAQs about NFT Games
What is an NFT?
NFT full form is a non-fungible token. It refers to a digital token that is a type of cryptocurrency, like Bitcoin or Ethereum. But unlike a standard coin in the Bitcoin blockchain, an NFT is unique and is not interchangeable.
What does NFT stand for?
NFT stands for non-fungible token.
How to make an NFT?
To make your NFT you will need some cryptocurrency and a digital wallet. Once you add money to your wallet, you need to connect it to the NFT platform and then upload your file. Follow the given instructions to make your own NFT.
How to buy NFT?
To buy NFT you need cryptocurrency. You need to make sure that you have enough cryptocurrency to cover the cost of the desired NFT.
What is NFT crypto?
NFT stands for "non-fungible token." NFT can be defined as data that is stored or accounted for in a digital ledger, and that data represents something specific. The recording where that token is certified is called a blockchain.
What is the most expensive NFT?
The NFT space exploded earlier this year after Mike Winkelmann, a digital artist sold an NFT for $69 million in March 2021. The first 5000 days by Beeple, CryptoPunk #7804, and CryptoPunk #3100 are the most expensive NFTs, which were sold for $7.57 million, and $7.58 million respectively.
Where to buy NFT?
You can buy NFTs from Rarible, SuperRare, and Mintable.
Can I lose money playing NFT games?
Yes, it is possible to lose money playing NFT games. The exact amount you lose depends on the type of game you are playing, its mechanics, and the value of the NFTs you are dealing with. 
How do NFT games make money?
The total amount of money you can earn playing an NFT game depends on the market demand and mechanics of the game. The money you make comes from other users who value the NFTs earned in the game. With NFT games, value is derived either from the NFT or in-game utility. 
What are play-to-earn NFT games?
Play-to-earn NFT games allow users to generate an income stream through playing. It rewards the players with tokens and occasionally NFTs. The longer you play, the more you earn. The tokens earned are needed for the game's crafting process.