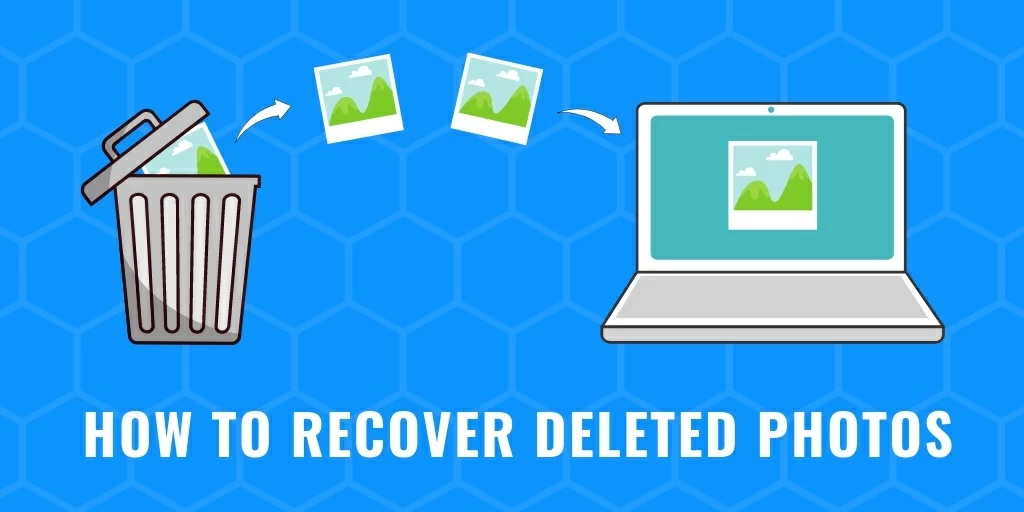 Moving digital photographs to a laptop or PC is simple, but is it equally easy to forestall accidental deletion? Certainly, you can act mindful but when it happens, you must have a plan of action ready to prevent loss of documents, photos, videos, etc. Human error, virus attack, system crash, or technical glitch are some logical reasons due to which you lose substantial photos from your laptop.
This blog aims to de-stress you by giving you smart ideas to retrieve deleted photos from laptop. Read on to discover distinct methods of photos recovery after permanent deletion:
Best Routes to Recover Deleted Photos from Laptop
If you have used the 'Delete' key by mistake to remove photos from your laptop then recovery is easy. Simply drag and drop the deleted pictures from Recycle Bin to the desired folder on your laptop. Though, if you 'Empty Recycle Bin' or press 'Shift & Delete' keys to permanently delete the pictures then recovery becomes tricky.
Luckily, the digital footprints of your photos remain in the operating system. Photos recovery is possible as long as the empty space created in the hard disk remains untouched. So, stop using your laptop after deleting the photos and carefully follow these recovery instructions:
Use Windows Backup Utility
Windows Backup and Restore features are convenient only when you have enabled the manual setup of this utility on your laptop. The manual setup allows Windows laptops to silently maintain the backup of all the data your store in your laptop. Learn how to retrieve deleted photos with this option:
Open the Control Panel on your laptop.
Click on System and Security > Backup and Restore.
Select Restore my files and follow the instructions that appear on your laptop.
Look for the desired backup image files and specify the location of your external storage device to restore your files.
Restore Deleted Photos from Previous Versions
Microsoft has given the option to 'Restore from Previous Versions' on your laptop. Shadow copies of all your files, photos, and videos are automatically saved on a backup in your laptop. Use Restore previous versions to retrieve deleted pictures. Follow the steps to execute this option:
Right-click on the folder where your deleted pictures were stockpiled.
Click on the Restore previous versions option from the drop-down list.
A dialogue box will pop. Choose the date when your photos were last present in the folder.
Click on 'Restore'
Note: Before restoring a previous version folder, ensure the selected version contains your deleted pictures. Click Open to view it.
Before you make an effort to recover photos via the Windows backup utility or Restore previous version, be wary that it's a wild goose chase. To avoid the distress of losing hundreds of significant photos, use professional photos recovery software.
Use a Professional Photos Recovery Software
Professional photo recovery software is an assured option to retrieve permanently deleted photos from any Windows PC, laptop, or storage drive. Fortunately, you have a wide variety of software available at present for deleted photo recovery from the laptop. However, when it comes to the selection of the most reliable and proficient tool, we recommend Stellar Photo Recovery because the brand stands out from the crowd.
The software helps undelete your seemingly lost photos and media files from damaged, corrupt, or inaccessible memory cards. Be it an SD card (Mini, Micro, SDHC, and SDXC), memory stick, compact flash, CF card, CFast Express, SmartMedia, MultiMediaCard, or XQD memory card, the software supports all kinds of memory cards. Follow the instructions below to bring back your photos deleted from your laptop:
Download and launch Stellar Photo Recovery Software.
Connect the memory card to your laptop using a reliable card reader and click Scan.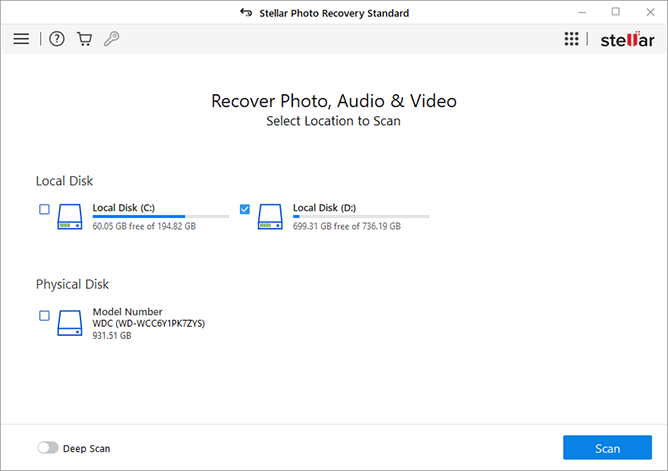 Once the scanning is over, a list of photos, videos, and audio files appear in the right pane.
Preview the images you wish to retrieve in order to find the one you aiming to retrieve.
Note: If you can't find the required image files in the scanned list then enable Deep Scan button at the bottom for advanced evaluation of the memory card.
Once you find your deleted pictures then tick the check box and click Recover.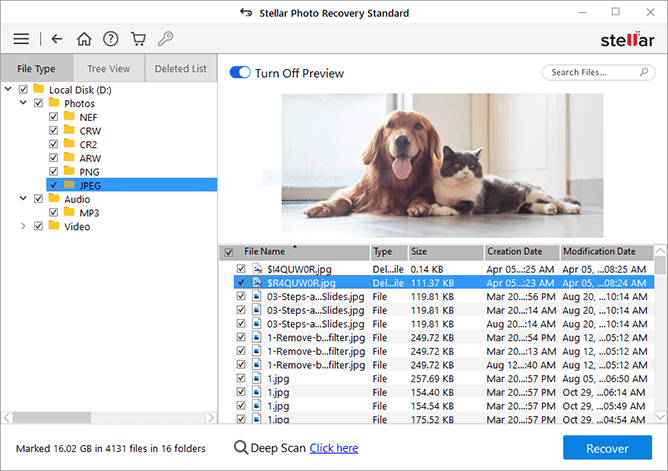 Click Browse in order to specify a location in the laptop to save the recovered pictures.
Pro Tip: Avoid saving the recovered pictures in the same drive from where they were deleted.
We suggest, you download the free trial version of Stellar Photo Recovery on your laptop to experience the trial version of the software. The trial version can scan your laptop and give you real-time experience of the tool to ascertain its effectiveness.
Use Google Photos to Retrieve Deleted Photos
Acquire a healthy practice of maintaining photos backup on Google photos app. If you already follow this practice then photos recovery from Google is seamless. Here's how it's done:
Go to photos.google.com and log in to access your account.
Search and select the deleted photos you wish to recover.
Select save to the device and specify a location.
Your photos will be saved on the laptop.
Bonus Tips to Boost the Odds of Photos Recovery After Deletion
Deleting significant pictures by fault is inevitable, but so is the probability of photos recovery. All you need to do is to implement these suggestions:
Adjust Recycle Bin: Right-click on the Recycle Bin icon to prompt the Properties menu. Uncheck the 'Don't move files to the Recycle Bin' option, if enabled. Also, expand the size of your Recycle Bin folder to the maximum in order to store large files in it after deletion.
Enable File History: Manually allow the File History function to restore deleted photos from previous versions. Follow the path for it: Control Panel > System and Security > File History > Turn On
Aid in Windows Backup: Besides the previous point, it is equally significant to enable the Windows backup feature using the path below:
Go to Control Panel > System and Security > Backup and Restore (Windows 7) > Set up backup from the interface. Either let Windows choose what to backup or do it yourself by picking a drive to store the automatic backups. Select the items that you wish to include in the backup and change the backup schedule before you click on 'Save settings and run backup'.
If accidentally deleted photos were overwritten by the new ones, the old pictures remain missing from the laptop. So, avoid keeping memorable photographs on your laptop's hard disk where the Windows OS or any other program could swiftly replace/overwrite the existing data after permanent deletion. Ideally, you must stop using your laptop after deleting the pictures to trim down the possibility of overwriting photos.
To Sum Up
Anyone could delete valuable photos by mistake, but only those who act mindful after the mishap could retrieve photos without further loss. This blog encapsulates some convenient options to help you recover deleted photos from laptop and external drive. Try them only in one condition when you have acquired the habit of maintaining backup regularly. Otherwise, handpick a reliable software like Stellar Photos Recovery to safely bring back a large volume of photos. MacBook users can follow the insightful instructions given in our absolute guidebook for deleted photos recovery.