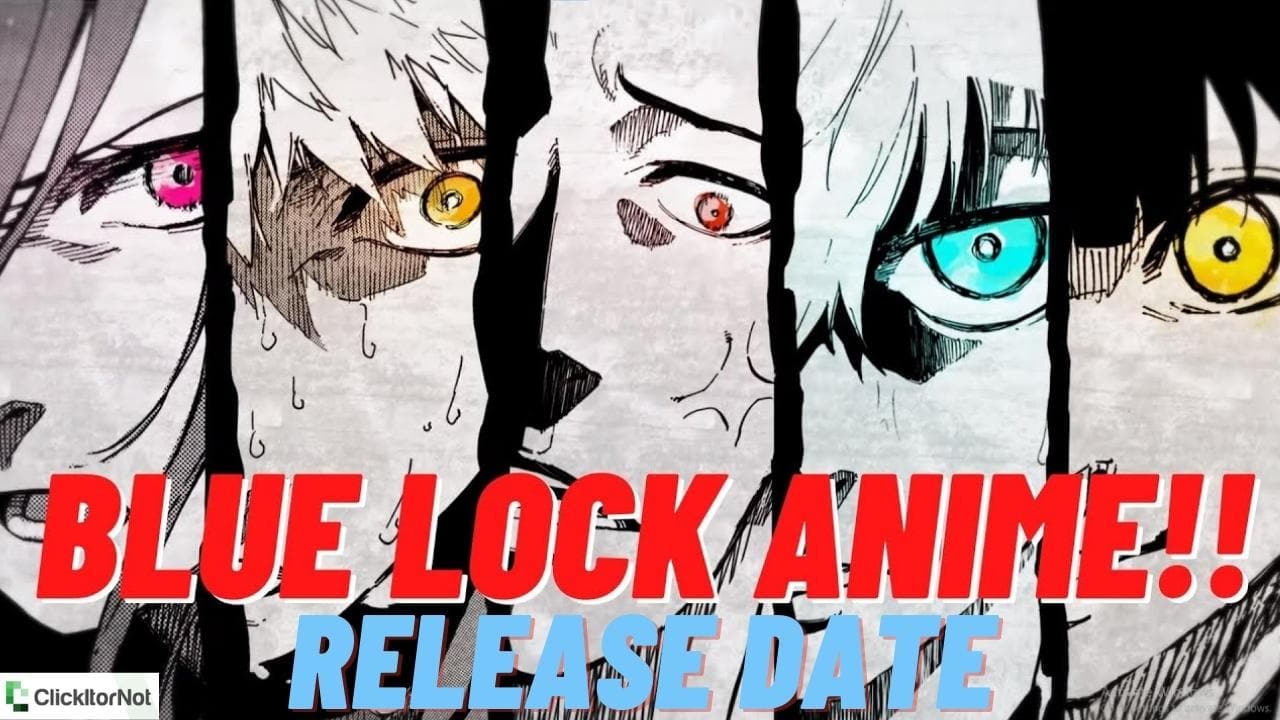 Blue Lock Anime Wiki
If you are a Weekly Shonen Magazine manga reader, you are probably familiar with Blue Lock. It features a man and 300 boys who desperately want to create the best striker for the national soccer team of Japan.
The manga is written by Muneyuki Kaneshiro while the illustration work is done by Yusuke Nomura.
This popular manga is soon getting an anime adaptation in 2022. If you are excited to know more about the Blue Lock anime, you should give this article a read.
Blue Lock Release Date
The Blue Lock anime series is confirmed and it will start airing in 2022. It is animated by Eight Big Studio while the script and series composition is handled by Taku Kishimoto. The music is provided by Jun Murayama.
The exact Blue Lock release date is not announced. However, we do know that it is coming in October 2022. Based on the announcement made by Eight Bit Animation Studio, we know that the series is developed under the direction of Tetsuaki Watanabe.
Blue Lock Cast
Blue Lock is an award-winning manga. This is one of the reasons why fans are excited. With that said, let's take a look at Blue Lock cast (voice) members.
Yoshitsugu Matsuoka

as Jingo Raichi

Shoya Chiba

as Yudai Imamura

Masatomo Nakazawa

as Wataru Kuon

Daishi Kajita

as Asahi Naruhaya

Shugo Nakamura

as Gin Gagamaru

Eri Yukimura

as Anri Teieri

Hiroshi Kamiya

as Jinpachi Ego
Blue Lock Trailer
The official Blue Lock trailer is out. This means the exact release date will be announced sooner than it's expected. Click the link to see the trailer.
Blue Lock Teaser
Blue Lock teaser was dropped by the creators to reveal the first look of the anime. It is a short clip that gives us an idea of what to expect from the anime series. Check out the teaser here:
Blue Lock Plot & Expected Storyline
Those of you who have read the manga must have an idea about the story. Blue Lock plot details are not revealed yet. Based on the manga, we can tell that the story will start with the Japanese soccer team.
The football association of Japan decides to hire the best coach for the national soccer team. They want a coach who can help the team win the world cup.
Jinpachi is an egoistic coach. He creates a prison-like facility called "Blue Lock" to test the players and eliminate the weak ones.
You can read more about the anime adaptation on Blue Lock wiki page.
Where to watch Blue Lock?
Blue Lock is an upcoming anime that has not been released any seasons before. Many of you want to know Blue Lock where to watch. The anime will start airing in October 2022 on VRV and Crunchyroll. But this will be available only to viewers in the United States.
English dubbed versions will be released after the series premiere in Japanese audio.
Blue Lock Countdown
Blue Lock countdown has started. This brand new series is going to arrive in October 2022. Now we are just left to know the official release date, which is expected to be announced soon.
Blue Lock Episode Guide
As of now, there have been no updates on the number of Blue Lock episodes. The creators will most likely give out that information when announcing Blue Lock episode 1 start date.
Blue Lock Spoilers & Leaks
For Blue Lock spoilers, we will suggest you read the manga.
Blue Lock News Update
The adaptation of Blue Lock is taking time because of the lack of animators. According to reports, many workers are leaving MAPPA studios due to poor working conditions. The lack of experienced animators has created chaos in the studio. This is why Blue Lock anime adaptation is taking more time than usual.
For more exciting Blue Lock news updates, you should follow the official Blue Lock Twitter page.
Blue Lock Poster
The official Blue Lock poster is out. This poster is used for the promotional release of the anime. Click on the link to see the poster:
Final Thoughts on Blue Lock
The anime adaptation of Blue Lock manga is announced by Eight Bit Studio. It will start airing in October 2022. The exact release date is expected to be announced soon in the coming months. We will notify you if we get any further updates about the anime.
Blue Lock FAQs
---
What can I watch Blue Lock on?
Blue Lock anime series will be aired on VRV and Crunchyroll.
---
Will Blue Lock be on Crunchyroll?
Yes, Blue Lock will be available on Crunchyroll.
---
Will Blue Lock get an English release?
Blue Lock English dubbed version will come after 45 days of the initial release.
---
Is there a soccer anime?
Blue Lock is a Japanese soccer anime that is soon going to arrive on VRV and Crunchyroll.
---
Is Blue Lock shounen? 
Yes, Blue Lock is shounen.
---
MUST SEE: