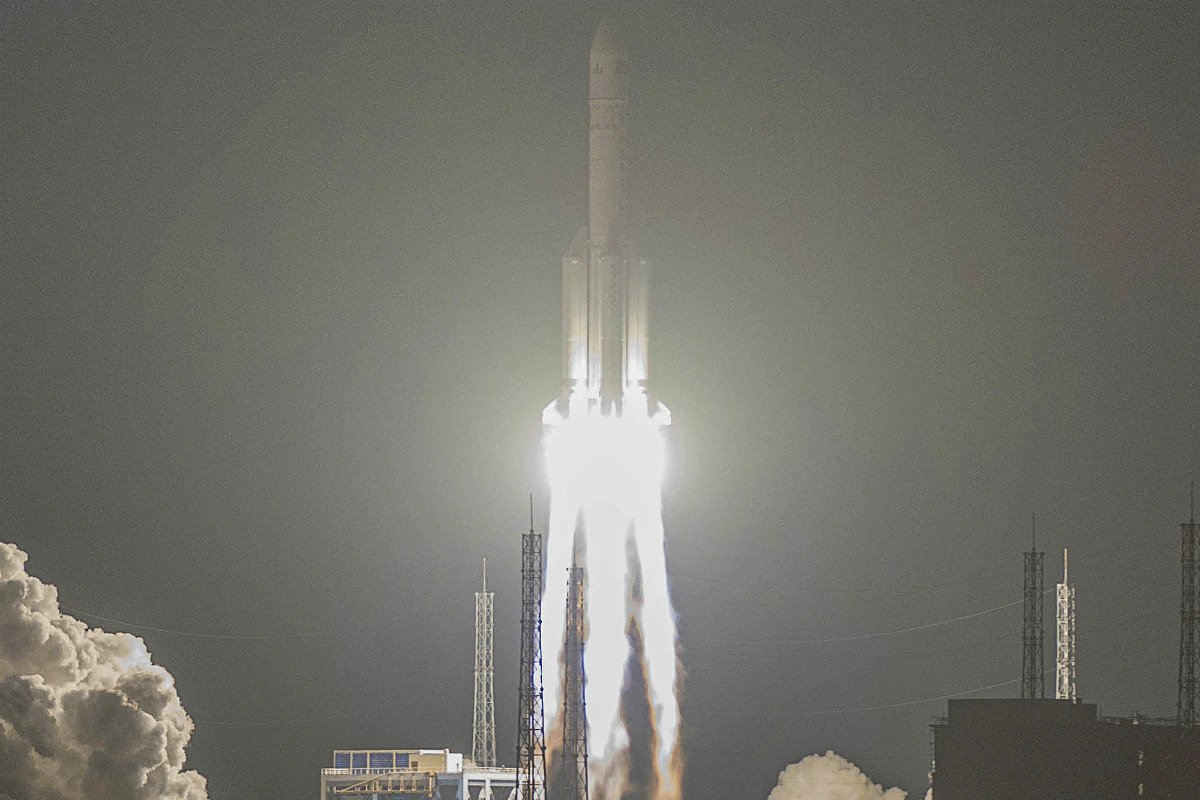 China in a step to boost its mission to Mars which is scheduled in 2020, Friday launched one of the world's most powerful rocket. The heavy-lift Long March 5 rocket which is carrying a Shijian 20 test satellite payload kick-started from the Wenchang launch site located on the southern island of Hainan at 8:45 pm local time (12:45 pm GMT or 6:15 pm IST), which is live-streamed on CCTV.
The official Xinhua news agency reported that "After more than 2,000 seconds which is more than 33 minutes, the Shijian 20 satellite was sent into its predefined orbit."
"This launch tests the technologies for the upcoming launches," reported Xinhua.
China is planning a mission to Mars next year and also a crewed space station by 2022. This successful launch paved the way for its future missions.
Wu Yanhua, the deputy head of China's National Space Administration, in a video telecasted on CCTV in the second week of December, said, "Long March 5 rocket has important missions to carry out. It will be tasked with launching China's first Mars mission, a core module for the manned space station, and the Chang'e-5 lunar probe alongside other important missions."
As the rocket was blasted off into the sky from the island, more than a million people watched the live-stream and many others witnessed it from around the launch island.
"Fat Five," was the nickname given to the rocket, was a hot topic on the Weibo social media platform which is similar to Twitter.
The previous attempt in July 2017 which was a mid-launch failure pushed down China's space plans for a while. But, now with the success of Friday's mission, China could be back to its space plans as before.
The failure of the Long March 5 Y2 which was supposed to deliver the Shijian 18 experimental communications satellite into the orbit delayed the plans of using the rocket in a planned mission in July 2017 to collect lunar samples.
Long March 5, which China said as the most powerful rocket developed until then was launched in November 2016. It was the first Long March mission.
The Long March 5 can carry up to 25 tonnes. This is comparable to the US-made Delta IV Heavy and Russia's Proton-M in terms of capacity. According to NASASpaceFlight.com, these are considered some of the most powerful launchers that are in existence.
By contrast, the US's Saturn V, which carried astronauts to the Moon in 1969, was designed to deliver around 140 tonnes of payload into the lower Earth orbit.