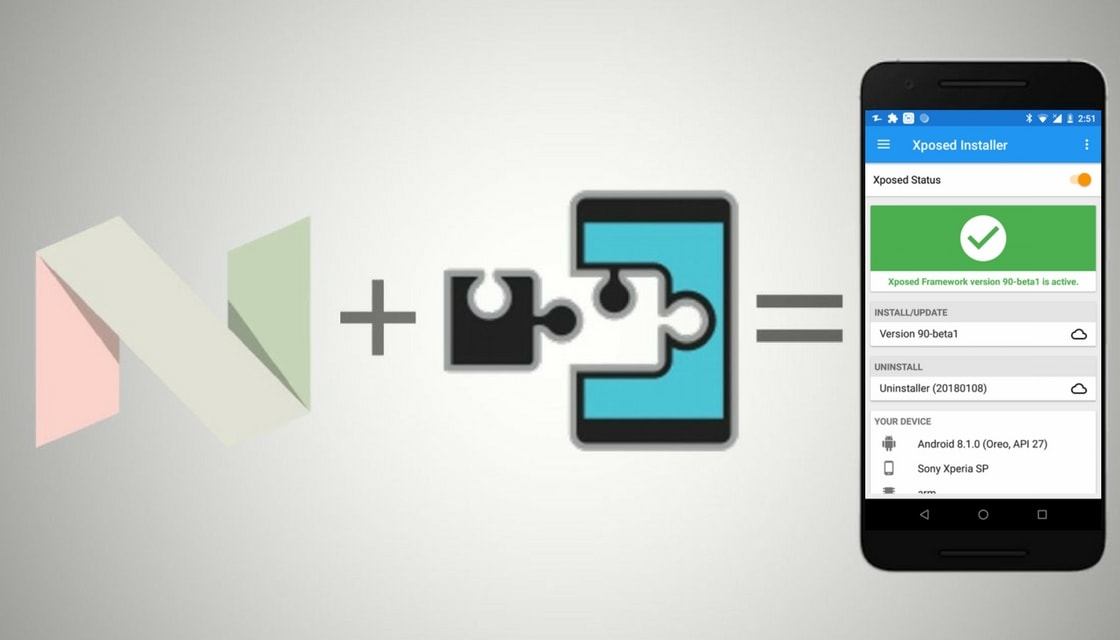 Xposed Framework for Android 8.0/8.1 Oreo in Beta Version
Update June-2018: Xposed Installer v3.15 & Xposed Framework v90-beta2 are out with Android Oreo Fixes and Optimizations (Links Updated) (beta2)
Google is on a firm rise since the advent of the Oreo Update. Plenty of debates and reviews have been made on Android Oreo and this OS is still enchanting its features to a number of Android devices all over the world. Also, with Oreo Update, Google is enhancing the Android experience of millions of Android users all over the globe.
Some great things which the Users will get with the all-new update
The Update will no doubt bring the all-new picture-in-picture mode support from an Android TV, the all-new Autofill feature which will replace the traditional need for password managers and also a providence of notification channels for a greater control over the notifications.
In addition to the above enchanting features, some previous features such as root-only tweaks or theming the device do not require root. As a result, users will find fewer reasons to root their phone as all the functionality will be provided in the non-rooted phones itself. Still, for those who do feel a need to root their Smartphone's, there is another great tool at those consumers disposal: Access to the Xposed Framework for Android Oreo 8.0/ 8.1.
October Scenario and involvement of XDA Developer Rovo89
Rewinding back to the month of October, XDA Senior Developer Rovo89 released an update to the all-new Xposed framework which also supported the older Android Oreo (8.0/ 7.1). Well, at the current point of time, Android N has been over a month older now and the all-new Android Oreo is all set to rock the world with all its enchanting features.
During the release of such update, plenty of the Android Oreo Users were far more ecstatic about the release. While some people felt that the current update was a little bit late in either case
A Teasing release last month
But after all the chaos and issues all over, a teasing release last month of the Xposed Framework has caught the latest Android release. With the release of the all-new Xposed Update, the newer devices such as the Google Pixel 2, Pixel 2 XL, Sony Xperia XZ1 series or the Huawei Mate 10 series can try out Xposed. In the process of trying, they will surely come across some enchanting features for which the user experience will surely be raised to a level of excellence and feasibility.
In addition, plenty of the devices which are upgrading to Android O whether root or unroot can also try out the venerated Xposed framework with great ease and comfort.
Install the All-New Xposed Framework for Android Oreo
Since this is the first release of Xposed for various Oreo devices, the developers are releasing it in the form of a beta version. This in return can mean that it could be buggy, can crash plenty of times and various other issues can arise in the working.
On the Contrary, XDA Recognized Developer/ Contributor Wanam has tested the beta version of the Xposed framework as well.
Fortunately, the only way to install the Xposed Framework is by rooting up your device. As a result, you will need to backup your data before installing the same.
[box type="shadow" align="aligncenter" class="" width=""]
Xposed Installer v3.15 Change-log
Fixed a crash in download list search on Oreo.
Fixed a crash when sending log on Oreo.
"Optimize apps now" menu item, will trigger 

cmd 

package

 bg

-

dexopt

-

job

. It's available since Oreo and will start the job that usually runs once per night if the device is charging. If you feel degraded performance after installing Xposed, it might be because all apps are running purely on JIT and interpreter. That's because Xposed needs additional information to identify methods it has to invalidate, and that information will be determined during the next compilation. If you want that to happen now, use this new feature. It took about 20 minutes on my Pixel. For more background, see here.
Detection if Verified Boot (dm-verity) is active. If yes, any changes to the system partition will be detected and you'll end up in a boot loop. The detection might not be 100% perfect yet, so if you notice false positives or negatives, please report a bug along with the output of 

adb

 shell getprop

.
Downloads
Xposed framework Installer for Android 8.0 oreo
Xposed For Android Oreo 8.0 ARM Version
Xposed For Android Oreo 8.0 ARM64 Version
Xposed For Android Oreo 8.0 x86 Version
Xposed framework Installer for Android 8.1 oreo
Xposed For Android Oreo 8.1 ARM Version
Xposed For Android Oreo 8.1 ARM64 Version
Xposed For Android Oreo 8.1 x86 Version
Steps to Install Xposed Framework on Android 8.0/8.1 Oreo
The Installation process is a lot simpler. At first, you will need to install the Xposed Installer. The Xposed framework zip, it can be installed by flashing it with a great recovery tool such as TWRP.
For users who run the Android 8.0 Oreo, they will need to install the SDK 26 Framework while the Android 8.1 will need the SDK 27 framework.
Download Xposed framework zip from above link and save the downloaded zip files to your device
Reboot your device into TWRP Recovery.

Switch off your device.
Press and hold "Volume down + Power" buttons until you see anything on the screen.

Now in the TWRP main menu, Click on Wipe and swipe to factory reset on the bottom of the screen.
Go back to the main menu in TWRP, tap on install and select the Xposed zip file which you have saved in your device.

After selecting the Xposed zip file, do swipe to confirm flash to begin the installation process.

Once the installation process is completed, You will see Wipe cache/Dalvik option, tap on it and Swipe to wipe.
Done!!!
Uninstalling Xposed framework
Xposed framework Uninstaller for Android oreo
Xposed framework Uninstaller For Android Oreo ARM Version
Xposed framework Uninstaller For Android Oreo ARM64 Version
Xposed framework Uninstaller For Android Oreo x86 Version
Note: If you want to uninstall the Xposed Framework download the Xposed uninstaller zip file and follow the same procedure above.
Final Verdict
Android Oreo is still a new release but it is a pleasure to see that the Xposed Framework is supporting it.  As of now, it will surely be a thrill to see what more module development, as well as an enhanced list of features Xposed, has for the present day devices in the nearby future.