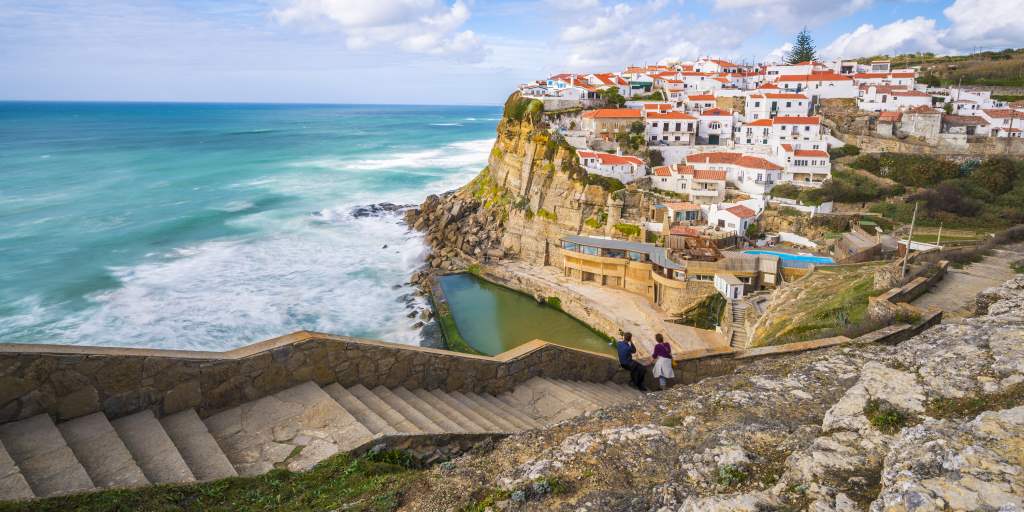 Every year, millions of people from around the world flock to Portugal to explore this beautiful country's rich history, stunning landscapes, and vibrant culture. Whether you're planning a family vacation, a romantic getaway, or a solo adventure, Portugal is a destination that is sure to deliver an unforgettable experience. From the bustling capital city of Lisbon to the quaint fishing villages and stunning beaches in the Algarve region, plan a trip to Portugal offers something for everyone. Experience unique architectural wonders, such as the Jeronimos Monastery in Lisbon or Evora's Roman Temple, explore delicious local cuisine, or simply relax and take in breathtaking ocean views along Portugal's picturesque coastlines.
When it comes to nightlife, Portugal has plenty to offer. From lively dance clubs in Lisbon to traditional fado bars and low-key pubs in small towns, you'll find something for everyone. And when the night is over, you can spend your days relaxing at one of Portugal's many beaches or exploring its stunning national parks and monuments.
No matter what type of traveler you are, Portugal has something for you. With its inviting culture and stunning scenery, Portugal is sure to leave a lasting impression on every visitor. From breathtaking sunsets to delicious seafood, Portugal will be a vacation that you'll never forget. So come explore this magical country and experience the beauty of Portugal for yourself!Here, we've put together the ultimate guide to help you plan your trip to Portugal and ensure that you make the most of your time in this enchanting country.
1. When to Go
The best time to visit Portugal depends on what you're looking for. If you want to soak up the sunshine and enjoy the beaches, then the summer months of June through September are ideal. The winter months are mild, and while it may not be a beach destination during this time, it can be a magical time to explore the cities, enjoy the Christmas markets, and indulge in some delicious Portuguese cuisine.
2. How to get there
Portugal is well-connected to major European cities, with direct flights to Lisbon and Porto available from all around Europe. If you're coming from outside of Europe, Lisbon and Porto are well-served by international airports. Portugal is also accessible by train, with connections from major cities like Madrid and Paris. Once you're in the country, you can get around by renting a car or by using the excellent public transport system.
3. Where to stay
Portugal has a wide range of accommodation options to suit all budgets and travel styles. From luxury hotels to budget hostels, Airbnb rentals to serviced apartments, there's something for everyone. In the big cities like Lisbon, you'll find the most variety, but even smaller towns and villages have charming bed and breakfasts and guesthouses that offer affordable and authentic experiences.
4. What to see and do
Portugal is a country with so many incredible things to see and do that it can be overwhelming to plan your itinerary. The must-see attractions include the historic centers of Lisbon and Porto, the beaches of the Algarve, the stunning Douro Valley wine region, and the picturesque mountain village of Sintra. Other popular activities include hiking, surfing, and trying the delicious Portuguese cuisine, which includes fresh seafood, pastries, and wine.
5. How to make the most of your trip
To make the most of your trip to Portugal, we recommend spending at least a week in the country to explore the major cities and regions. Plan your itinerary carefully to ensure that you have enough time to see all the sights and take part in all the activities you want to do. Don't forget to leave some time for relaxation and experiencing the local culture. Above all, be open to new experiences and let Portugal charm you with its beauty, history, and hospitality.
If you're looking to get even more out of your Portugal vacation, consider visiting some of the country's lesser-known attractions. Take a day trip outside of Lisbon to discover hidden gems like Sintra's Pena Palace or the hilltop town of Obidos. Or explore one of the many charming fishing villages along Portugal's coastline. Venture off the beaten path and you're sure to find a variety of unique experiences that will make your trip even more memorable.
Finally, don't forget about food! Portuguese cuisine is a delightful mix of flavors from around the world with its own distinctive twist. Sample some fresh seafood or traditional dishes like bacalhau (salt cod), pasteis de nata (custard tarts), or caldo verde (kale soup). With so much delicious food to choose from, you'll never be short on things to do in Portugal.
Portugal is a country that has something to offer everyone. Whether you're looking for a relaxing beach vacation, an exciting adventure, or a cultural experience, you'll find it in Portugal. With this guide, we hope that we've given you the information and inspiration you need to plan your trip to Portugal and make the most of your time in this incredible destination. So what are you waiting for? It's time to start planning your next adventure in Portugal!
When visiting Portugal, you'll find that there are plenty of activities to keep you busy. From exploring the lively cities and towns, to taking part in outdoor adventures like hiking or kayaking, to trying some of the unique local cuisine, Portugal has something for everyone. Be sure to spend some time learning about Portuguese culture as well! Visit historical sites like the Castelo de São Jorge in Lisbon or take a tour of the University of Coimbra to get a better understanding of Portugal's history and culture.
For those looking for some relaxation, you won't be disappointed. Take a stroll through one of Portugal's lush vineyards, spend a day lounging on the beach, or take a break from the hustle and bustle of the cities to enjoy some peace and quiet in one of Portugal's many tranquil villages.
No matter what type of experience you're looking for during your trip to Portugal, you'll find it here. So come explore this beautiful country and all that it has to offer!