Facebook, for the first time, has marked a post as fake news and issued a correction notice as per the order of the government of Singapore.
The false news is shared on Facebook by a 32 years old blogger, Alex Tan Zhi Xiang. Alex Tan runs the anti-government website, The States Times Review, and is the editor of the website. The post contained accusations about the election rigging and the arrest of a whistleblower. The government of Singapore stated this allegation as "scurrilous" and "false." On ordering Alex Tan for correction, he denied saying that he is an Australian citizen, and he will not follow the orders given by a foreign government. The Singapore government bans the States Times Review website.
Facebook has put a correction label at the bottom of the post without making any modifications to the original post as "Facebook is legitimately wanted to inform you that the Singapore government states this post has false information."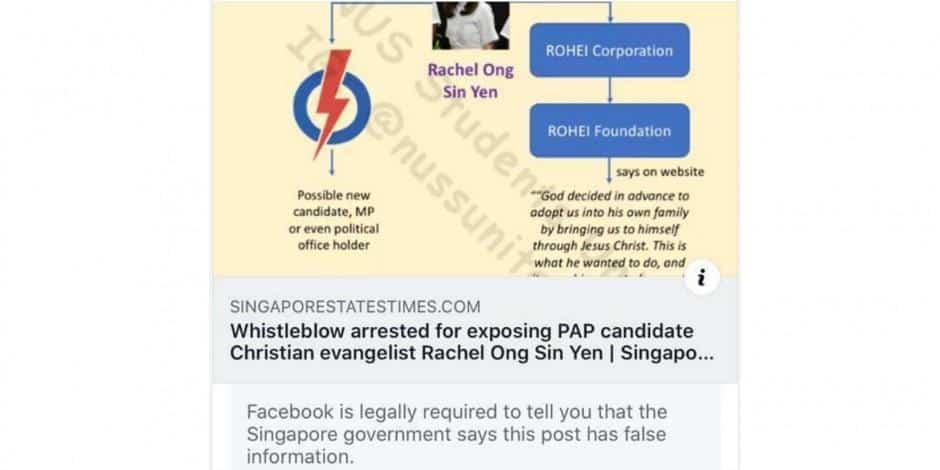 Protection from Online Falsehoods and Manipulation Act (POFMA) was recently launched in Singapore, and it is the second time that POFMA has been enforced. The first time was when a politician from an opposition party was told for the correction of his post on Facebook. "Since it is the initial days of the law coming into effect, we hope that there will not be any impact on the free expression," said one of the spokesperson of Facebook to Channel NewsAsia.
Alex Tan reacted disobligingly and said that he had reposted it on Google, Twitter, & Linkedin and challenged the government to give issue correction orders to those companies too.
Under the rules of POFMA, the "anti-fake news law" gives the power to the ministers to order for the removal of the false information or correction of content online that is judged to be fake. The law also has the power to impose a fine of up to $737,790 on companies like Twitter, Facebook, and Google if they do not stop the spreading of false news by displaying corrections or completely removing the content from their platforms. The law can also force the companies to block fake accounts and stop advertising fake news sites.