Last year, in April, Facebook announced that it is planning for a major redesign for the desktop app. And all this while the new design is under testing. However, Facebook is now rolling out the new design to some users.
As per a report on Cnet, Facebook said that it plans to offer the redesign to the desktop app more broadly by the spring of 2020.
The limited number of people to whom the company decided to give access to this new desktop will now see a pop-up. When they log in to Facebook, the pop-up invitation appears to help test "The New Facebook." On agreeing to test the new design, users will have the option to use the website in dark mode or with a white background.
However, as of now, users can always go back to the old design whenever they want. Facebook gives an option to the users to choose from either a dark or white background. And before rolling out the design to everyone, the company takes feedback and make relevant changes.
The redesigned version of the desktop will be modern, neater, and less cluttered. The new version is also faster, simpler, and more immersive. And it puts communities at the very center of its social experience. It also made the groups and communities more comfortable to find.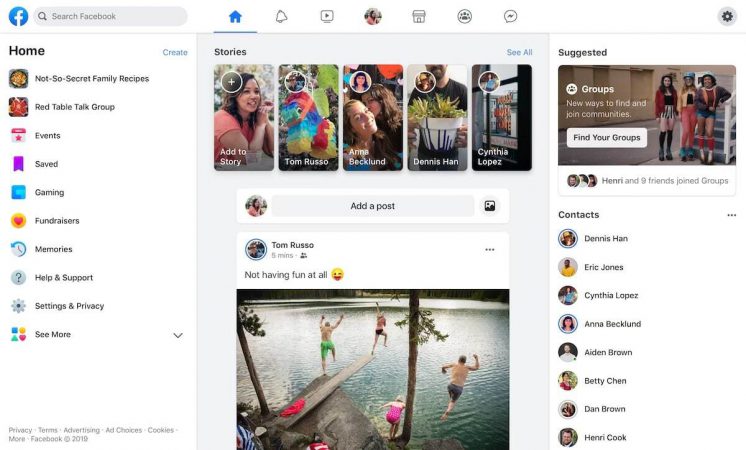 Prominently, until the global rollout of the new design, the company is allowing users who agree to test the redesigned website,  the option to switch back to the older version whenever they want. Testers can also give Facebook, the feedback, by letting them know if some feature broke or give their general thoughts.
The news released at the time when the company is battling privacy issues and misinformation. Facebook, on Thursday, again made some changes to its political ads policy. However, it was unable to please US lawmakers.