Samsung seems to have drawn a beeline by staging one after the other surprises for its users. The Korean smartphone maker appears to be in no mood to give a breathing space to its competitors by releasing all critical upgrades and updates in order to stay ahead of the game.
Today, Samsung stunned not only the competitors but also Samsung users by releasing Android Oreo update for Samsung Galaxy Note 8 in France. At the beginning of the week, Samsung had given a shock treatment for its competitors when it released the first Samsung Galaxy S9/S9+ update.
The best part about Galaxy Note 8 Oreo update is Samsung deciding to roll out before the scheduled dates. Samsung had fixed March 30 for Galaxy Note 8 update. The rollout was first spotted by SamMobile
However, there is no official changelog available with users or experts since Samsung released the update fortnight earlier. Despite the ambiguity, it is safe to suggest that Samsung Galaxy Note 8 will have Samsung Experience with a better keyboard, superior search finder, Bixby, and other standard Oreo features.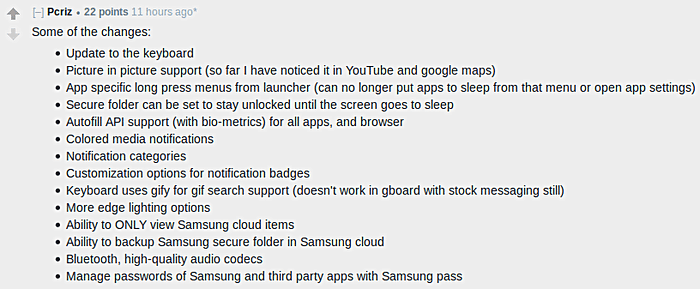 It is only a matter of speculation if Samsung will roll out global updates or if there is any schedule for the same. However, it is quite likely the global update will follow soon since different dates for the different geographical region isn't new.
It is noteworthy that  Samsung was testing an Oreo Beta version since long and a couple of guys posted about the same on Reddit, the images of the 8-powered Galaxy Note 8.
Some of the fascinating changes were already leaked on Reddit in the first week of the first month of 2018 itself as shown in the image below.
More or less, Samsung is in the game of supremacy and superior products. Ultimately, it is a win-win situation for smartphone users. Now, the world of rumors is speculating on next Samsung Surprise with regards to Galaxy S9 and S9 Plus.