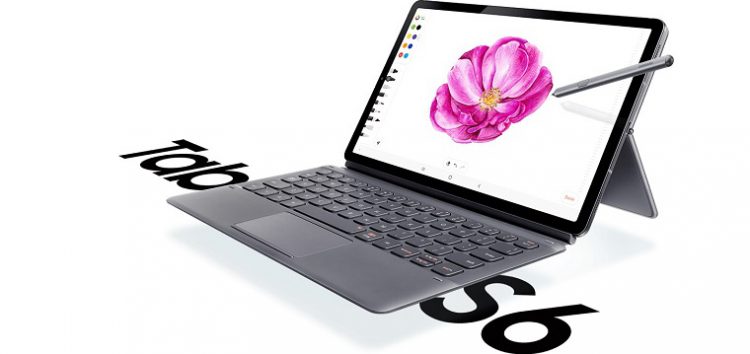 In the middle of 2019, Samsung releases the Galaxy Tab S6 With the Qualcomm Snapdragon 855, a 2K AMOLED screen, and up to 8GBRAM, the Galaxy Tab S6 is the most powerful Android tablet from the South Korean company. The Galaxy Tab S6 launched with Samsung's One UI software on top of Android 9 Pie.
Now a new software update is rolling out for the Samsung Galaxy Tab S6. The much-talked-about One UI 2.1 with Android 10.
The Galaxy Tab S6 becomes the new Samsung device to get the stable One UI 2.1 update recently as the company is giving out the latest One UI 2.1 package to the Samsung Galaxy Note 10 and S10.
The LTE variant of the Galaxy Tab S6 One UI 2.1 update is available in Germany. It includes with March 2020 security patch alongside a flurry of Android 10 and One UI 2.1 features to enjoy.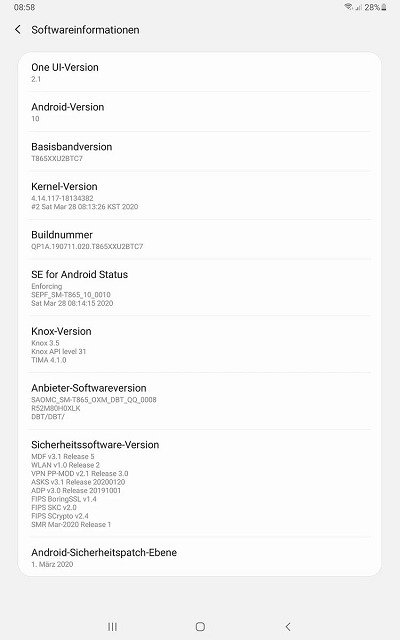 The software update version is T865XXU2BTC7, and it will take some time before each Galaxy Tab S6 unit in  Europe or specifically, Germany receivers the latest update. Customers of the U.S.have to wait some more time as carriers have to modify accordingly before the OS is released. Most probably, the release will be in the last week of April or in May 2020.
You can also check for the new update manually through Settings > Software update > Download and install.
The changelog for Galaxy Tab S6 Android 10 update:
Here is what's new

Icons and colors
– Improved layouts for headings and buttons to eliminate wasted screen space.
– Clearer app icons and system colors.
Dark mode
– Darkened widgets, wallpapers, and alarms while Dark mode is on.
-Enhanced text, image, and color adjustments for day and night environments.
Full-screen gestures
– Added new navigation gestures.
Smoother animations
– Enhanced animations with a playful touch.
Accessibility
– High contrast keyboards & layouts for large text have been improved.
– Listen to live speech & display it as text.
Refined interactions
– Navigate more comfortably on big screens with minimal finger movement.
– Quickly focus on what matters with clearly highlighted buttons.
Media and devices
– Replaced the SmartThings panel with the Devices and Media.
– Media: Control videos and music playing on your device as well as other devices.
– Check & control your SmartThings devices directly from the quick panel.
Better text over wallpapers
– See text more clearly against wallpaper, as One UI automatically adjusts font colors based on light and color contrast and dark areas in the image below.
Device care
– The battery utilization graph now provides more detailed information.
Camera
– Added the ability to change the modes that show at the bottom of the screen.
– Provided a More tab so you can access immediately hidden methods from the preview screen.
– Improved the design so you can focus on taking pictures without the settings getting in the way.
Digital wellbeing
– Use Focus mode to help avoid diversion from your phone.
– Set goals to keep your device usage in check.
– Keep looking at your kids with new parental controls.
Internet
– Customize the quick menu to obtain instant access to the features you use the most.
– Get more information from the app bar.
– Install add-ons from the Galaxy Store to obtain even more features.
Calendar
– Stickers can be included to date without creating an event.
– Ringtones can be used for event alerts.
Samsung Contacts
– Added Trash feature for Contacts. Contacts that you delete will stay in the trash for 15 days before being deleted forever.
Reminder
– More options are available for repeating reminders.
– Set location-based reminders for an exact period of time.
– Share reminders with your other sharing groups and family group.
– For a particular date without an alert.
Calculator
– The added time and speed units to the unit converter.
My Files
– Created a Trash feature so you can recover files if you delete something by mistake.
– Added more filters, you can use while searching to help you find things quickly.
– You can now copy or move various files and folders to different destinations at the same time.
Quick Share
– Data can now be quickly and easily shared with nearby Samsung devices using Quick Share.
Samsung keyboard
– A multilingual translation feature has been added.
– Now you can search for music in Spotify directly from the keyboard.
– A text redo/undo feature has been added.
– An icon to open Samsung Pass has been included.
Music Share
– Now, lets you share music along with your friends via Bluetooth audio device.
Samsung Daily
– Bixby Home has been replaced with Samsung Daily.
Update 1 (April 16)
The Android 10 update and March Security for the Tab S6 are now live in The Netherlands.
Update 2 (April 17)
Now the Android 10 update is available for devices in Europe, Romania.
Update 3 (April 17)
The Android 10 update has also reached devices in Switzerland.
Update 4 (April 18)
Now the Android 10 update is live for devices in the Philippines.
Update 5 (April 20)
The Android 10 update has made its way over to devices in Qatar.