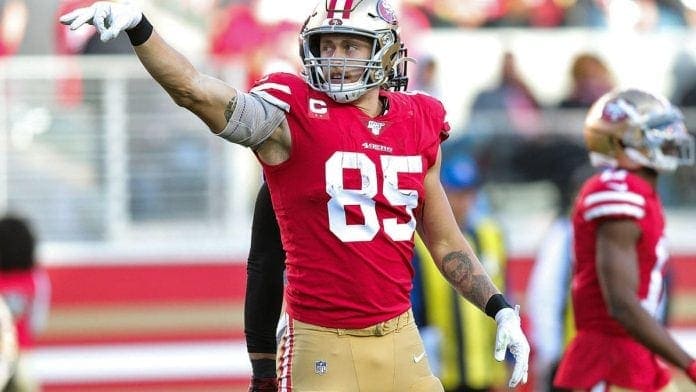 George Kittle was absent in practice for NFC Championship Game, which is going to held on Sunday. This match will be against the Packers. This absence was unexpected for everyone in the team.
According to ESPN's Nick Wagoner, Kittle is having some ankle soreness. Nobody expected that they have to keep him out in Sunday's game. One more 49er was absent in Wednesday practice. Dee Ford, who is a defensive lineman of the team, was missing. He has a quad/hamstring injury.
Kittle and Ford, who missed five regular-season games, are expected to come for Sunday's game. They missed the practice due to injury.
Kwon Alexander, the linebacker, was available for the limited time for the practice. Tevin Coleman and Raheem Mostert attended the training for the full time.
Geronimo Allison was also not well. Tight end Jimmy Graham and cornerback Tramon Williams got the expert's rest days. Receiver Ryan Grant missed the practice with a related designation of a non-injured.
Now the team is scheduled to practice again on Thursday. They will do practice with coach Kyle Shanahan.
Kittle led the team with 85 catches and 1,053 receiving yards in this season. He also missed the two games after having knee and ankle injuries. He had this injury on Oct. 31 when they won against the Arizona Cardinals.
Shanahan compared Kittle's ankle injury with a piece of bark coming out of a tree. He said Kittle is not in danger, and he will play further.
Coincidentally, Kittle returned to the match on Nov. 24 against Green Bay. He took six catches for 129 yards.
Bulaga, who missed Green Bay's regular-season match due to hand injury, is now expected to play in Sunday's game.