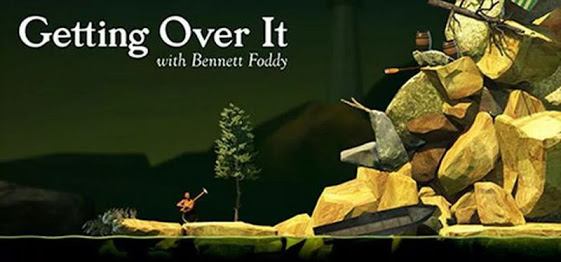 For the kids, it's a core to their existence, for the adults, it nothing less than a waste of life. Yes, people react differently when you talk about the video games. At no other juncture in life, you can find generation gap so wide except when parents and kids battle over video games' existence.
Getting Over It with Bennett Foddy was one such game that had seemingly wasted time of many. It was a web-based game that was released last year on Steam has made a way to the Android now.
Then it had generated a different kind of crazy as kids used to love the chase of hours controlling the muscles of a runner in an exercise that was pure frustration based. As people are still head on their heels, Getting Over It with Bennett Foddy is still considered to be right on the border of entertainment.
The same anger-affected expressions were used in this Android version. "I don't want to give away to much about the game, it really is something else. But I will say, if you're the sort that is prone to anger or frustration, or just the kind of person that doesn't enjoy "hard" games, this really isn't for you. It's nothing personal, it's just that the game is pretty much built around self-directed anger and disappointment." Rayne Hager said on AndroidPolice.
The game is simple and does not match any high-fundas of today's 3D games and high-resolution design. It is designed for the 2D platform and appears to be a blessing for those running on a slower internet speed. The controls of the game are ever simpler compared to other Android games. You are a fighter on a battlefield. Your fingers are trained to run on a hammer, something your character is designed to move. You are pushing yourself up to the mountain filled with the wreckage.
Naah, obviously this is not hard. However, it generates so much excitement as the shrilling voice of Bennett Foddy continuously guides you through the game making the environment absolutely complex despite having simple controls. Download the