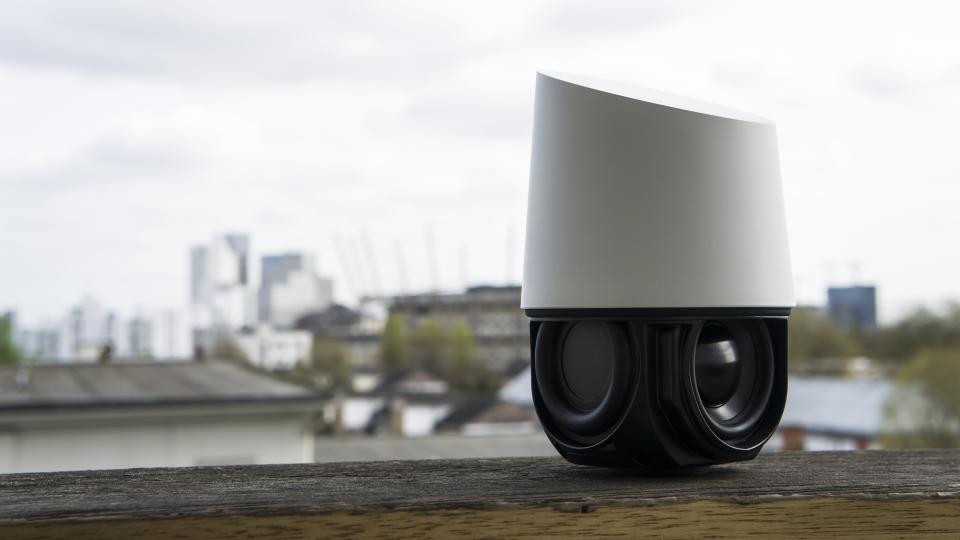 It feels like magic whenever you say "OK Google" to make your device (be it Google Home or your smartphone) do something you want it to do. Your device lights up, buzzes, displays when you say the two-word magical spell as a response to your query or need. But, when it comes to sensitivity, all these smart devices are so sensitive that they actually respond to almost all you speak. Well, its kind of creepy when you don't want your device to respond, but it does. But, there would be no problem as Google will allow us to adjust the sensitivity of the Google Home or other devices to respond to us.
In the early fall, the company announced that it is adding a way to adjust the threshold for all the Assistant devices, for both to increase the sensitivity in a noisy environment for better operation and also to avoid unwanted triggers. That sounded amazing, and at the time, we were just looking forward to the feature to include in the devices soon.
This feature is not available to the general public but, Mishaal Rahman of XDA is now able to use the feature(of course manually). He shared screenshots of the controls on Twitter, and we added them for you below.
Apart from Smart Speakers, the sensitivity slider will be available to smart displays also. But, we could not get any information about how efficient the sensitivity slider is for the "OK Google" prompts. We also don't know how this worked for the Google Home device and other Smart Home devices that respond to the Google prompt. We will let you know once we get some information on how this actually worked and is working right now.
Update 1(21/04/2020)
Gradual Rollout
As we are waiting for the update to hit our Google Home devices, the company in a statement to The Verge confirmed that it is planning on releasing the update gradually. We are not sure about how long it will take to release the hotword sensitivity update to go live. Also, we are not sure if the update will be live on a regional basis, but the update will be out in no time.
For a query posted to Google, the company clarified that the update would be deployed on a device to devise a basis, and it will take some time to reach all the devices. You can use this hotword sensitivity adjustment on your individual speakers or on displays as and when needed after its live. There is no full-time schedule for the update, but Google assured to deploy it over in a few days.
Update 2(04/05/2020)
The Google Assistant sensitivity controls are finally available where you can adjust the device to devise settings and see the overview where you can find the settings for all the Google Home devices listed. That means you can check the sensitivity settings on an individual basis or on an overall basis for your Assistant devices.
Google announced the update's release on its blog. Also, Google notified that all of the Assistant's Hardware would not get the latest feature. On its Support page, Google clarified that the sensitivity adjustments feature available to most of the Assistant speakers and displays, but are only available in the English language.
This feature did not reach all the devices, and a reader Peter proved this by sharing a screenshot depicting his own Lenovo Smart Clock not responding to the new controls.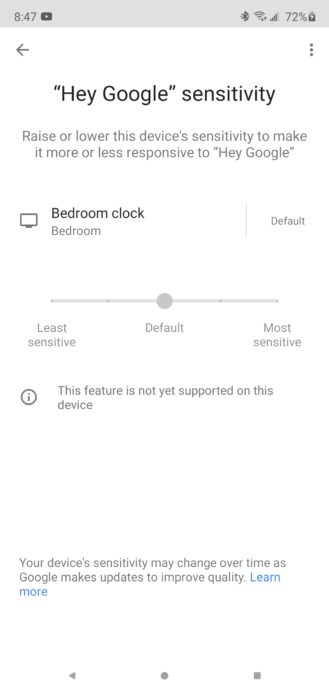 To date, all Google devices are at an advantage over the other devices in terms of Google updates. As we can see, Google Home hotword sensitivity feature is also not available to Lenovo device now, but Google is making it accessible to all the devices in the near future. We may have to wait for some more days to get the Google hotword sensitivity update to all the third-party devices.