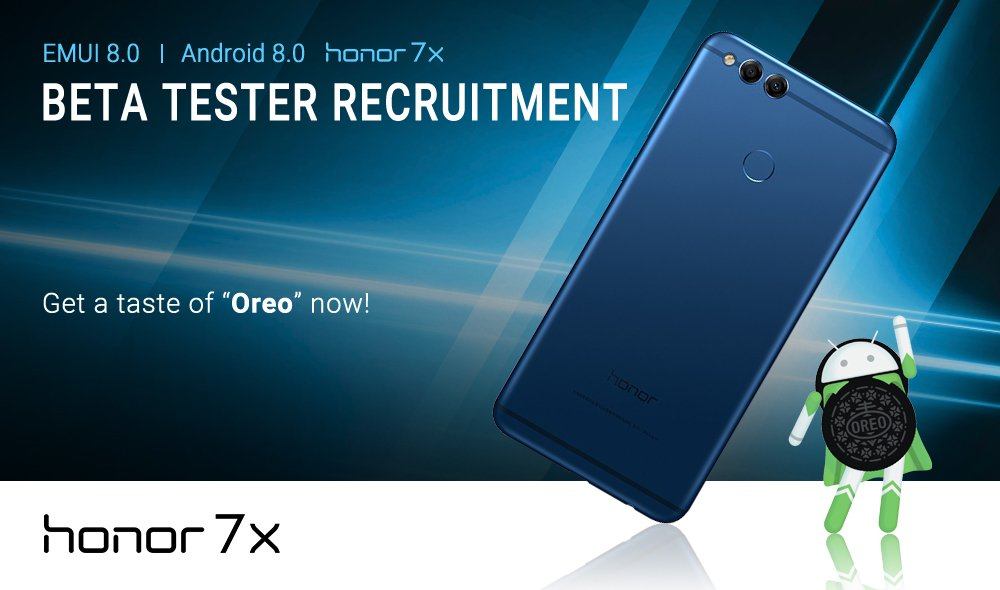 It is not every day that mobile companies give the general public the chance to beta test their leading developments that are soon set to hit the markets. This is precisely what the makers of the Honor 7x is seeking to do, by enrolling the members of the public to help test out the EMUI 8.0 based on the Android Oreo.
This offer can be taken up by practically anyone and not those technically inclined. There would be full support being on hand to help with the documentation and the procedures that go into a beta testing program. The first step can be done by clicking here so that the folks at Honor can get in touch with the necessary steps forward.( The Beta Testing has been ended)
Interested in beta testing EMUI 8.0 based on @Android Oreo for the #Honor7x ? US residents sign up belowhttps://t.co/1IFAY2WFBG pic.twitter.com/ir1eYTBg84

— Honor USA (@Honor_USA) March 2, 2018
If ever there is a pre-condition as such for participating in the project, then it is that the person wishing to enroll must possess an Honor 7x mobile phone. This is going to be a continuing program that would see more such opportunity in the future. There could be no better opportunity to get involved in bringing about a change to the way phone manufacturers perceive customers than this.
The slots available on the program are limited and it is best to get clicking on the link highlighted above. Folks on the program should not expect to be paid in any manner and it is just the actual expenses incurred in the program that would be reimbursed. This is just the right opportunity and the right occasion to get the voice of the customer be heard and felt by those who matter most, that is the manufacturer.
A key factor in the beta testing program is the ability for the customer to get to interact with the manufacturer of a product. The best enterprises do place a lot of stress on the outcome of beta testing as it would mean the lesser operational issues in future.