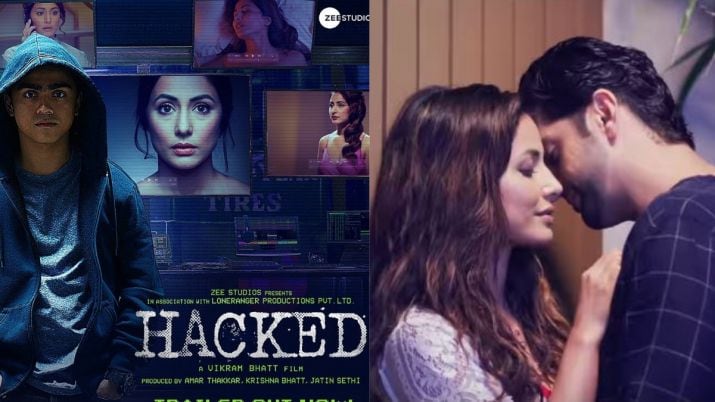 Bollywood star and Big Boss actress Hina khan's film 'Hacked' is a psychological thriller movie set to be released in 2020. In Vikram Bhatt direction and produced by Krishna Bhatt, Jatin Sethi, and Amar Thakkar, the film is produced under Loneranger production company. On 7 February 2020, the film was released into theatres. The film's story is about a young teen boy getting obsessed with an older woman who is already married and takes revenge on her by hacking her social media accounts and other personal information. 
Cast:
Hina khan as Sameera Khanna aka Sam
Rohan Shah as Vivek 
Mohit Malhotra as Rohan Mehra
Sid Makkar as Om Kapoor
Tanvi Thakkar as Riya
Story of Hacked:
Sam(Hina Khan) works at a magazine company who is a neighbor of Vivek(Rohan Shah), a 19-year-old boy who has a crush on her. Sameera Khanna has a weak relationship with her boyfriend, Om Kapoor(Sid Makkar), who is a film director. When Sam rejects Rohan's proposal, he gets mad at her and hacks all her social media accounts and some private pictures of Sameera Khanna as revenge. Will Sameera be able to continue to tolerate this Psycho guy. It forms the rest of the story. 
The film's songs were composed by Jeet Gannguli, Arko, Chirantan Bhatt, Inder Bawra, Sunny, and Amjad Nadeem Aamir. 
Zee5 streaming network has owned the digital rights of Hacked, TV rights, and the Zee network owns music. The exact date of digital streaming is not yet announced, and it might be 10 April 2020. Meanwhile, you can look at some more movies that are streaming on Zee5. You can watch the trailer of Hacked below.
The review IMDb gave 4.3 out of 10 for the film.