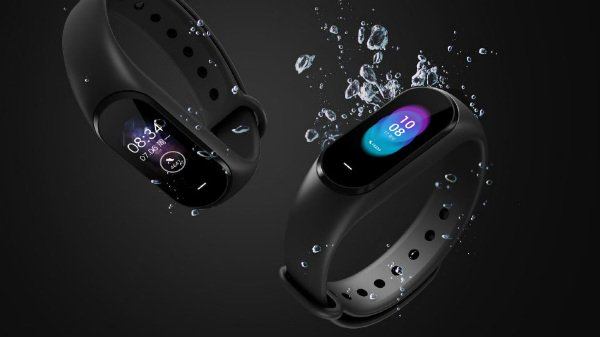 Xiaomi phones are well known all over the world and in the recent times, they have unveiled a smart band in China, that is known as "Hey+". Just a few months back, Xiaomi launched its new Mi Band 3, which is a successor to Mi Band 2 that comes with many updates, such as capacitive touch screen panel, better battery life, better water resistance, Bluetooth 4.2 and much more.
On similar lines, Xiaomi Hey + also has features like the Mi Band 3. The key highlights of this Hey+ are NFC support and OLED display. But it has better specifications as compared to the Mi Band 3.
It has a 0.78-inch capacitive OLED display with 128 x 80 pixels resolution. It weighs 19.7 grams and is made of thermoplastic elastomer and it comes with a 120mAh battery.
On the other hand, Mi Band 3 has a 0.95-inch display with 240 x 120 pixels, which is almost twice the resolution of Hey+ and comes with a 120mAh battery.
Hey+ is compatible with almost all the Android and iOS devices owing to its Bluetooth 4.2 LE connectivity. Apart from this, the NFC support makes it easier for the users to connect to a new device with their smartphones and helps the wearable serve as a transportation card in China. This feature is not optional as it is in Mi Band 3.
Hey+ has been specifically designed for sports activities, and can help users track their swimming, running and walking activities. It has a heart-rate (PPG) sensor that calculates heartbeat rate and helps users monitor heart health. The MiFit app, when integrated with Hey+ can help users send information about their pulse to a smartphone. It comes with a caller ID feature that can be used to directly reject calls from the band. An accelerometer feature is present, that helps monitor sleep.
On the display screen of the Hey+ band, users can see around 10 calls and around 10 messages at a time. The message can contain about 300 Chinese characters. The brand also claims that the battery life of Hey+ is about 18 days when used in moderation. The Bluetooth 4.2, helps connect the smart band to a smartphone as well as to a Xiaomi's Home Automation system. For this, users will have to pair it up with the Mijia app.
Hey+ is priced at CNY 229 (roughly Rs. 2,300) and can be purchased via Xiaomi YouPin site from September 20 onwards only in China.