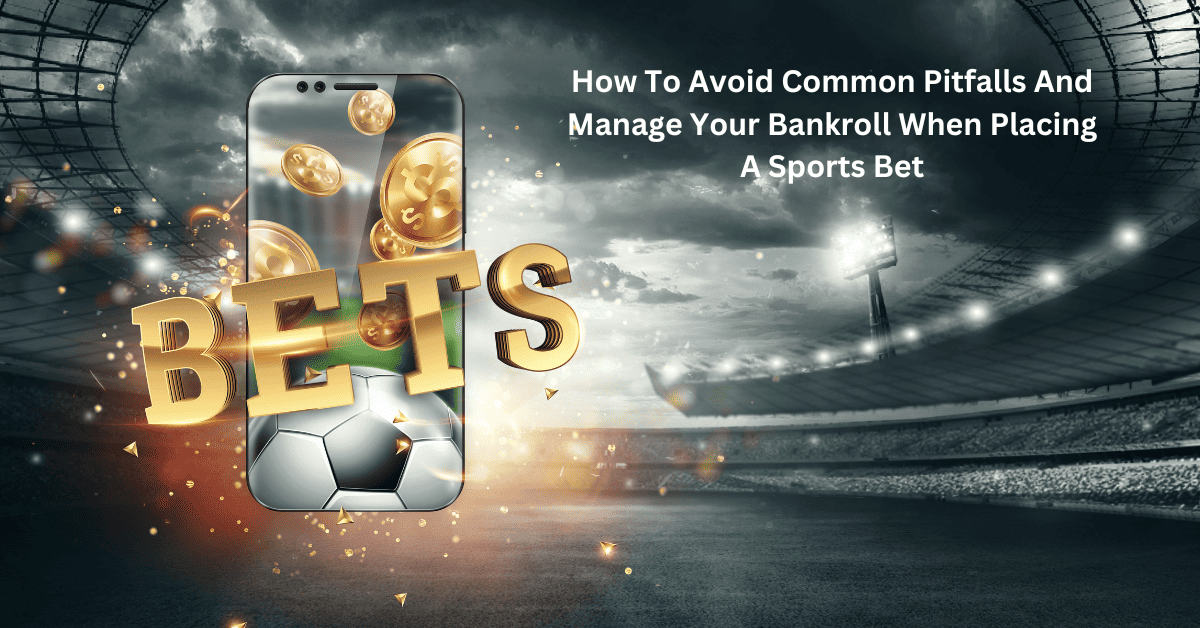 "Luck may run out sometimes, but skill will sit with you consistently."
This goes the same for sports betting. Your luck may help you once or twice, but if you master the skill of sports betting, you can win a good amount. The sports betting market is already expanding, and it will grow at a rate of CAGR 10.3% between the years 2023 and 2030. Even mobile devices accounted for more than 70% of revenue since 2020.
Beginners need to focus on their sports betting skills, as veteran players always change their strategies to win during specific sports bets. However, there are a few common pitfalls that you must avoid and manage your bankroll when placing a sports bet.
Let's start with the common pitfalls that bettors must avoid.
Common Pitfalls To Avoid During Sports Betting
1. Do Not Chase Losses: You cannot precisely predict the results. Most beginners are compelled to gamble even when they have incurred the losses. So, do not run after the losses but take a break instead.
2. Never Overdo Bets: Placing more than one or two bets can be risky. Most bettors place 10 to 15 bets a day. You may win one, two, or three bets, but it can never be more. The luck may not always be there, so always be disciplined when placing a bet.
3. Overconfidence: Trust your betting skills when placing a sports bet. Overconfidence can impact your decision-making process. Make sure to follow the betting principles and bet according to your budget.
4. Do Not Stick to One Sportsbook: You must check out the odds offered by different sportsbook providers. Never stick to one sportsbook provider, as it can only lead to being at the mercy of one sportsbook platform. Check out which sportsbook platform offers the best price for the bets placed.
5. Only Betting On Your Favorite Team: Your favorite team will always not bring you the prize you deserve. You can see the attack coming from the opposite side at any moment. If you are staying because it is your favorite team, you must consider the team's and individual players' performances. Use the cash-out option and bet on the team that will bring you a considerable prize.
Importance of Bankroll Management in Sports Betting
1. Determining the Size of the Bet
Betting size is important when you are placing a sports bet. You must not outnumber the bets that you have thought about. Always check out the accurate investment time and the sportsbook platform that will pay you great odds. Invest money in the team that you can afford to lose. Stay within your budget.
2. Check Out Your Bonus Bets
There are thousands of sportsbook platforms available globally. Millions of players get registered daily. In Malaysia, almost 97% of people are tech-savvy and use the internet. There are 141 mobile subscriptions for 100 people, which shows the number of people indulging in online casino Malaysia. Most Malaysian punters register with licensed gambling sites to try their luck on their favorite sports. This massive number shows how many gamblers are hooked to sports betting and other casinos.
It has made many sportsbook platforms offer sportsbook promos and welcome bonuses to attract more punters. The availability of bonus bets and reload bonuses also enhances the bets placed on the games. So, you can check out the welcome bonus deals provided by the platform to enjoy your sports betting Malaysia.
3. Always Re-evaluate Your Bankroll
When betting on your favorite sport, always re-evaluate your bankroll. The recalculation of the unit size of your bankroll will help you to bet properly. Re-evaluating will also help if your bankroll quickly loses when placing the bets. Never start to bet more money to recoup your previous losses. Moreover, if you have decreased your unit size, you will not lose the money quickly. Maybe it can gain you a winning streak.
4. Weigh Your Bets
There is a method devised by J.L. Kelly Jr. in 1956, which is popularly known as the Kelly Criterion. Here, you must weigh your bets every time you place a bet. You need to bet a different amount, but check the betting amount according to your confidence level. It is a highly profitable method for professional bettors who are brilliant with math. Other bettors might use the flat betting approach, starting with sports bets.
5. Pick The Specific Time To Bet
You must do it only some days of the year or every bi-weekly. There must be a certain schedule for your sports bets. This strategy plays an important role in sports betting. Place the bet on a specific day, week, or month. It will help in making your bet profitable. You can apply this strategy for the long term to help you maintain your monetary well-being.
6. Never Ever Get Emotional
Always take emotions out of the game. They are the first step towards your losses. You cannot chase your losses, as we have already stated. Play responsibly, and don't become addicted to sports betting. Make sure to learn lessons from your lost bets and come back together another week or another month. Controlled emotions while placing a bet will take you far, and evaluating your bets will support you in deciding when and where to bet.
Play At A Reputed Online Casino!
If you are a sports betting enthusiast, bet at a reputed casino. Always choose the licensed casino to avert any losses. Start betting at Maxim88, which offers a good amount and a welcome bonus when you sign up as a new member. You can even play on the move by downloading your casino app for your iOS and Android systems. Moreover, the online casino encourages responsible gambling and fair play gambling as one of its features. You can check out their various bonus forms at their respective site.