Do you want to install custom ROM for your OnePlus 6 and 6T then you have come to the right article this guide will help you decide which Rom to install and which is best ROM to install on your OnePlus device, The biggest advantage of installing a custom ROM is unlimited customizations for your device, and by the way, Android is an open-source project
After their huge success in India with OnePlus 5 and 5T their successors the OnePlus 6 and 6T with Notch based displays and a glass design after a long line of A metal unibodies from 3/3T/5/5T this is a good departure from metal bodies to glass sandwich designs.
Before we proceed let us know what is custom ROM.
Custom ROM:
Custom ROMs are the ones that are customized or developed from the source code of Android. Custom ROMs are not provided by Google or other mobile vendors but are developed and maintained by the community and its contributors. The developed Custom ROMs differ from the source code in features and looks.
This Custom ROM is been updated regularly by the community and developers where they fix all the bugs related reports. Custom ROM also allows you to experience the latest Android OS even if the OS has not available to your smartphone.
Root access
Quick Updates
Better Performance
Personalization
Better Battery Life
This is one of the many custom ROMs which are available for the 6 and 6T.
This ROM is an alternative from the oxygen OS with little tweaks, while oxygen OS is being late in arriving with the latest update for their 2018 flagships this is an alternative for the max usage of OnePlus hardware and this might help. The XDA developer mwilky is a recognized developer for the OnePlus 6 and 6T community and this is one of his works ROM is the stable version based on 9.0.6//9.0.14 and this is based on Oxygen OS and there are many customizations throughout the ROM. This ROM should only be used if you are running on OxygenOS 9.065 for OnePlus 6 and 9.0.14 for OnePlus 6T. Renovate ROM is a feature-rich custom ROM that is based on Oxygen OS, and it is one of the best custom ROMs which are available for the OnePlus 6/6T These are so of the customizations made in this ROM and these are some tweaks and tricks in this ROM.
These are some of the features of this ROM:
Applications:
The option of enabling screenshots of insecure apps:
This feature enables users to take a screenshot in secure apps such as Snapchat, Netflix, and Prime Video, without letting the app know that you are trying to take a screenshot.
The option of hiding the lock screen shortcuts:
With this option, you can hide the lock screen shortcuts which we usually the open camera with a swipe from the left with this ROM we can hide those shortcuts.
Buttons/Remaps:
Option to automatically turn the torch off when waking the device:
It's usually seen on Xiaomi devices when the device wakes up the torch automatically turns off and this is useful and this will help you for sure.
Option to remap long-press power button when screen off to torch:
This is another Xiaomi feature where you can map your power button to turn on the torch.
High Brightness Mode:
The option of enabling high brightness mode:
The major flaw in OnePlus displays is that their max brightness is low even though they are AMOLED displays from Samsung but their brightness is hit when they are in a brightly lit environment and this tweak could be gold finger to everyone.
The option of enabling high brightness mode automatically:
The auto High brightness will be a great help without opening settings to turn the option on.
Miscellaneous:
Autorun manager:
The autorun manager is like a tasker when you reach your workplace your phone automatically switches to silent and switches on wifi thus autorun manager.
Notify about nightly updates on start:
whenever you restart or power back on your device the device will check for an update for the custom and notifies you if available.
Note: Some features are paid in this ROM to enable those features a premium is to be paid.
Download the Renovate OS for OnePlus 6/6T:
Prerequisites:
The battery should be charged above 80%
How-To install Renovate OS on OnePlus 6/6T
Power off the device into TWRP (Hold the Power button and choose Recovery)
Then tap "Install" and choose the file.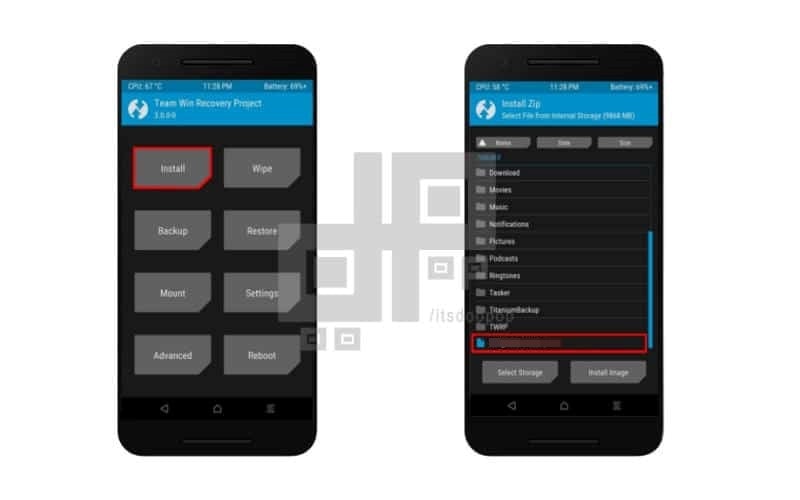 Swipe to confirm flash.

Tap on "Reboot" after a successful flash.
Follow the on-screen instructions and complete the setup.
Done, Now you have a custom ROM running on your OnePlus 6/6T.