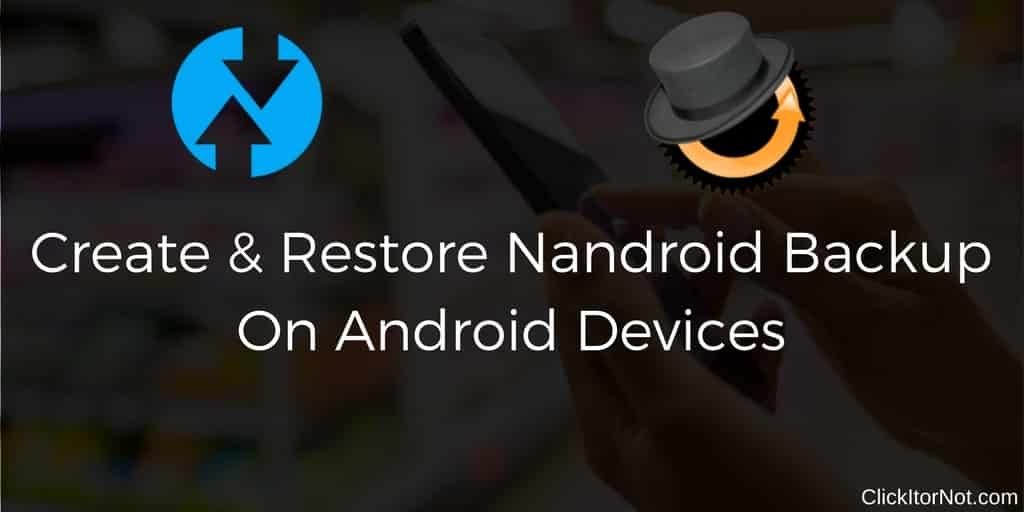 Backup data saves you from losing your data. You can back up almost every data you need like contacts, SMS, music, apps, photos and much more whichever you feel important for you. In order to help you never lose your valuables, you can follow these simple steps in your Android devices and can recover your data whenever you need it through nandroid. Nandroid backup ensures your complete device backup.
Nandroid backup is a complete backup of your Android device and stores your backup in your SD card. Make sure you don't lose that SD card for restoring your backup data.
How to Create and Restore Nandroid Backup
Your device should be rooted to perform this Nandroid backup of your Android device. You can do with either of the specified methods below.
TWRP Recovery Method
Reboot your device into TWRP Recovery.

Switch off your device.
Press and hold "Volume down + Power" buttons until you see anything on the screen.

Click on backup in the main menu.

Choose the partitions to create backup

Now do swipe to backup.

[box type="note" align="aligncenter" class="" width=""] Note: Backups are normally fairly large files, so if you get an error during the process saying there is not being enough space, you have to delete some unimportant stuff from your internal storage or an SD card before continuing.
To restore your backup data, select Restore option from the main menu.
Select the backup from internal storage or SD Card.
It will complete restoring your data
Reboot your device to keep the changes.
CWM Recovery Method
Firstly, you need to boot your Android device into CWM recovery mode
In the main menu, select backup and restore option
Choose backup from the sub-menu displayed, select the memory to keep your backup data
Your data will get back up now.
To restore the backup data, go to restore option in backup and restore sub menu
It will now restore your backup data.
You need to reboot your device to check the affected data.
It takes hardly few minutes of your time to complete the whole process. App settings and optimized system settings can be completely restored by this process. However, it is pretty sure all your data is safe through this way to back up your data.