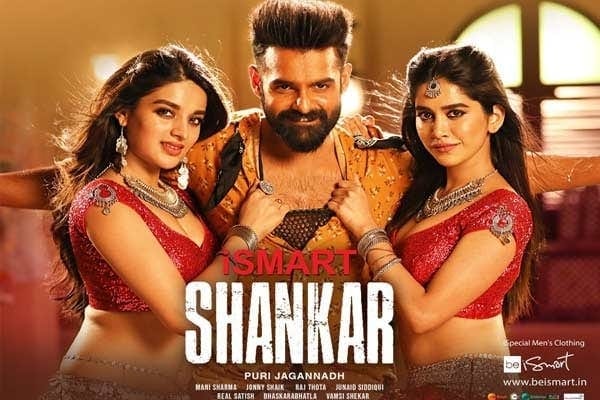 iSmart Shankar is a Telugu language movie that is recently dubbed into the Hindi Language and is available to watch online on YouTube. The original movie(Telugu) was released on 18 Jul 2019. Casting includes Ram Pothineni, Nidhhi Agerwal, Nabha Natesh, Puneet Issar, and Sathyadev Kancharana in the lead roles. Now that the Hindi dubbed movie released on Youtube just two days ago.
The story of the movie is about Shankar, who is a contract killer who manages to escape from the police after accused of murdering of a politician. Later on, he helps the police to find the killer by transferring an investigating officer's memory to him. The movie has violence, killing, and is certified as "A" by CBFC, which represents only for adults. The movie is directed by Puri Jagannadh and is completely in pure Telangana slang.
iSmart Shankar Plot
Former chief minister Vishwanath(Punit Issar) is killed by Shankar, who is a contract killer. The former chief minister's wife( Tulasi) and his son(Deepak Shetty) and brother in law(Asish Vidyarthi) cove for the blood of Shankar.
Meanwhile, Shankar escapes from central jail and meets Sara(Nidhhi Agerwal), a neuroscientist who is in love with Arun(Sathyadev), a police investigator in CM's murder. The head of the investigation team( Shivaji Shinde) comes with a new plan to unravel the mystery behind CM's death. The person who is responsible for CM's murder is none other than CM's son. The story revolves around how Shankar finds out the real culprit with the help of a neuroscientist and cops.
The music was composed by Manisharma and is very impressive, of this the film's BGM is also highly familiar.
iSmart Shankar movie Hindi dubbing, editing rights are sold to Set Max, and you can watch it on Set Max as well as on Youtube(released recently). The movie was released on 16 Feb 2020 on YouTube, and within just two days, the movie is trending with over 33,074,796 views until now.
You can watch the iSmart Shankar movie in Hindi here: