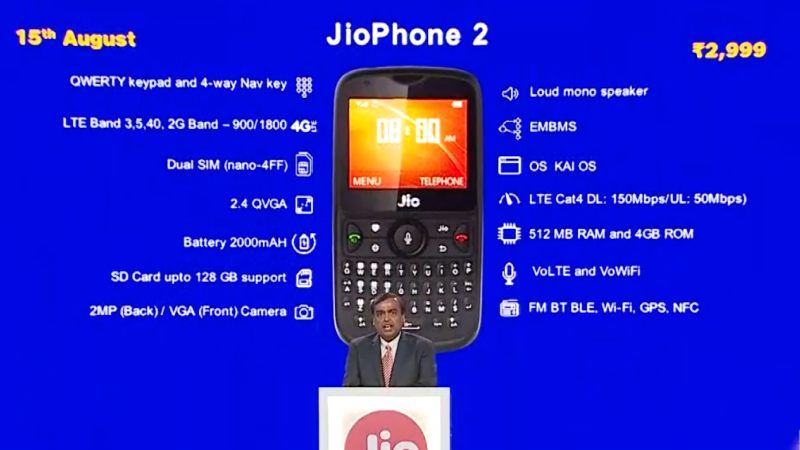 After successfully completing 2 years in the market with over 215 million users of jio network, the team has launched their jio phone 2 at Reliance industries today, which is an extension to its previous jio phone. This phone will be available in the market by August 15th.
This phone will have better features and support various social media, messaging and video streaming applications like YouTube, Facebook, and WhatsApp. It is priced at Rs 2999, which is pretty affordable. It will have a QWERTY keypad. JIO has come up with exciting exchange offers wherein the old jio phones will be exchanged for the new one and the old phone can be exchanged for Rs 501. This offer will start from July 21st when the new jio phones can be pre-booked. Both these phones will be lined up and user can buy them based on their personal preferences and requirements.
Coming to the specifications, it looks something like below.
It has a rectangular shape with dual SIM support ( nano sim slots), 2.4-inch display, 512 MB RAM and 4 GB internal memory. It has a 4-way navigation key with a button dedicated just for voice commands. It uses a KAI operating system and the memory can be expanded up to 128 GB, using internal SD card storages. It has 2 megapixels back camera and a VGA (Video Graphics Array) front camera sensor. This is almost equivalent to 0.3 megapixels. The battery is 2000mAh and supports JIO 4g (which is obvious) and Vowifi, NFC, GPS, FM radio and Bluetooth devices.
We are definitely eager to see how this phone performs in terms of battery and connectivity.