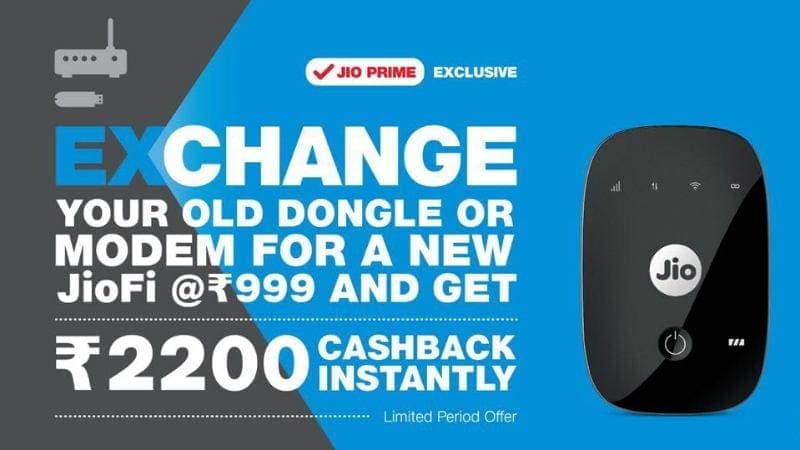 From the day Jio is launched in India it has been surprising its customers with attractive and alluring offers. With almost two years in the Telecom industry, the company has become a popular choice amongst the people.
It might have been made a hot issue of citizens standing in scorching heat during demonetization, but from standing in huge lines for hours to get a Jio sim with free internet for around 3 months initially was obviously not a huge deal. Jio became one of the popular choices amongst the customers because of the attractive and affordable recharge rates it offers.
Jio has now come up with another amazing offer but this time it is JioFi. Well, the JioFi M2S hotspot device which is priced at Rs. 2,999 on the official website will now be available at Rs. 999. All that the customers have to do is to get their old modem or plug-to-serve dongles and exchange it for JioFi.
The customers will be able to take benefit of this offer offline only. Second, the customers will have to exchange their dongle at a Jio store or a Reliance digital store. After providing them your old modem/dongle you will get the JioFi at Rs. 999. Additionally, Jio has offered its customers a cashback of Rs. 2220. After receiving a Jio sim the customer has to recharge it with prime membership at Rs. 99 and a recharge of Rs.198 or 299.
The customers will then be given 44 coupons of Rs. 50 cashback, which they can use for the later recharges they make or either 198 or 299. The 198 recharge comes up with 2Gb per day benefits with free unlimited voice calling and SMS, while the 299 comes with 3GB per day data benefit and unlimited voice calling and SMS.
Indeed, Jio is offering its customers a Jio "Dhan Dhana Dhan" life!