Making an end to the rumors indicating LG would soon introduce a new version of V30 with an attempt to vitalize it with some AI focus in the camera, the company itself gave a confirmation on the aforesaid. LG announced, in a press release, that the 2018 version of the LG V30 with AI technologies on the road to hit the market after research done in AI technologies for more than one year.
ET News reported last week that V30 is set for Mobile World Congress to reveal this month and will feature AI-powered camera features.
AI Focusing
The AI technology going to be featured on "the 2018 version of LG V30" primarily focuses on image recognition. It also involves automatic image analysis for shooting mode recommendations, along with object recognition and shopping suggestion. A feature that claims an advantage to AI to perform better in low light.
"Vision AI" was developed by the Korean company, mixed with a scene analyzer to help you take the best photo. It has the ability to scan the QR Codes and provide image searches. It also tries to automatically analyze objects in order to recommend you with the selection of the shooting mode for a picture. It takes into account the angle of view, color, reflections, saturation levels, and backlighting. LG claims to expect a new low-light shooting mode which automatically brightens images in dim light by a factor of two.
Exclusive commands by Google Assistant
If you don't have LG V30, you probably don't know about the exclusive 23 commands built in, like the ability to ask Google to "Take a picture on a wide angle," or "Take a pop art video'. For the newest version in 2018, additional 9 commands including commands to take food photos, scan QR codes, perform image searches and record time-lapses.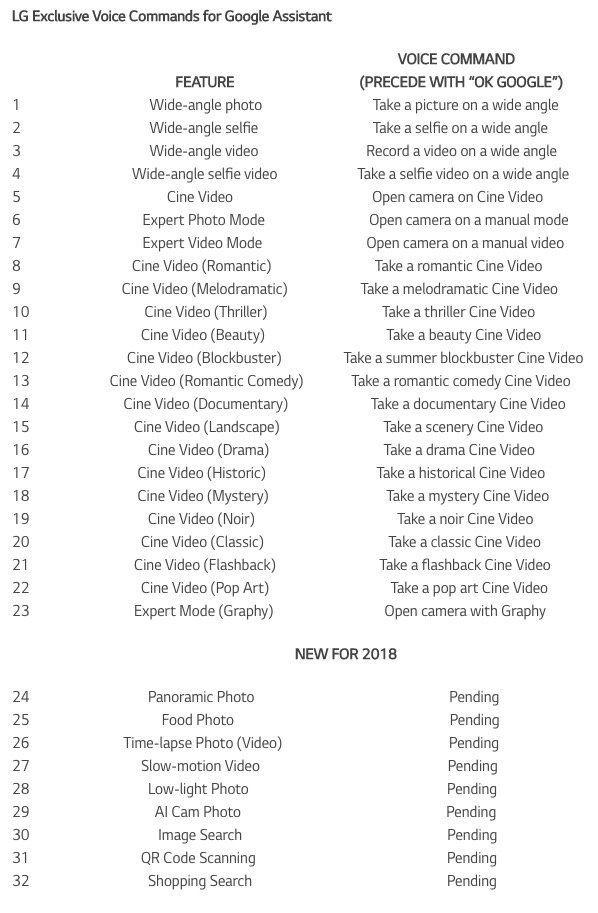 As LG said it will stop releasing new smartphones every year, re-releasing last years smartphones with new features and colors.