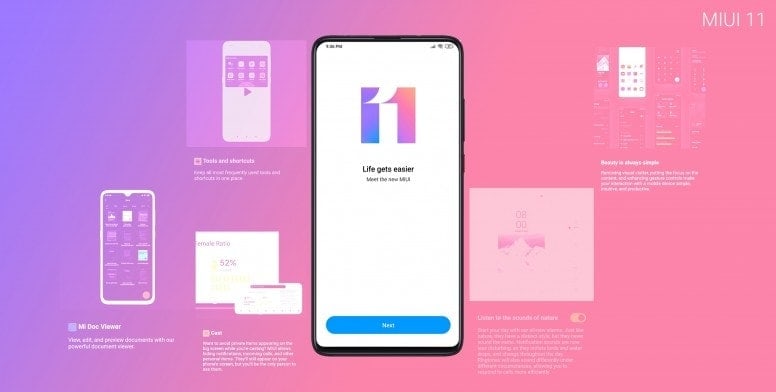 MIUI is the own custom skin used by the Xiaomi devices and in India widely known for its Redmi devices which they all run MIUI and back in the froyo days MIUI was created and was initially developed for the Chinese market due to the Google Services restriction in the market and the early days MIUI was inspired from IOS like design, but they have come a long way ahead and this is their 11 iterations also known MIUI 11.
The Chinese Smartphone OEM updates their devices regularly not with Android but their MIUI, well the Android version remains the same but there MIUI changes its just small upgrades and new features which are also called theming additionally, Xiaomi also mentioned that they will improve the whole UI and design than previous with visible changes like animations, themes, icons, battery mode, etc. which is used by MIUI to get everyone onto the MIUI bandwagon in their latest update.
Rollout Timetable: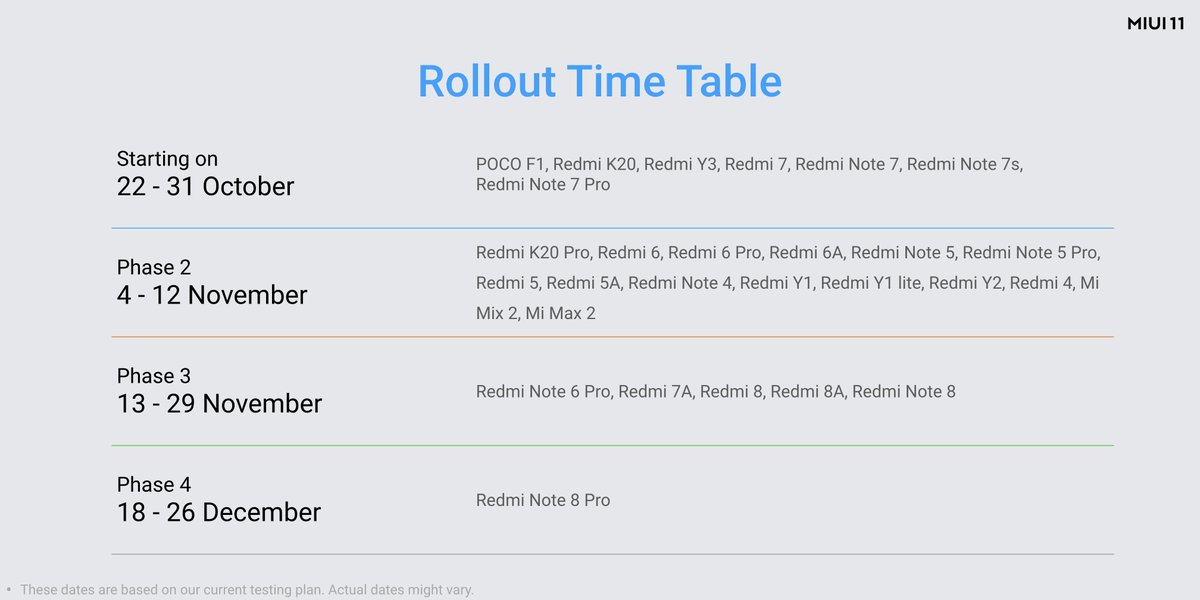 Here is the Update line-up:
22 – 31 October: POCO F1, Redmi K20, Redmi Y3, Redmi 7, Redmi Note 7, Redmi Note 7S, and Redmi Note 7 Pro. These phones will receive the MIUI 11 Global Stable update.
4 – 12 November: Redmi K20 Pro, Redmi 6, Redmi 6 Pro, Redmi 6A Redmi Note 5, Redmi Note 5 Pro, Redmi 5. Redmi 5A, Redmi Note 4, Redmi Y1, Redmi Y1 lite, Redmi Y2, Redmi 4, Mi Mix 2, and Mi Max 2. These smartphones will get the global stable OTA update.
13 – 29 November: Redmi Note 6 Pro, Redmi 7A Redmi 8, Redmi 8A, and Redmi Note 8 devices will get the update.
18 – 26 December: Redmi Note 8 Pro model will only receive the global stable update.
New Features
New features coming to MIUI 11 and that,
Xiaomi has also mentioned that there will be additional features or improvements available on MIUI 11. Such as Natural Sound modes, Nature Alarm tones, Gallery Monthly Viewing option, Wireless Print option, New Game Turbo Mode, New Panchang, Dual Clock, Mi Share, and Screen Casting.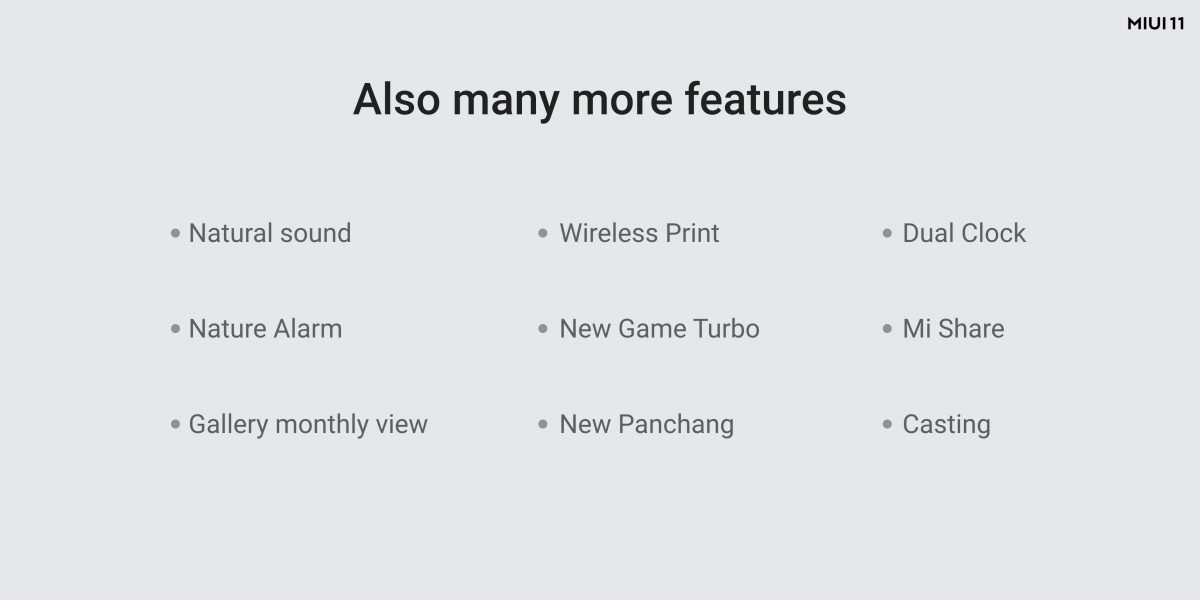 This update brings a lot of new features for the MIUI devices such as new custom font for the MIUI known as Milan Pro, and new material design all over the MIUI, Improved Audio experience, Always-on display, Natural sounds, New animations, etc additionally MIUI brings MI-work and MI-Go and new increment include file-sharing of large document and many more, wireless printing feature and screencasting, etc.
MI-Go feature which was added in MIUI 11 is an extreme battery saver which offers 24 – hours of standby with just 5% battery and also introduces MI Pay and one-tap payment, And AODs for the OLED displays which are far more customizable than any other AOD out there from clocks to animations in the AODs, they also bought horizon light feature which shines the edges of the OLED screen which is quite similar to OnePlus 7 Pro.
In this update of MIUI 11, they went all nature on this, from adding soothing alarm sounds of nature and songs which are quite similar which are in nature like birds, wind, water, etc.
MIUI 11 Features
MIUI 11 has announced a whole lot of new features coming to their new update and their new update bring system-wide dark mode support which is native to Android Q, due to this the screens remain less intrusive while reading in the night and new features like automatic Face Unlock, Power saving modes, new nature sounds, etc and some more features which are mentioned below.
Dark Mode
Improved energy saving functions like Samsung ultra power-saving mode, which can stay for 24 hours of standby with 5% battery
Refreshed icons and Smoother Fluid Animations
Battery charge status on the info screen
Improved AI Features
Unlock by voice command
Unlock by voice command, etc.
Upcoming Features In Future
Emergency contacts on the Lock screen
Private albums for videos
Stereo sound support audio in games
Improved information on hotspot connection
18:9 Photo Cropping
One-time messages can be reposed back (Flash message).
MIUI 11 Global Stable ROM:
MIUI 11 Russia Stable ROM
MIUI 11 Indian Stable ROM
MIUI 11 Europe Stable ROM
MIUI 11 China Stable ROM
MIUI 11 Indonesia Stable ROM
Xiaomi MI Series devices: MIUI 11
MI Note 10
MI MIX Alpha
MI 9 Lite
MI 9T Pro
MI A3
MI 9T
MI MIX 3 5G
MI 9 SE
MI 9
MI 8 Pro
MI MIX 3
MI 8
MI 8
MI MAX 3
MI A2
MI A2 Lite
MI MIX 2S
Redmi Series Devices: MIUI 11
Redmi Note 8T
Redmi 8A
Redmi 8
Redmi Note 8
Redmi Note 8 Pro
Redmi 7A
Redmi 7
Redmi Note 7
Redmi Note 6 Pro
Redmi 6
Redmi 6A
Redmi S2
Redmi K20 Pro
Redmi K20
Redmi Note 7 Pro
Redmi Note 7S
Redmi Y3
Redmi 8
Redmi 8A
Redmi Y2
POCO Series Devices: MIUI 11
Xiaomi Mi Pad Tablet Series
Xiaomi is working on updates and devices are being tested, stay tuned for more updates on MIUI 11 for Xiaomi devices.