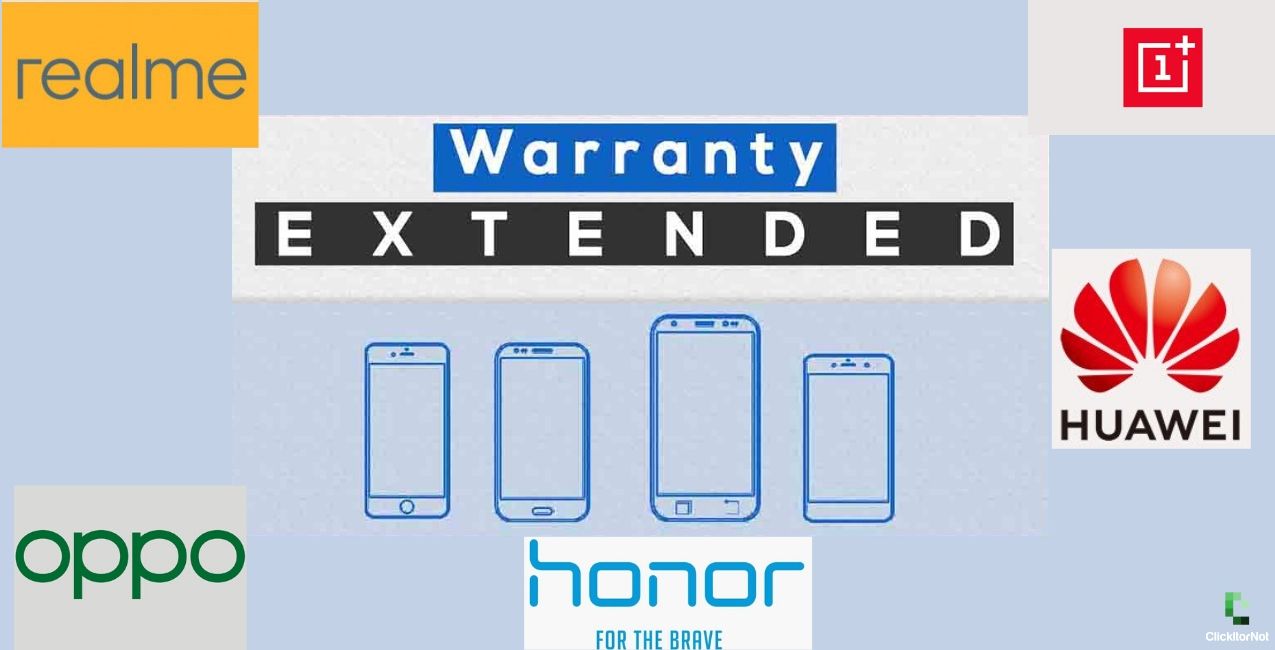 During COVID-19, Pandemic major smartphone companies are stepping in to help alleviate the users by offering extended warranties of the products and return period time that was set to expire during these tough times.
Several smartphone brands, including OnePlus, Honor, Huawei, OPPO, and Realme, have all announced that during this COVID-19 Pandemic lockdown time, users whose product warranty validity expires will get extensions, but of course, the packages on offer will vary from one company to another.
Realme, Huawei, OnePlus, Oppo, Honor, Samsung extend warranties:
Realme India has also announced something similar for its growing user base, promising to extend the warranty of smartphones whose warranty is expiring between March 20 and April 30, 2020.
Few supportive steps for all our users during this tough period:
-Extended warranty till 31st May for those whose warranty expires between 20th Mar- 30th Apr '20
-Extended Replacement period to 30 days for those who purchased our devices between 15th Mar- 30th Apr '20#StayStrong pic.twitter.com/uHlkkRZPQw

— realme (@realmemobiles) March 26, 2020
The company has also announced a replacement period extended to 30 days if your Realme phones were purchased between March 15 and April 30, 2020.
The Huawei sub-brand said that this is a gesture of good faith and accountability that is meant to ensure its user base to enjoy seamless services and support during this time of uncertainty during the COVID-19 Pandemic.
It was perhaps to follow in the footsteps of the parent company, which is also offering a similar gesture. Its offers are applicable on all Huawei products, including smartphones, accessories, MateBook laptops, etc.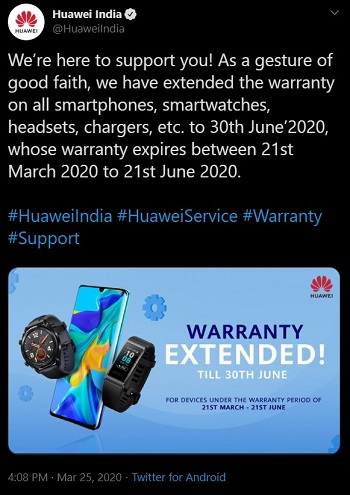 Honor said in a Twitter statement that "As a good gesture of good faith, we have extended the warranty of all products to June 30' 2020, whose warranty is expiring in between March 21 and June 21, 2020."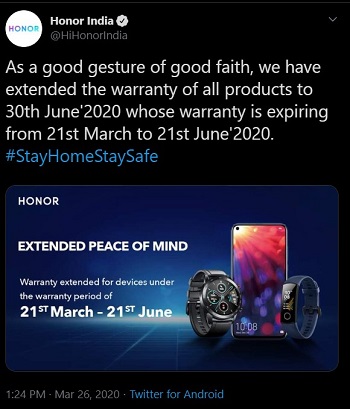 OnePlus and its BBK Electronics counterpart, OPPO, has also announced a warranty extension for smartphone and accessory consumers for those whose validity expires between March 1 and May 30 and after March 23, respectively.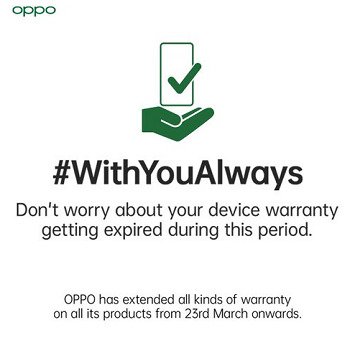 On top of warranty extended that expire between March 1 and May 30 to May 31, OnePlus is also extending the replacement and return period from 15 days to 30 days as well as providing free two-way shipping for all replacements, returns, and repairs.
Update 1 (April 1)
Joining other OEMs, Samsung has also announced that it will extend the warranty of their products. Here's what Samsung India said regarding this recently:
At Samsung, the well-being of our users is a top priority. That's why we are extending the standard warranty till May 31, 2020, on all Samsung products whose warranty is expiring between March 20 and April 30, 2020.
Update 2 (April 6)
Lenovo and Motorola have also announced their extended warranty service on their products. Lenovo, as well as Motorola brands, extend their warranty till May 31 this year.
Update 3 (April 16)
Sony has also announced its extended warranty services.
Dear All,
Due to the lockdown extension, we have extended our warranty expiring between 15th March, 2020 to 3rd May, 2020 till 31st May, 2020. Thank you for your trust and support. #StaySafe #StayHome

— Sony India (@sony_india) April 16, 2020
Update 3 (April 16)
Nokia has also extended warranty on their products for 45 days for warranties that are expiring between March 15 and April 15.
Update 4 (April 17)
Asus has also extended its warranty period by a month for those whose warranty expires during the COVID-19 Pandemic lockdown period. Check here for the official announcement.
If you have a device which has its warranty expiring in this period, then do not worry, you have got time to claim your warranty.