Many Android phone customers want to keep their upload speed and download speed visible in the status bar, which can be done by using a new free app available in Play Store – "Net Speed Indicator." Stock Android is generally complemented by users because of its clean UI, smoothness, simplicity, minimalism, and speed. Custom UI adds different features on top of Android stock, but with these additional features, they add to litter and reduce simplicity.
Although it's indisputable that stock Android is generally thought of as a bare-bone variant of the OS, it has to have a number of features that users of UI approach to take for granted, like dual installation of a single application, One-Handed Mode, Scheduled power On and Off, and more.
Net Speed Indicator available for these OS's
For all of these, the Network speed indicator has a common feature on UI's like Oxygen OS, EMUI, MIUI, Colour Operating system, FunTouch OS, One UI, and others. It has also been adopted by custom ROMs like Lineage OS for a long period now. However, it is still missing in stock Android 10, which means that stock Android 10 users are missing out on this particular app and these features. There are a lot of network status indicator applications in the Play Store, of which some are more feature-rich than many other apps, and "Net Speed Indicator" is one such new free app that brings capable functionality.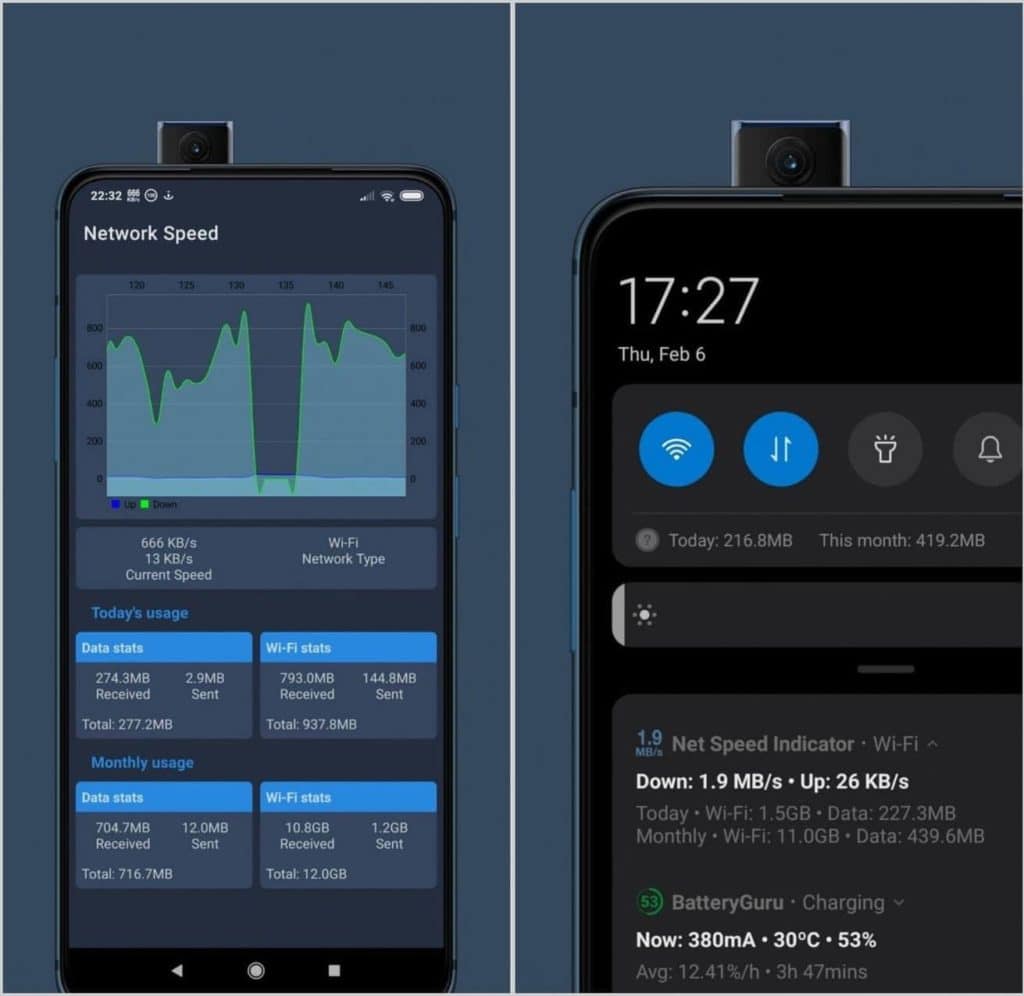 Net Speed Indicator was developed by the XDA Recognised Developer at Paget96, and it is said to be a small network tool. It permits users to check their download and upload speeds from the notifications menu, status bar, or within the application itself. The app brings more advanced capabilities with it as well, and users can check their Wi-Fi and mobile data bytes transmitted on a daily and monthly basis. The total transmission includes both received and sent bytes. This feature is included in some custom UIs like MIUI, and it is much useful for those users who are on limited data.
Net Speed indicator was released two days ago, and the developers announced that it is an early program and also it's in an early stage of development. The developer is planning to add many more features and mentions that the list is long. Users are invited to send their ideas and suggestions as well as report bugs for the application in the forum thread.
Below we have attached the download link of the app, or you can download the Net Speed Indicator app from Play Store.