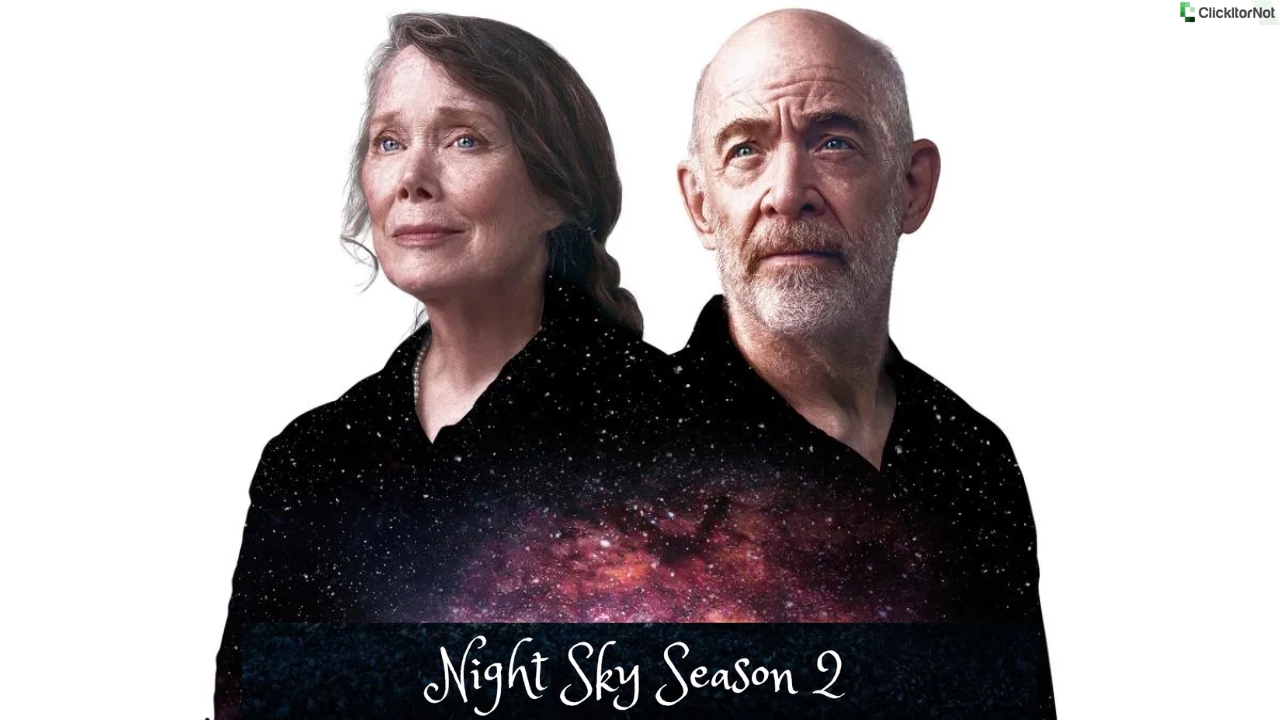 Night Sky
Night Sky is a sci-fi TV drama series by Amazon Studios and Legendary Television. It debuted on 20th May 2022 and gained a fairly good response and fan base throughout just one season.
Now that season 1 is over, fans want to know the release date of Night Sky Season 2. Unfortunately, we have some bad news which we will disclose in the post below.
Night Sky Season 2 Release Date
Those who are curious to know Night Sky Season 2 release date will have to be disappointed as the show is canceled by Prime Video.
Just eight weeks after the release of the first season, Prime Video announced that the show won't be returning for a second season.
According to reports, Night Sky was a big-budget project for Prime Video. Since the show failed to gain the desired number of viewers, the streaming giant made a safe choice to cancel it.
Night Sky Season 2 Cast
If they would renew the show, then Night Sky Season 2 cast would consist of the following members.
Sissy Spacek as Irene York
J. K. Simmons as Franklin York
Rocio Hernández as Toni
Kiah McKirnan as Denise
Beth Lacke as Chandra
Sonya Walger as Hannah
Chai Hansen as Jude
Adam Bartley as Byron
Julieta Zylberberg as Stella
Stephen Louis Grush as Nick
Angus O'Brian as Michael
Cass Bugge as Jeanine
Night Sky Season 2 Trailer
Since the show is canceled, there won't be any Night Sky Season 2 trailer.
Night Sky Season 2 Teaser
Unfortunately, we won't get a second season of Night Sky. Unless they decide to revive the show, we won't get any Night Sky Season 2 teaser.
Night Sky Season 2 Plot & Expected Storyline
As far as Night Sky Season 2 plot details are concerned, the show would have picked up where it ended in the last season.
The first season ended with Irene and Franklin staring at the discovery. Sadly, we will never know what happens next.
Night Sky Season 1 RECAP: How did the last season end?
How did Night Sky Season 1 end? Here's a quick Night Sky Season 1 recap for those who didn't watch the show.
Season 1 ended on a cliffhanger and many questions were left answered.
We saw Franklin searching for Byron on the deserted planet. But soon, he falls to the ground due to breathing issues. In a quick flashback, we are shown that Franklin found the secret teleporting chamber in his backyard. He showed the same to Irene.
Irene finds an unconscious Franklin on the planet. He was surprised to be alive and that he could breathe without any apparatus. Even Irene was not wearing the aeronautical suit.
Here's the trailer:
Night Sky Season 2 Review & Ratings
Night Sky Season 2 review was decent but not as good as the makers expected. Night Sky Season 2 IMDb rating is 7.3/10 and 74% on Rotten Tomatoes.
Where to watch Night Sky Season 2?
Night Sky Season 2 where to watch? You cannot watch season 2 because it is not happening. In case, there was a second season, it would be available on Amazon Prime Videos.
Night Sky Season 2 Renewal Status
As already mentioned above, Night Sky Season 2 renewal status will not be updated. This news is confirmed by Prime Video.
Night Sky Season 2 Countdown
Since the show is canceled, we can't start Night Sky Season 2 countdown.
Night Sky Season 2 Episode Guide
There's no information available about Night Sky Season 2 episodes. It is already confirmed that Prime Video will not continue the project. This means we will never get the Night Sky Season 2 episode 1 start date.
Night Sky Season 2 Spoilers & Leaks
There are no Night Sky Season 2 spoilers available online.
Night Sky Season 2 News Update
Right now we don't have any fresh Night Sky Season 2 news. However, you can check Night Sky Season 2 Twitter for the latest updates.
Night Sky Season 2 Poster
Night Sky Season 2 poster is not available and you already know why.
Night Sky Season 2 Concept Trailer
We know that there won't be a new season, but you can still watch this Night Sky season 2 trailer concept to get some idea.
Final Thoughts on Night Sky Season 2
Night Sky Season 2 is canceled. It is indeed sad news for all viewers who enjoyed watching the show. The first season is still available on Amazon Prime Video, so you can watch it again.
Night Sky Season 2 FAQs
Will there be season 2 of Night Sky?
Prime Video has canceled the show Night Sky.
Why is Night Sky season 2 canceled?
Night Sky season 2 is canceled because its success didn't match the expectations of the makers.
Why did they cancel Night Sky?
Prime Video canceled Night Sky because it didn't get as many viewers as they had expected.
Has Night Sky been canceled?
Yes, Night Sky is canceled, which means there will be no more new seasons in the future.
MUST SEE: