Nokia was criticised for using Windows as it's main operating system. But when Nokia realized that the Nokia fans would love to use Android-powered Nokia devices, they didn't wait a bit. Nokia suddenly steps into Android market. Then Nokia released its Android-powered smartphones which are Nokia 5 & Nokia 6. This made a huge market success for Nokia. The fans are now happy to use this new device mainly because if it's compatibility with other supporting devices and software. Especially the app store for Google-powered Android is a huge difference for a typical traditional window powered Nokia user. There are a million apps to choose from compared to app deprivation in Windows apps store (In comparative perspective).
While all these are new for Nokia, Google has released it's new version of Android which is Android Oreo. A lot of smartphones are getting updated to Oreo as well as newly released devices are straightly installed with Android Oreo. HMD has anticipated the new Oreo release and it was made available for Nokia users. So that the Nokia can now get powered by the latest Android engine which is Oreo. While at the same time a new Android version means new security patch update for every device. For making their phones completely secure, manufacturers have to make security patch updates. As a result of making the release of Oreo in Nokia smartphones, they now are releasing the March security update for Nokia 5 and Nokia 6 Android-powered devices.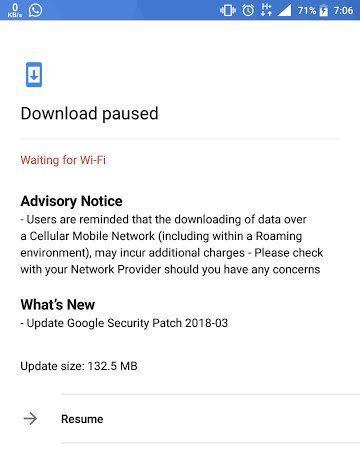 The update is of 132 MB and it is released in batches all around the world. In contradiction to the Google's new security patch update for pixel and Nexus devices, Nokia is performing well in battling for Android market grounds.
HMD global hasn't yet revealed any details regarding the security patches. Respectfully the security patch should include the fixes from Android security bulletin for the month of .march. To check for updates, go to settings > system updates.