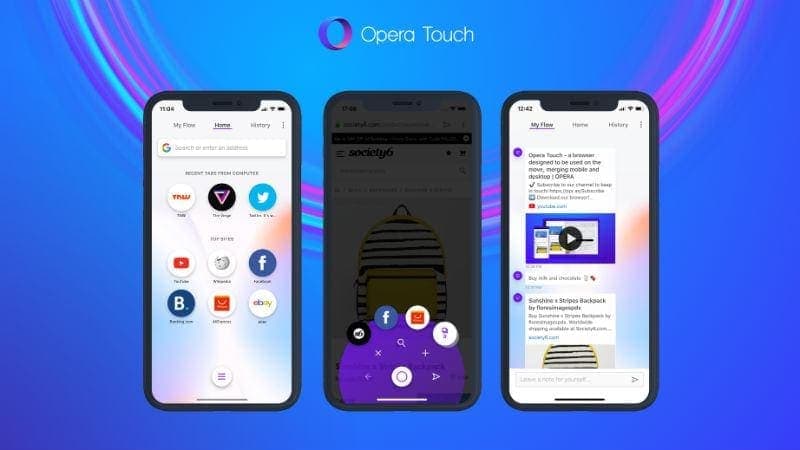 Good news for Opera lovers who own Apple products. Opera will now be available for iOS users just after its launch on Android earlier this year. In the month of April in 2018, Opera unveiled its latest mobile browser which had the ability to connect to the updated Opera PC browser without having to set up a password or login. One of the highlighted and key features of the new Opera Touch is that its navigation has been designed such that, it can be used with just one hand, which will make it easy for users to browse the Internet with just one hand. Opera also claimed that the new browser will come with a modern design in comparison to the traditional iOS Safari browser.
The Opera Touch browser will be available for download in the iPhones on Monday, which is October 1, through the App Store. Opera claims that the new browser has been designed to "match the beauty, speed, and ease of use of the new iPhone line." Maciej Kocemba, the Product Manager of Opera Touch, added, "We are releasing Opera Touch just in time with Apple's new iPhone viz XS, XS Max, and XR since we believe in the fact that our upgraded browser is the perfect choice to use along with these new devices. Today's new phones have big, beautiful displays, but the old, conventional browsers haven't yet adapted to this environment of displays and the development. Our product aims to bridge the gap and provide a browser that will allow users to fully appreciate their iPhones."
Opera aims to spread the word to use Opera Touch as an alternative to Safari Browsers on iPhones. The company claimed that around 95 percent of iOS users in the US are stuck to their device's default browser which is Safari. Kocemba added, "We've seen the situation before with a web browser reaching a dominant market position. This slows down the progress. We wish to encourage iPhone users to try something new which is a carefully designed browser that gives users a better web experience on their beautiful phones."
Opera Touch comes equipped with a built-in ad-blocker witcrypto jacking protection. It claims to provide fast access to search because it starts directly in search mode. It has been designed for one-handed web browsing and comes with a key browser element at the bottom of the screen. It also has an end-to-end encrypted Flow feature that allows it to connect to multiple devices and share images, notes, links and videos amongst them. It also comes with an Instant Search option that has a text and QR/ barcode search feature. Users will also be able to access the tabs from their Opera desktop browser on their iPhone browser's home screen. Opera says that the browser "adapts to you", which means that the top sites will automatically be added to the browser home screen.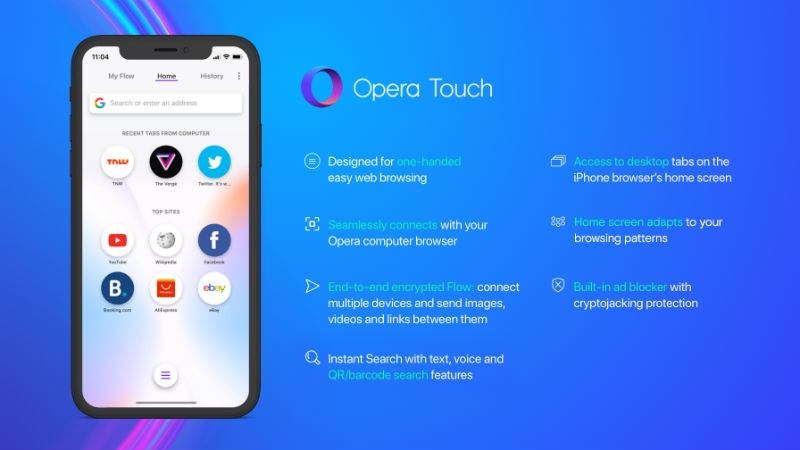 Opera Touch claims that their design is much more modern when compared to Safari browser and also has the ability to dynamically adapt to a user's browsing patterns as well as displaying the last tabs from the user's computer's browser. In addition to this, the Fast Action Button in Opera Touch will provide access to the user's recently opened websites. The Flow feature present in the Opera Touch also allows users to save specific sites for later viewing and also share these sites across devices. Users can add links, notes, images, and videos to Flow as well.