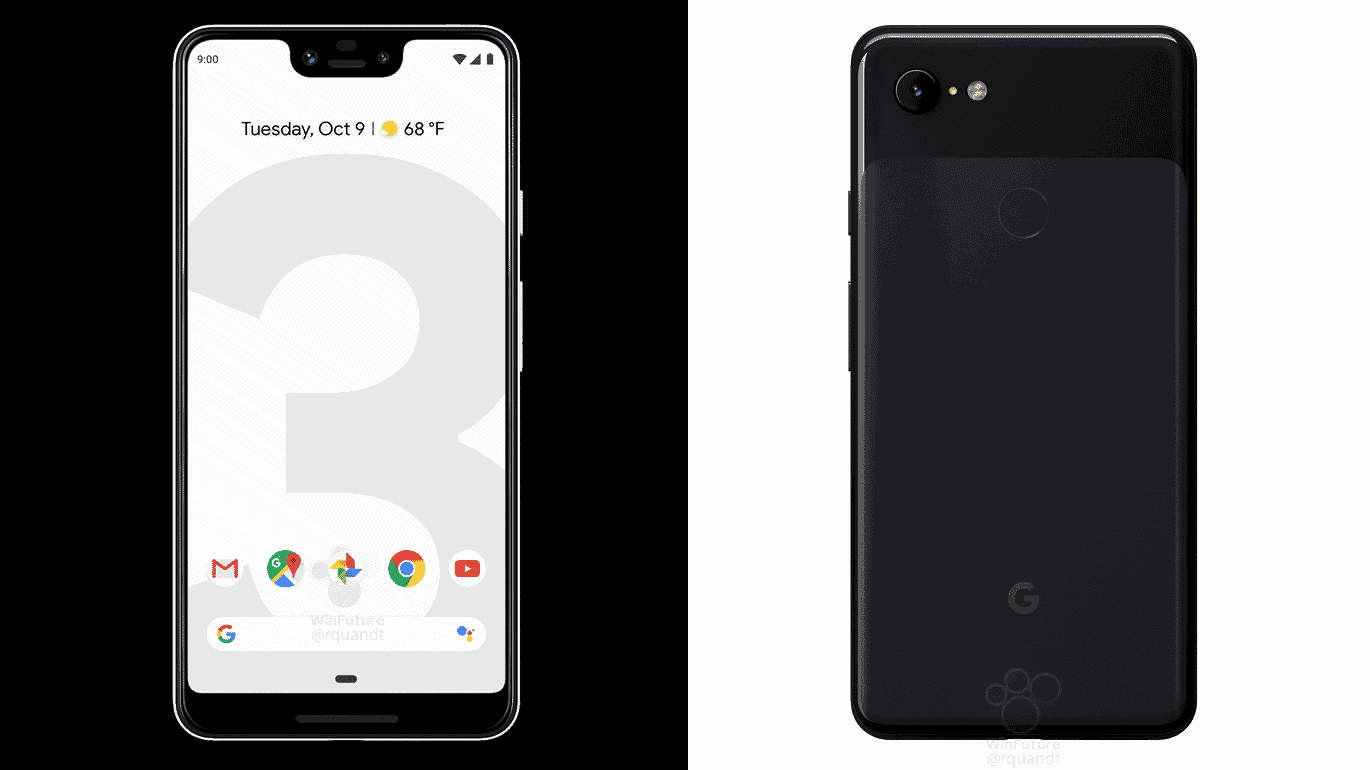 Google recently revealed the launched date of its much-awaited products- the Google Pixel 3 and the Google Pixel 3 XL to be October 19th. The release is not far and new renders of the phones, which appear to be a part of the official marketing, have surfaced on the web. These suggest that Pixel 3 will come with a standard, thin-bezel type display.
It also suggested that the Pixel models will have black and white fabric cover options. It might also show the number "3" depicting the third generation pixel phones in grey color. Reports from the web suggest that Pixel 3 and 3 XL will have 2 selfie cameras with great clarity. Some leaked photos of Pixel 3 and Pixel 3 XL were leaked on Twitter, which showed the design elements along with a large chin at the bottom, rear-facing fingerprint sensor, and a single rear camera setup.
Some more revelations have popped up from WinFuture.de, of Pixel 3 and Pixel 3 XL, but various colors- the regular white and black, along with blue, mint green/aqua as well.
It looks like Pixel 3 will come with a display notch to accommodate two camera sensors along with a loudspeaker and a set of sensors which includes an ambient light and a proximity sensor. It looks like the phones will have dual speakers and might enable stereo audio output. Pixel 3 XL might come with a 6.2-inch QHD+ (1440×2880 pixels), which will be much smaller than Pixel 3 (which is reported to have a size of 5.5-inch display size). This means that Pixel 3 XL's apparent display panel will be the largest of all the Pixel phones that have released since October 2016.
Pixel 3 and 3 XL will have rear panels similar to their predecessors. A fingerprint sensor will be available at the back of the phone alongside Google's "G" logo. Rumour mills suggest that Google will support wireless charging on both the phones.
The iconic mint-colored power button is also visible in the online leaked images of the phones.
The phones are rumored to have better cameras along with Qualcomm Snapdragon 845 SoC and Adreno 630 GPU and 4GB of RAM. They will run on Android Pie out-of-the-box along with gesture supported home button (which is in the form of a pill) and might cost around CNY 4,999 (Rs. 52,800). The real price of the phones haven't been revealed yet and users will have to wait until October 19th to know everything about the phones.